Dragon Fires Up iPhone Speech-to-Text Apps
MacNewsWorld
As text increases in importance on handheld devices like smartphones, hardware makers continue to grapple with solutions to bring keyboard functionality to a form factor ill-suited to the task.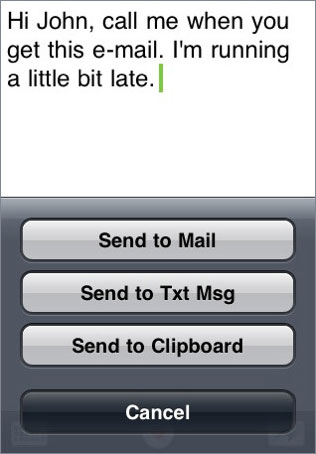 Pint-sized keyboards and virtual claviers are transitional alternatives at best. One technology that offers some promise, however, is speech recognition, as can be seen in two products recently released by Nuance, maker of the top-selling talk-to-text application on the PC, Dragon Naturally Speaking.
In recent weeks, the company has released two free apps for the iPhone that bring speech-recognition to Apple's bestselling mobile. Dragon Dictation will turn speech into text on the smartphone. Dragon Search allows search terms to be entered into the phone by vocalizing them rather than pecking them in on a keyboard.
With Dragon Dictation, typical text applications -- email, text messages, Tweets, Facebook updates and such -- become speech-enabled. Just say what you want to convey and the app will turn it into text. What's more, the software supports the iPhone's clipboard, so talk converted to text can be pasted into any app that runs on the device.
Pizza Comma Chicken or Ribs
Unlike the desktop version of the program, which displays text as it's spoken, Dragon Dictation records speech and sends the recording to Nuance's servers over a wireless connection. There the recording is turned into text and returned to the iPhone. The process takes a second or two, depending on the quality of the connection. Maximum recording time for each chunk of text is 30 seconds.
While corrections to text on the desktop edition of the program can be performed with speech, only manual corrections can be made with the mobile app. It does have a dictionary, though, which displays suggested alternatives for selected words that may be misspelled.
As in the desktop software, punctuation must be included in the dictation. "Mike, should we eat pizza, chicken or ribs?", for example, would be dictated, "Mike comma should we eat pizza comma chicken or ribs question mark."
One feature carried from the desktop to the mobile app is the ability to learn the idiosyncrasies of a user's voice over time to improve recognition accuracy.
Users Throw a Curve
Designing a talk-to-text app for a mobile platform can be a challenging task. One of the first issues Nuance tackled was the needs of the app's audience. "We've been doing dictation on the desktop for a decade or more so we know what people want to do with speech on the desktop," Nuance Vice President for Marketing Scott Taylor told MacNewsWorld. "It's a little harder to predict what they want to do with it when they're mobile."
In fact, once the app was released Nuance was a little surprised by how it was being used. "We thought people would use it primarily for short message dictation and short emails," Taylor confessed. "People are using it in a variety of different applications. They're using it to author longer emails and longer documents than we anticipated."
Another challenge is noise. "When people are mobile, they're in environments that tend to be noisier and more unpredictable than when they're in a call center or medical dictation situation, or working at the desktop," Taylor explained. "So we had to do a lot of testing to make sure the speech recognition is trained for noisy and unpredictable environments."
Faster Search
Although Dragon Dictation could be used to perform searches -- terms could be cut and pasted into a search field -- Dragon Search expedites the process. After saying what you want to search for, the app displays a virtual carousel of results from a number of sources such as Google, Yahoo, Bing, iTunes, Twitter, Wikipedia and YouTube.
The app is designed differently under the hood, too. "We use a different language model for search," Taylor explained. "It's optimized for shorter queries that leverages information from the Internet."
Using speech recognition for search is actually more difficult than using it for dictation, he added. "The domain of what people say in a search is broader than what they would say in communicating messages or emails to friends," he said.
Currently the Dragon apps work only on the iPhone, but an iPod touch version is in the wings. In addition, Nuance is looking into supporting other mobile platforms and expanding the availability of the offerings beyond the borders of the United States.