Air Mouse: A Mighty Little App for Big-Screen Control
MacNewsWorld

Air Mouse Pro, a remote control interface by RPA Technology, is available for US$5.99 at the App Store. Getting a movie to play on your laptop is no big chore -- go to iTunes, Amazon, BitTorrent (you scoundrel!), or just shove in a DVD.
But do you really want to watch the whole thing on your little computer screen? Well, most high-definition TVs have a PC input port for a VGA cable, and some newer computers have an HDMI output, so take your pick.
There, now you're watching your movies, TV shows and Web videos on the big TV with the couch and the Cheetos and the beer and the feet up.
But even then, you still haven't achieved the zenith of convenience. Because you still have to get up if you want to pause, rewind or whatever. Did your computer come with a dedicated media remote? That's swell, but it doesn't do much for mousing around or typing. Apple's free iTunes remote app only works in that one program. Maybe use a wireless keyboard and mouse? Those will get the job done, but they're a little bulky.
RPA Technology's solution to this problem is Air Mouse, an iPhone and iPod touch application that turns the device into a combination touchpad, keypad, media player remote and motion-sensitive mouse, all for about six bucks.
Pocket Keyboard
Once you have the app on your iPhone (I'll just use that term to mean the iPhone or the touch from here on out), you have to also download a free server application from the app's homepage to run on whatever PC or Mac you intend to use it with. You'll also need to connect your iPhone and computer to the same WiFi network.
The application that runs on your computer starts out by offering up ways to fiddle with IP settings, port settings, and other techie specs. My first time setting up Air Mouse, I didn't have to touch any of these -- it made itself at home on my PC instantly and automatically, no fuss.
Bring up the app on the iPhone and the top half of the screen will become a touch pad just like a PC laptop's, complete with two buttons and scroll arrows. The bottom half is your keypad for typing. Your cursor and keyboard can now be controlled wirelessly via the iPhone for all tasks.
The QWERTY keypad makes a decent substitute for a keyboard for typing out quick notes like Web addresses and movie names. However, it doesn't seem to make any use of the iPhone's autocorrect feature, which I know plenty of users like me have come to rely on to save us from typing gibberish. It's nowhere near a deal-breaker, but an update that fixes this would be a welcome improvement.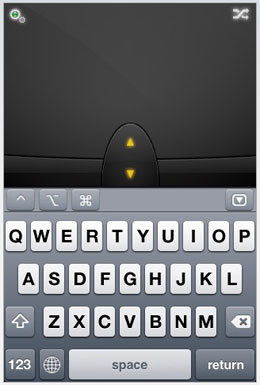 That's not the only thing the bottom half of the screen will do for you, though. You can select three alternate keypad styles dedicated to certain tasks. If you're using the app with your computer's media player, for instance, you can select an option that gives you a set of play/pause, forward/backward and volume controls instead of the QWERTY keypad. If you're mainly surfing the Web, you can select a set of Web controls: refresh, home, go back, zoom in/zoom out, etc. Or select a set of function keys to control F1 through F12, the directional arrows, and four hotkeys that can be programmed using the server app on the computer.
Since different media players and browsers might use slightly different keystrokes to communicate various commands, each button on these alternate keypads can be tweaked using the server app.
Padless Mouse
To use the iPhone's entire screen as a larger touch pad, give it a shake and the bottom keypad will slide away. For a wider interface, turn it sideways. If you turn it while using an alternate keypad, the controls will disappear, but if you go sideways while on QWERTY, the keypad will remain for more comfortable landscape typing.
The touch pad isn't the only way to control the cursor on your computer screen. By hitting the key in the upper right corner (looks like a "shuffle" icon), you go into motion-sensitive mode. Instead of a touch pad, you just get three buttons and a scroll controller. Now the iPhone is using its accelerometer to determine the cursor's position. It's not like using a Nintendo Wii -- it doesn't matter where the thing's pointed, it just matters how it's moving.
This took a little getting used to. It may help to start with the cursor in the center of the screen and the iPhone parallel to the floor. The phone's motions will only control the cursor when your finger is on a center button, which makes it a little more wieldy, and the server app lets you control sensitivity settings for both this and the traditional touch pad mode. I still prefer the latter -- I found it more accurate when you're trying to click on-screen buttons -- but the former might be good for big-screen presentations as a way to use the cursor in place of something like a laser pointer.
Bottom Line
Air Mouse is the sort of application that I wish Apple would set aside on a special App Store page marked "Not Crap." The store is laden with thousands of frivolous trinkets that make belching sounds, simulate the appearance of fish in a pond, or provide mathematical calculations that only a rather slow child should really need help with.
OK, maybe some of the store's dumber offerings are good for a laugh or two. But their overabundance makes it harder to find stuff like Air Mouse -- an application that adds a significant, useful function to the phone and allows it to take the place of a bulkier device.
If you connect any computer -- laptop, desktop, dedicated home media server, whatever -- to your living room TV for video or Web surfing, take a look at Air Mouse.