Mailplane Gives Gmail a Landing Pad on the Mac Desktop
MacNewsWorld
For a long time, Web-based email programs were poor relatives of their desktop counterparts, but that's not the case anymore. Cloud-based applications like Google's offering, Gmail, boast a rich array of features that give premise-based competitors a run for their money.
Nevertheless, two problems persist with Web mail apps. Since they run in a browser, their visibility is often obscured on the desktop. What's more, since they run in the cloud, they become dysfunctional when a computer gets grounded and can't reach the nimbus.
For Macintosh users, though, those challenges are smashed by a program called "Mailplane" (US$24.95), made by Uncomplex.
Familiar Interface
After installing Mailplane, launching the program gives you direct access to Gmail. However, the application runs in its own window and has its own menu bar, as if it were a local Mac application.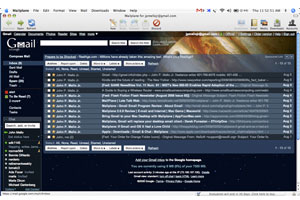 (click image to enlarge)
In addition, the software will run offline -- as long as Google Gears is installed on the Mac -- and postpone online tasks until the next time you connect to the cloud.
Mailplane's interface, for the most part, mirrors Gmail's.
There's a task pane on the left side of the main window where you can perform functions such as compose mail, check your in-box, review sent mail, look at spam and trashed items, filter messages by label, and chat.
Gmail video chat is supported by Mailplane, but it does require installing some additional Google software.
Apple Address Book Integration
You can also access Gmail's tasks feature and address book.
In addition to creating tasks manually, any mail message can be turned into a task from the "More actions" menu in Gmail.
When filling in the "To:" field in a message, the program will automatically suggest email addresses from the Gmail address book. Better yet, you can also insert email addresses from the Apple address book from the Mailplane "Mail" menu or by pressing a keyboard shortcut, command-option-A.
At the top of the program's window are familiar Gmail links to Google Calendar and docs, Picasa photos, Google Reader, settings for your account and so forth.
Screenshots on the Fly
A toolbar for Mailplane is located above the Google links. The Mailplane icons Not only add spice to the drab Gmail interface, but also provide quick and intuitive access to frequently used functions such as new message, reply, forward, send and discard. For some unknown reason, though, the new message tool didn't work on my evaluation version of the program.
The icons also provide a straightforward way to tap into the Apple Address Book and iLife applications like iPhoto, iTunes and iMovie.
A list of downloaded items and Gmail accounts are available from the toolbar, too. Yes, that's accounts, as in plural. You can jump among multiple accounts within Mailplane without leaving the program.
Another nice touch: Screenshots can be grabbed from within messages by clicking the toolbar's Screenshot icon.
When you click that icon, you're given a choice of capturing a selected part of the screen, a window or the entire desktop. You can also choose to hide Mailplane so it doesn't interfere with the snatch.
Hassle-Free Attachments
Attaching items to messages is simplified wonderfully by Mailplane.
You can drag and drop anything that can be attached to a message -- photos, documents and such -- onto an email and it will be automatically tacked to the posting.
You can also copy items from anywhere on the computer and simply paste them into the message where they will be automatically attached.
When photos are dropped into a message, a pop-up window appears permitting you to set the quality and size of the photo. That's a handy feature for controlling the size of the email that you're posting.
If your snapshot is in iPhoto, you can directly email the picture with a single click through Mailplane from the "Share" menu in the photo app.
When a photo arrives in your inbox, sending it to iPhoto is a cinch. Click download, import and in a flash the image appears in the iLife app.
If you click "reveal" instead of "import," the photo will be sent to a default folder of your choosing.
Best of Both Worlds
One aspect of Web mail that's always bothered me is not knowing when new messages arrive in my in-box. Mailplane addresses that problem with an excellent notification system. It alerts you to a new message within seconds of its arrival in your in-box. Better yet, it will alert you to new emails even if the program is minimized to the OS X dock.
What's more, the program supports Growl. Growl is a free notification system for OS X that gives a user more control over notifications from applications compatible with it.
Because Web mail can be used from any computer that runs a Web browser, it's a very attractive application for users on the go. However, with Mailplane, users who spend most of their time pecking at the same keyboard day after day can now enjoy the benefits of the cloud app without having to forgo many of the features that make resident email programs so popular.