VirtualBox 3.1 Aims to Bag Enterprise Market
Sun Microsystems this week released VirtualBox 3.1, including several key enterprise features aimed at maintaining minimal downtime on virtual servers.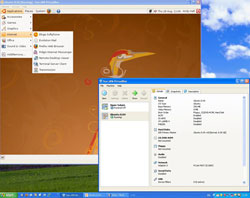 Ubuntu
on Windows XP through VirtualBox
(click image to enlarge)
VirtualBox 3.1 has the ability to "teleport" virtual servers -- move running virtual machines uninterrupted between disparate hosts on different operating systems and computer classes. It also includes a full suite of enterprise hypervisor features.
In addition, VirtualBox 3.1 offers more powerful snapshotting features that help administrators move a virtual machine backward or forward in time to any arbitrary snapshot state.
"These new features go a long way to making it more useful. Instead of just being a desktop toy, they've turned it into something that can be a useful deployment," Bill Weinberg, principal consultant and independent analyst for Linux Pundit, told LinuxInsider.
Hyper Toolkit
Version 3.1 is a very interesting release, according to Weinberg, who expected improvements in performance but found much more built into VirtualBox this time around.
The teleportation feature, for example, breaks VirtualBox out of its beginning efforts and into something that will support cloud computing, he said. The features add value higher up the stack.
"Today's enterprises expect to deliver a 24/7, always available, computing service," said Jim McHugh, vice president Datacenter Software marketing at Sun. "The ability to teleport running virtual machines from one computer to another allows system administrators to perform essential maintenance with zero downtime of their IT systems. As a cross-platform hypervisor, VirtualBox allows customers to easily evaluate and deploy virtualized systems, using their existing x86 hardware, operating systems and skillsets."
Speed Boost
Optimized memory handling delivers performance increases of 30 percent over the previous VirtualBox release, according to Sun.
Network performance shows increased throughput and reduced CPU cycles through a new high-speed, paravirtualized network driver. Also, display performance is improved thanks to a new 2D Video Acceleration feature for Windows users.
"From a technical point of view, the teleportation feature creates virtual machines that have zero downtime during maintenance periods. This is a very big deal," Scott Testa, a professor of business administration at Cabrini College in Philadelphia, told LinuxInsider.
Business Cues
The special attention that Sun Microsystems put into version 3.1 shows that it was deliberately aiming to capture the enterprise market, noted Testa.
For example, the new version has flexibility for use in a multiplatform work environment. For some businesses, not needing a homogeneous computing environment to deploy virtual machines is very important, he said.
The software works with Windows, Linux, Apple OS X, Solaris, and OpenSolaris.
Pricing and Availability
VirtualBox 3.1 is available for free for personal use as a 50 MB download here.
For business deployments within an organization, enterprise licenses or subscriptions start at US$30 per user per year. This includes premium support from Sun's technical team. Discounts are available based on volume.
VirtualBox 3.1 Highlights
Some added features include:
Storage attachments are more flexible. CD/DVD drives can be attached to an arbitrary IDE controller, and there can be more than one such drive.
The network attachment type can be changed while a VM is running.
It features a complete rewrite of experimental USB support for OpenSolaris hosts making use of the latest USB enhancements in Solaris Nevada 124 and higher.
Sun says it's made significant performance improvements for PAE and AMD64 guests [VT-x and AMD-V only; normal (non-nested) paging].
It's added experimental support for EFI (Extensible Firmware Interface).
It has support for paravirtualized network adapters (virtio-net).