TopXNotes: A Concierge for the Constant Scrivener
MacNewsWorld
If there's one software category that's proven it has legs, it's the personal information manager. Knowledge workers and computer jocks are bombarded with a blizzard of information every day, and they seem to never tire of programs that promise to organize it for them. TopXNotes (pronounced "Top Ten Notes"), recently upgraded to version 1.5, is such a program.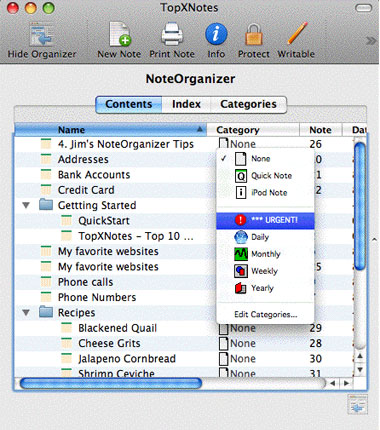 TopXNotes
"Since Apple introduced its address book application that's built into the OS, there's not a big market for the kind of personal information managers that do contacts," Marketing Manager Chuck Rogers, of Tropical Software, maker of TopXNotes, told MacNewsWorld. "There's a few out there, but that's been pared way down."
"But when you start talking about the market for doing notes," he continued, "there's quite a few players competing in that area. There's 500 apps for the iPhone and for the Mac platform, depending how you classify if, anywhere from 15 to 30."
Beefed Up NoteOrganizer
At the root of TopXNotes (US$39.95) is a classic tree-based interface for organizing information, but Tropical has put its own innovative twist on the genre.
On the left side of the program's window is a panel for navigating through notes. It's called the "NoteOrganizer," and it has been revamped in this latest version of the program. In it, notes can be organized and viewed in a number of useful ways.
Notes can be organized into groups, which are similar to folders in a directory tree. An unlimited number of groups can be nested within each other.
Notes can also be placed in categories, which are analogous to tags.
Tropical has improved the look of NoteOrganizer in this new edition of TopXNotes, too. Notes have a striped background that make them easier to differentiate and select.
In addition, notes in NoteOrganizer can be sorted and viewed by category, number or name, as well as alphabetically, like the index in a book.
Whipping Up QuickNotes
You can create as many categories for your notes as you want, but there are two categories that are given special treatment by the program.
Any note tagged with the iPod category will be automatically synchronized with an iPod classic.
Then there's the QuickNote category. Notes in that category will automatically appear in the program's QuickNote menu. The menu is part of a QuickNote palette, which floats on the desktop for swift access at any time. The menu also pops up when your cursor hovers over the TopXNotes icon on the Mac dock.
"That's really useful for things that you use very frequently," Rogers noted.
Side-By-Side Note Views
Another twist on the tree interface in TopXNotes is the ability to show multiple notes in abutting window panes. That's useful for comparing the contents of notes or for displaying the notes for a document in one pane and composing text from the notes in another.
"You can have as many notes open as you have room on your screen," Rogers explained. "The program is intelligent. It knows where the borders are on your screen and it will tell you it can't open another note because there isn't any room for it."
There's also a single note view for focusing on a lone note without visual competition from other panes in the main window.
Password Flexibility
TopXNotes includes password protection and encryption. A password can be created for the entire database of notes, as well as for individual notes.
"If someone uses your computer besides you, you could assign a group of notes with the same password and give that password to people you want to see those notes while the rest of your notes remain protected," Rogers explained.
The program's drag and drop features have been enhanced. Notes can be dragged from the application to the desktop where it will be automatically converted into a Rich Text Format (RTF) file. In addition, text can be dragged into notes from other applications. What's more, dragging a URL into a note automatically creates a clickable link.
As with most Mac developers these days, Tropical has an iPhone/iPod touch app in the works, one that it thinks will work on the new iPad, too.
"We believe our new iPhone application will work, as is, unmodified, but we can't test it until we have a device," Tropical Founder James Lee told MacNewsWorld.