Don't Just Build an iPhone App - Build a Winner
MacNewsWorld
The archetype of the software developer who punches his ticket on the gravy train with a bestselling iPhone app has become for the Information Age what Horatio Alger was for its industrial predecessor. What devotee of Apple's popular mobile hasn't wondered what it would take to create a winning app for it? Those devotees need wonder no more with a new book by Craig Hockenberry, iPhone App Development: The Missing Manual (US$39.95), published by O'Reilly.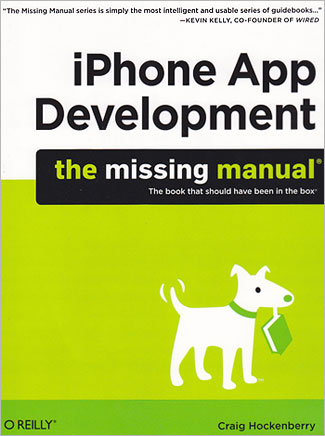 Hockenberry, who has been designing software for 30 years and is currently a principal at the Iconfactory in Greensboro, N.C., concedes in the introduction to his 324-page Missing Manual that there's no dearth of tomes for developing iPhone apps. Unlike those other writers, though, he takes his readers through the entire development process -- from writing code and designing an interface for a product to testing, marketing and supporting it. What's more, Hockenberry enlivens his material, which is understandably dry, with an underlying narrative about the development of an actual product, the popular Safety Light application.
The author wastes no time immersing his readers in programming the iPhone. He explains how to install the pillars of app development on the iPhone -- Xcode and the Software Development Kit (SDK). He then moves to the nitty gritty of programming in Objective-C (the computer language apps are written in) -- brackets, objects, classes and such -- and wraps up the first section of the book expostulating about the Cocoa Touch frameworks and application design. What's attractive about Hockenberry's approach is he gets his reader immediately involved in creating an app and gets to the "backstory" later. It's a tried-and-true technique in fiction, and it works in teaching, too.
Low Tech for High-Tech Phone
After discussing the basics of coding apps for the iPhone, Hockenberry moves on to design. Even veteran designers will need to rethink their interface approaches, he notes, because users interact with the iPhone directly with their fingers. Fingers don't have the precision of a mouse pointer. Designers also have to accommodate the device's smaller processor, memory limitations, slower network connections and, of course, a small display. Interestingly, Hockenberry recommends a low-tech approach to prototyping an app's interface. He advocates using paper prototypes for the various screens that will be used in an app.
"This low-tech design technique is surprisingly effective," he writes. "The key is that the piece of paper and the iPhone share something in common. You can interact with both by using your sense of touch."
After discussing design, Hockenberry returns to developing an app -- only in a more detailed way. Finally, he spends the last 100 or so pages of the book writing about preparing a product for Apple's app store, getting it uploaded and noticed, and tracking sales and providing support.
Throughout the book, Hockenberry sprinkles nuggets of wisdom for a would-be app developer. For example, his advice about choosing an SDK for your app: "Generally, it's a good idea to pick the oldest SDK version that has the features you need to implement your product. If you choose the latest and greatest, you won't be able to sell to people who haven't upgraded their OS in a while. Although the upgrade process is easy, many customers are slow to adopt new versions."
When filling out the extensive online forms for distributing an app through Apple's iTunes store, he warns against adopting a "marathon man" approach. "It's possible to provide all this information in a single session," he writes, "but it's easier and safer to work in small chunks. Don't be afraid to leave placeholder data the first time you add your application. You can make updates to the data as your release date approaches."
What Price Is Right?
He also provides some interesting tidbits about pricing apps, especially for those leaning toward premium pricing for their programs. For instance, the average user spends about $9 a month for five apps -- about $1.80 per app. He gives developers on the other end of the spectrum something to ruminate on, too. Only 20 percent of iPhoners are still using a free app the day after it's downloaded. That figure really nosedives after 30 days, with only five percent still using the app.
It's common with books like Hockenberry's to contain supplemental material on CDs. This Missing Manual forgoes disks for downloads from missingmanuals.com. Having purchased enough books where the disks didn't work or were missing from their pockets, this online approach is a welcome one. What's more, as O'Reilly points out, it knocks five bucks off the price of the volume.
In addition to the supplemental material online, Hockenberry includes an appendix packed with sources for finding more information on the subjects he writes about in the book. It's a treasure trove in itself.
iPhone App Development isn't for the casual reader. Even readers determined to tackle the dense material in the book may find it taxing. One thing is certain, though. After reading this Missing Manual, an iPhone fan won't be wondering any more about what it takes to make a winning app for their beloved mobile.