iPhone 4 First Impressions: The One to Get, If You Can Find It
MacNewsWorld
I tried to preorder an iPhone 4 online, but of course, I was one of the hundreds of thousands of potential buyers who could not get through the clogged Apple and AT&T servers on June 15, the first day the companies began accepting early orders. By the time the servers and system recovered enough to let me in, I was facing a "Ships by July 2" notice. Ouch.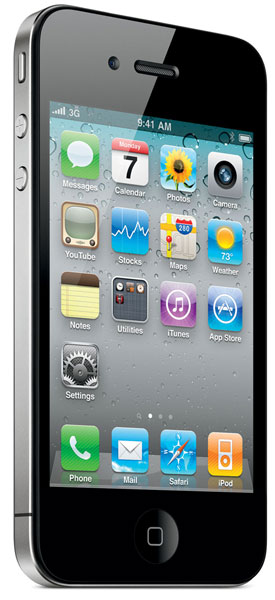 Apple's iPhone 4
My buddy has it worse. His won't ship until July 14.
However, AT&T did get their shipments in on June 28, and they opened their doors to iPhone 4 sales the next day at 7 in the morning. I showed up in line at 4:30 a.m. I wanted to arrive earlier, but I was transferring a movie to my iPhone 3G, and iTunes made me sync and back up the entire old iPhone. Ultimately, I was 22nd in line. Not bad.
On the frantic drive there, though, I pulled up to a stoplight behind a Subaru wagon, and the light wouldn't change. So I jumped lanes, and there was no traffic, but still the light was red. I looked over to the wagon, wondering if maybe it might be heading to the AT&T store. Nah. A retired couple, looked like. As I was trying to figure out if there were cameras at the intersection that would snap a shot of me running a red light and trigger a ticket, it turned green. As I pulled into the AT&T parking lot, the Subaru did too. A woman of about 60 jumped out to get in line. She introduced herself, and she was bubbling with excitement. Her husband showed up with their chairs. Turned out they were getting a pair of 32GB iPhones -- they're grandparents, and they're willing to wait in line at 4:30 in the morning to get their hands on the new iPhone 4!
Wow. Talk about market penetration.
At the store, the AT&T employees were friendly -- freakishly happy and enjoying themselves, in fact -- and very efficient. They passed out t-shirts to those who camped out, and most everyone got a "Rethink Possible" pen with an Apple carved into the top: the Apple isn't the true Apple logo, though, it's an AT&T pen. Not bad for a US$200 purchase and a two-year contract. Seriously, though, I haven't seen so many people walk out of a store with such big smiles after dropping down hundreds of dollars.
Don't Give Up Hope - iPhone 4 Is Worth the Wait
When I first held my new iPhone 4, I was a little startled -- it felt heavier than I expected, very solid, thinner, and yet the familiar rounded back was gone. And when I slid it into my pants pocket, it also seemed weird, showing the outline of the stronger edge than the old curves.
It took me about three minutes to get over it.
After I plugged it into iTunes, activated it, and synced it with my previous iPhone 3G backup -- all of which was easy, intuitive and flawless, it turns out -- my first impression came from the new Apple "Retina" screen. It's sharp, bright and gives an eerie clarity to the icons and glassy Mac OS-like "dock" at the bottom. Offering up a 960-by-640-pixel resolution at 326 ppi (pixels per inch), the new screen really shines in the display of text. It's so freakishly sharp, it's hard to describe -- the edges are smoother than most print on paper -- and far better than most of the computer monitors I've used. Very, very nice. I'd provide a snapshot graphic for you, but hey, you'd still be seeing it on a PC or Mac screen, and it wouldn't be the same.
The net effect is that while the "size" of everything seems to be about the same as on previous generations of iPhones, it almost feels as if there's more screen space for things like Web browsing or reading email. Why? Because you don't have to zoom in to make the text more readable. I'm not sure if this will translate to hours of reading at a time, but hey, it's a big improvement.
Similarly, overall fit-and-finish detail is extraordinarily great -- maybe even better than previous generations of iPhone. I cannot see or feel a flaw in construction anywhere, whereas on my old iPhone 3G, I could feel a slight difference in one edge where the plastic back met the metal bezel. Tiny, but this new iPhone 4 looks and feels 100 percent perfect.
Broken Glass?
One of my first thoughts was all about protection. With a full face of glass on the front and back, the iPhone 4 rests on glass regardless of how you set it down. The back side can certainly get scratched up, but it's glass, not plastic or metal, so it just seems so much more wrong to let it get scuffed up. Plus, what if it breaks? We know that metal and plastic can get chewed up pretty well and still be functional. What if the glass cracked or broke? Would we lose the use of the iPhone 4 altogether? Oh, the fear!
Double-sided glass on an iPhone is definitely a double-edged sword: Glass can be manufactured to be extraordinarily tough stuff, and yet it can be painfully fragile. Years ago, an uncle of mine locked his keys inside his car -- and he had to get to the airport to catch a flight. No time to call a locksmith, so he tried to break out the rear right passenger window with a grapefruit-sized rock. He smacked the windows and the rock bounced off. Tried it again. Same thing. He finally threw the rock, and all it did was ricochet off, flying over the entire car. This wasn't Hollywood movie glass, not by a long shot. Another guy sees the trouble, takes out his pocket knife, and with it closed up, raps the glass once with a small metal end. The glass instantly shatters into a bunch of pretty translucent pebbles.
Now, I've dropped my iPhones over the years -- onto concrete, tile and pavement -- and they've never broken, with or without cases. But I've seen iPhones with broken screens, and it's just plain heartrending, so I'm telling you, if you don't have a warranty or a spare pile of cash, one of the first things you'll want to do get is a case -- if only to alleviate a bit of irrational fear. And keep your iPhone 4 away from a pocket knife.
No Cases?
The tough thing right now is the lack of availability and choices for cases. The AT&T store didn't have any in stock, and while you can find some online, some of the color choices are down to wild purples and off-pinks. Plus, you've got to wait for one to get shipped to you, sight unseen. The Apple retail stores may have more options, but I'm not near an Apple store. I did, however, find a Zagg Invisible Shield screen (and backside) protector at my local Radio Shack. I'm loathe to cover up the beautiful Retina Display with anything, but I'd rather have the protection than a scratch.
(Oh, and by the way, if anyone has found the perfect super-thin hard-shell case, send me a note or comment below -- I'm on the lookout for a permanent, tough-but-slim option!)
Putting It to Use
The new iOS 4 operating system is also a joy. Paired with the iPhone 4, which sports a much faster processor than what's found in previous iPhone generations, every action in iOS is snappier and just feels good. Photos with the new 5-megapixel camera snap quickly. They're still easy to blur if you're moving, but it's much more usable overall. Plus, the video recording is nice, and the LED flash is helpful, though it's not a fix for challenging low-light situations.
Multitasking is handy, but I can tell it'll take me a while to remember that it even exists, since I've lived without it for three years.
In terms of signal reception, it's been solid for me, and while I can cover the lower-left side of the phone and see my signal bars drop by a bar or two, it hasn't resulted in a lost connection or noticable problem with clarity. In general, I get excellent AT&T signal coverage in the areas that I frequent, so my experience is likely better than those who live in challenging city environments.
The new iPhone 4 also boasts support for the latest "3.5G" mobile networks, including HSDPA and HSUPA, which basically means it can handle faster mobile data speeds. That, of course, depends on your proximity to a newer AT&T tower. Some international customers on fast networks will enjoy download speeds up to 7.2 Mbps.
As for call clarity and volume, my first impression is that both are quite a bit better than my iPhone 3G. The speakerphone seems a bit louder and clearer as well; however, I do wish Apple would beef up the volume even more -- when there's a lot of background noise, I find that I'm already at 100 percent volume. When I try basic feature phones and get a stronger volume range, I know there's plenty of room for improvement here.
As for email and the new unified inbox that shows you all your new mail from all of your accounts -- love it, love it, love it. Very handy. Makes me even more likely to go through email on my iPhone than before.
Lots More to Explore
There are plenty of new features that warrant further exploration, of course, including the camera, video recording, and Apple's new iMovie app for easy video editing on the iPhone 4 itself.
There's also the media experience and seeing if the Retina screen is really all its cracked up to be.
Stay tuned.