Manage for iPad Is a Smooth Operator
MacNewsWorld

Manage, an app from Kerofrog, is available for US$2.99 at the App Store.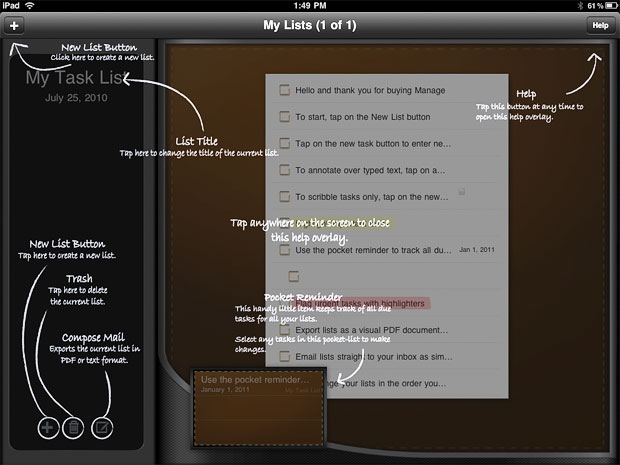 Manage for iPad
With the pace at which many of us live our lives, lists have become life preservers in a sea of tumultuous activity. Software makers learned that early in the development of the personal computer. Hell, it was the cornerstone of an entire hardware platform pioneered by Palm.
A problem with PC programs, though, is that you can't take them with you when you leave your desk. Sure, you can run them on a laptop, but booting one up just to find a list isn't always convenient. A more flexible place for a list is on a mobile device -- on a smartphone, maybe, or on the iPad.
One such list management program for the iPad is Manage. There are a few list apps for the iPad in Apple's iTunes store, but none of them are as suave or visually appealing as Manage.
Never Forget a Task That's Due
When you open Manage, you're greeted with an interface that's designed to look like a leather notebook. You can move from list to list by swiping the iPad's screen. In landscape mode, the name of the list currently in view appears in a panel with a black background on the left side of the iPad's screen. In portrait mode, the name appears above the list itself.
Three tools appear at the bottom of the screen in both modes. They allow you to create a new list, trash a list or export it as a plain text email message or PDF file.
Also at the bottom of the screen is a small faux leather square -- it even has virtual stitching around the borders -- that display tasks that are due for completion.
Items from all your lists due for action automatically appear in this Pocket Reminder so you need not worry about hunting through your lists to find out what actions you need completed. Items are listed in chronological order. To scroll through the items, you merely swipe the box with your finger.
Whimsey and Charm
On the title bar atop the screen is another plus-sign icon for creating new lists and a Help button. When you poke Help, a semi-transparent gray overlay appears on the screen.
It has notes in a handscript font sprinkled on the page. Arrows and lines extend from the notes pointing to areas of the program interface beneath the overlay. For example, one note reads, "New List Button/Click here to create a new list" and an arrow points to the plus-sign icon. The approach is whimsical and has a charm absent in most productivity apps.
Double-tapping a list enlarges it. In landscape mode, the black panel on the left is transformed into a tool tray containing virtual pens and highlighters. In portrait mode, the pens and highlighters are accessed via icons.
To highlight an item in red or yellow, you tap the marker in the appropriate color then poke the item. Highlights can be removed by using a white marker.
Attractive and Imaginative App
The pens let you add handwritten notes to your items or draw freehand on them.
For instance, if you want to mark up an item in blue, you tap the blue pen then touch the item. A "Scribble Pad" window appears. It displays the item in enlarged text. Using a finger as a pen, you can mark up the item -- underline or circle words or add comments.
Pen colors can be changed from within the Scribble Pad. It also has tools for erasing your scribbles and moving an item's text within the window.
Above the highlighter and pen trays are additional tools for sorting items by priority (highlighted items), due date and completed.
Manage is an attractive and imaginative app for getting a handle on the daily demands on our time. It's also useful for keeping tabs on tasks that must be finished to complete a project. Best of all, you don't need to be chained to a desk to use it.