Strip Designer Adds a Dash of Comic Book Fun to Snapshots
MacNewsWorld

Strip Designer, an app from Vivid Apps, is available for US$2.99 at the App Store.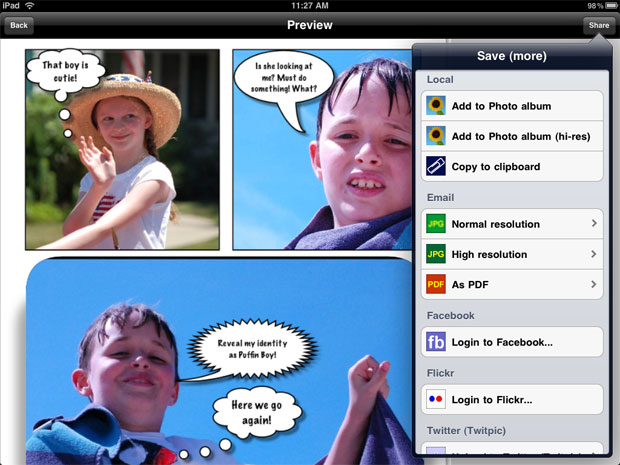 Strip Designer
You don't have to be an artist to enjoy comics, but you do need to be one to draw them. That doesn't mean you need skills with pencil, pen and ink to create comics strips, however. All you need is a digital camera, an iPad and a program like Strip Designer.
Strip Designer lets you use digital photographs as panels in a comic book. You can add speech and thought balloons and sound effects, as well as manipulate the images in a number of ways to give them a comic strip look.
When you finish your masterpiece, you can share it in a number of ways. You can add it to the iPad's photo album as a normal or high-resolution image file, or as a PDF document. You can also post it Facebook, Twitter or Flickr.
Setting up a comic is very easy. The app includes a plethora of layout templates for your comic. If you can think of a layout, chances are you'll find it in the app. You can choose from full-page splash panels to packing as many as nine panels on a sheet. There are special layouts, too. You can make the panels look like a film strip, emboss them or put a title on every page.
Top Shelf Filters
After choosing a layout, you import photos into the panels by tapping them. When you poke a panel, a menu pops up asking for a source for your image. You can pull it in from the iPad's photo album, insert a blank image or use a map from Google.
Images or maps brought into a panel can be resized and manipulated with typical iPad gestures. Pinching reduces the size photo. Spreading your fingers enlarges it. Dragging a digit on the image moves it around inside the panel.
The app has a nice set of filters for altering images brought into the program. There are tools for changing the color values of a photo and its brightness, contrast and sharpness. You can apply monotone filters to a photo like grayscale and sepia. There's also a halftone effect that gives an image an Andy Wahol pop-art look. There are filters for making a photo look like a pen-and-ink sketch or like comic book art, too.
Similar effects filters can be found in lots of imaging programs. Often the effects are, well, not too effective. That's not the case with Strip Designer. Its filters are Photoshop caliber.
Delightful App
Poking the "add" button at the bottom of the screen lets you incorporate cells, stickers, cutouts and balloons into a panel. Cells inserted into a panel can contain another photo or just text. Stickers can be sound effects -- ZZZZZZ, BAM, BIFF and such -- or graphics likes bats and big lips. Cutouts can be made from parts of any photo and inserted anywhere in a strip.
Balloons are the traditional way dialogue and thoughts are inserted into comics. Adding one to your strip is as simple as dragging one from the balloon toolbar into the panel. Tapping the balloon opens up a box where you can type in the balloon's text. You can also control the text's font, color and alignment. The app includes a nice selection of fonts, but you can add to its library from free font sites like Blambot and Font Squirrel.
Other effects you can per from on your balloons include changing the fill color for the bubble and adding borders or shadows to it.
After inserting text into a bubble, you can resize it with "handles" placed on its border and position it by dragging it around the screen.
Strip Designer is a delightful app with a professional feel to it. Once you start turning your digital photos into comics, you'll find it hard to stop playing with this program.