Motion Doctor a Strong Complement to Pro Physical Therapy
MacNewsWorld

Motion Doctor, an app from Blue Whale Web Solutions, is available for US$14.99 at the App Store.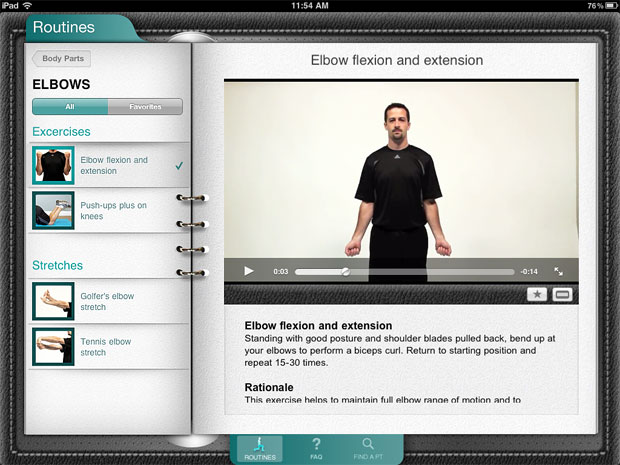 Motion Doctor
Before you get a pain in your neck, your lower back starts bothering you or elbow starts aching, you might want to consult the Motion Doctor.
Motion Doctor is like having a physical therapist in your iPad. The app was created by a Pennsylvania physical therapist, Desirea D. Caucci, as a way for people to avoid motion injuries. It can also be used as a tool by physical therapists to illustrate exercises they'd like patients to do at home.
"The app is not intended to replace a [physical therapist's] services, rather it aims to teach consumers how to properly maintain their bodies and prevent injuries," Caucci said.
The app uses a combination of video and text to describe routines for strengthening and stretching parts of the body. The routines are illustrated by more than 60 video clips. The clips are "baked" into the program so you don't need an Internet connection to see them.
PT Illustrated
Each routine consists of a video, a description of the exercise and the rationale behind it. So if you're concerned about getting a stiff neck, you might perform the "cervical flexion and extension" routine. "Slowly bend your head all the way forward and then all the way backward," the routine's description reads. "Hold each position three seconds and repeat five times each way."
The rationale behind the routine? "This exercise helps to maintain full range motion for your neck," the app explained.
Routines are listed in a column beside their videos. Sliding a finger on the column moves through it vertically. Poking an item displays its video and information on the main page of the interface.
To quickly locate an exercise or stretch, you can make it a "favorite" by tapping a star button on the video. Then when you want to swiftly find it, you can tap the favorites tab at the top of the listings column and it will be sitting there waiting for a poke.
The favorites feature only works within routines. When you're inside the elbow routines, for instance, you can see all your favorite elbow routines, but you can't see favorites for other categories like hip or knees. Allowing favorite choices to be displayed from all routines might be more useful to users than the current setup.
A Regimen for Chair Jockeys
In addition to organizing routines along body parts, they're also sorted by activities, sports and profession.
Activities include walking, gardening, driving, running and even sitting. There are actually quite a few exercises and stretches that can help you avoid distress on your body from sitting -- exercises for your neck, chest and, of course, back and stretches for hammies, hips and arms.
There are also routines for sports like golf, basketball, baseball, bicycling, tennis, swimming and running and for professions like computer work, tradesman, drivers and standing occupations.
Along with its routines, the app has a section of frequently asked questions about physical therapy -- questions such as why go to physical therapy, does health insurance pay for physical therapy and will physical therapy be painful?
It also has a state-by-state directory of physical therapists should you need to contact one in your area.
No Substitute for Medical Pro
Although Motion Doctor is full of useful exercises and stretches, its author cautions that the app is by no means exhaustive. Neither is it intended to replace the evaluation and treatment of your problems by a medical professional.
"The normal responses when attempting new exercises include mild burning or stretching in the muscles during the activity, with possible soreness in the used muscles up to 24-48 hours after completion," the app warns in its disclaimer.
"If you are experiencing any unusual pain, shortness of breath or any other unexpected response when performing any of these exercises, you should discontinue using this app and contact a medical professional," it added.
Disclaimer aside, Motion Doctor can be useful for putting together an exercise regimen that can help a healthy person stay that way.