With DisplayPad HD, Your Mac Sprouts a Fuzzy Little Second Head
MacNewsWorld

DisplayPad HD, an app from Clean Cut Code, is available for US$2.99 at the App Store.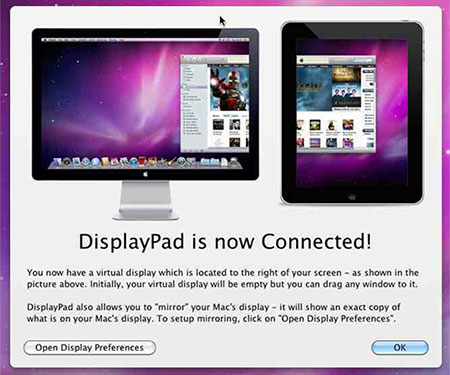 DisplayPad
In my office, I use a 24-inch monitor. It's not an Apple monitor; it's a decent Samsung HDTV monitor running at 1,920 by 1,200 pixels, and while it's not as sharp as Apple's monitors, it was a lot less expensive. I like it.
My problem now is that when I need to pick up my 13-inch MacBook and work remotely, I feel constrained by the incredibly smaller amount of desktop space at my disposal. It's hard to think, and while I don't break out in a cold sweat, my productivity plummets.
But what are my mobile options? Upgrade to a 15-inch MacBook Pro? Definitely. That option is at the top of my list, waiting for my budget to coincide with it. But there's another answer entirely, and all you have to have is an iPad.
DisplayPad to the Rescue
The iPad is basically just a slab of screen, so why not use it as an external monitor? Clean Cut Code has released an app for that: DisplayPad HD. The app uses a WiFi connection to extend or mirror your Mac OS X monitor. It requires an iPad with at least iOS 4.0 and Mac OS X 10.6 Snow Leopard. One note: Users of new MacBook Pros with dual graphics hardware will need to disable Automatic Graphics Switching, though.
Installation is easy, but it does require a separate download from your Mac. Here's the process: Download and launch the DisplayPad app. The app's first screen gives you a list of four steps to connect. First, using a browser on your Mac, go here to download the Mac portion of the app. Install it and restart your Mac. Connect you Mac and iPad to the same WiFi network, then launch DisplayPad on your iPad. After launch, you'll select your iPad from a pull down menu from a new icon on your Mac's topmost menu bar.
And boom, your iPad will mirror or extend your Mac desktop. To change the settings, you have to have the app open and connected, but you can change the settings for the iPad display just like you can for any other external display. For example, if you're using the iPad as an extension of your main display, you can move the position to the right or left side. You can also set your desktop photo using Mac OS X's System Preferences.
Performance Explored
Overall, DisplayPad performs remarkably well. After all, there's no direct physical connection between you Mac and iPad -- it's all just traffic over WiFi. So how does this shake out in real use? When you first move a Mac OS X application window over to the iPad screen, it's immediately responsive -- you don't see much of a visible lag, though the window itself is a bit fuzzy. The text is readable, but not sharp. Stop moving the window and in 1-4 seconds or so, the image gets crystal clear. If you adjust and move the same application element within the iPad screen, it gets fuzzy then clears faster.
To test it with video, I found that popular Talking Twins video on YouTube and watched it via my connected iPad screen. It stayed fuzzy but was moderately watchable. When I moved the video on the fly to my main Mac screen, it cleared up immediately and was more pleasant to watch.
So what's this extra monitor good at? Anything that's relatively static. If you want to reference a spreadsheet or a Web page while you're working on a report, DisplayPad is handy. If you've got something on your Mac running and you want to make it mobile -- within WiFi range -- you can move it to your iPad screen and walk away. I, for instance, put my Mail app on it while I wrote this review, which distracted me with incoming mail. But at least I could see new messages arrive with just a sideways glance.
There is a weirdly cool experience, though: You can sort of use the iPad touchscreen to interact with your Mac OS X apps. Just tap your iPad to click or use a two-finger tap to right click. Two fingers will give you the drag to scroll feature (like on a MacBook's trackpad). And get this: A three-finger tap will bring up a virtual keyboard, allowing you to type -- even if your cursor is positioned in an application that resides on your main Mac's screen. Moving the mouse works, though it's a rough and tumble sort of affair -- your finger covers the position of the mouse, so dragging it around like you might with a trackpad is dumb, despite the initial inclination to do just that. Still, you can actually select text by touching and dragging your finger across it. It's a bit clumsy, as you might expect, but possible.
DisplayPad works automatically in portrait or landscape mode.
If you don't have a WiFi connection, you can create an ad hoc network between your Mac and iPad.
If you leave the DisplayPad app, you automatically lose your screen-spanning or mirroring connection. To get it back, you have to launch the app on your iPad, then simply select your iPad screen from your Mac's menu bar. It's not automatic, but it's not hard, either.
Bottom Line
All in all, I'm pleasantly surprised with DisplayPad.
Your best-case uses will be for reference materials as you work on your Mac, or as a way to display things you want to keep an eye on -- news headlines, email, iTunes, iChat, Web pages that automatically update themselves or any Mac app that will fit nicely on the iPad screen, like a task manager application.