Scan: A Neat Way to Solve the Mysteries of QR Codes
MacNewsWorld

Scan, an app from QR Code City, is available for free at the App Store.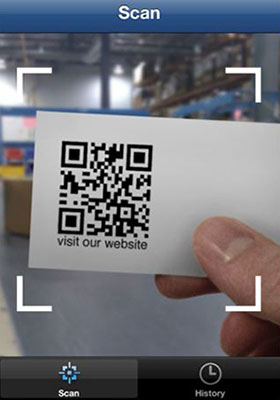 Scan
As you are out and about, walking around the world, if you ever bother to look up from the screen on your iPhone, you've probably seen a QR code -- a black and white square with three ringed black squares in the corners and a bunch of seemingly random white and black pixels scattered all over it. They look like pixelated bar codes almost.
QR stands for quick response, and the senseless little black picture is a code that can store a Web page URL or short text message. If you have a scanning app on your smartphone, you can point it at a QR code and instantly launch yourself into a website or view the secret message.
You can find QR codes in special marketing mailings, on posters in or flyers in stores, and you can even find them on baseball caps and t-shirts. I've been checking out QR readers lately, mostly out of curiosity than any real need or interest in getting a special deal on a dinner or some percentage off of a product that I probably don't need anyway. For me, QR codes are about potential because some day, I might run into a QR code in a situation where I do want that marketing message, the special deal, or to just figure out why guys are laughing at the goofy dude with the QR code tattooed on his forehead.
Point and Scan
If you search the Apple App Store for "QR reader," you'll get a lot of results. There are plenty of apps to choose from. Personally, I like the basic, no-frills interface of Scan by QR Code City, which is free. Basically, when you launch the app, you'll see that the main screen shows a view from the camera on your iPhone, and if you have an iPhone 4, you can use a button to turn on your LCD flash to help illuminate a QR code in dim light -- quite handy if you're in a bar or restaurant at night.
To get the QR code to scan, point your camera at the code and try to line up the box within the obvious "frame" on your screen. In my experience, Scan was able to quickly read the QR code, usually well before I had the code lined up particularly well. In fact, Scan was able to read some codes even at odd compound angles.
So Many Possibilities
I mentioned that QR codes can show you textual content and lead you to websites, but they are even smarter than that. Marketers can create QR codes that get your phone ready to send a text message, email message, or allow you to import contact details for those guys who think QR codes on business cards are cool.
You can even create a location on a map, and once someone scans the QR code, they can launch into that location in Google Maps.
And by "you," I truly mean that you can use QR codes, too. There are several websites online that let you generate QR codes on the fly via simple Web browser. QRStuff.com lets you create more than a dozen kinds of QR codes -- and then have them printed out on a t-shirt or coffee mug, if you so desire. Or you can play with their online tool and use your iPhone to scan instantly created codes directly from your computer screen. It's a good way to familiarize yourself with the sorts of QR codes that you might run into.
There's another site called SmartyTags.com that lets you create QR codes, and if you pay attention, you'll realize that if you create an account, you can "track" your QR code. The create a code page notes, "A free account allows you to track when users scan your code, what kind if device they used, and even where they were when they scanned it."
What? You can track how codes are used? Interesting. Now you know why QR codes are getting such play as a new marketing mechanism for advertisers.
Of course, QR codes aren't just for advertisers. Some magazine publishers give readers quick access to special content, and sometimes the QR codes you run into people wearing are just special quotations or jokes. I would imagine that some guys use them as quirky pickup lines for geek-savvy girls while they are hanging out at local Apple Stores. (Note to self: This might not be such a bad idea, though we'll probably see it happen as a scene in some movie or TV show soon.)
What About Security?
QR codes are not inherently secure, and they can be created by hackers. Consequently, you'll want to think before you scan. Can you trust the source? Is scanning the code worth any potential risk? Is the QR code actually a sticker? If it's a paper sticker stuck on the surface of something, maybe it's not the original QR code at all, but an impostor code. This happens. Wikipedia.org has an entry about QR codes, and the bottom, it talks a bit about the security risks. Check it out.
Meanwhile, there's a feature built into Scan that you'll want to enable: In Settings, under Websites there is an "Ask Before Opening" toggle switch. Slide it to On. Next time you scan a website, Scan will show you the destination URL. If it looks fishy, you can decide not to automatically load the Web page.
Other features include the ability to create a login so you can maintain a big history or your scans. It might be handy if you go crazy and start scanning everything you see.
All-in-One Options
In addition to dedicated QR code reader apps, some apps do double-duty or have been upgraded to now include the ability to scan QR codes. I've used RedLaser, for example, to scan barcodes from product packages while I've been in retail stores. Most recently I scanned the barcode on a fan to see what it might cost online as well as to see if I could find any customer reviews on it. I learned immediately that my local price, right in front of me, was only a dollar more than my preferred online retail outlet and that reviews were generally good. Nice.
The point is two-fold: 1) Pick a QR reader and download it to your iPhone. I like Scan, but there are others. 2) Next time you run into a what might be a cool QR code, you'll have the app you need to scan it.