SkyView: A Jam-Packed, Reality-Augmenting Key to the Sky
MacNewsWorld

SkyView -- Explore the Universe, an app from Terminal Eleven, is available for US$1.99 at the App Store.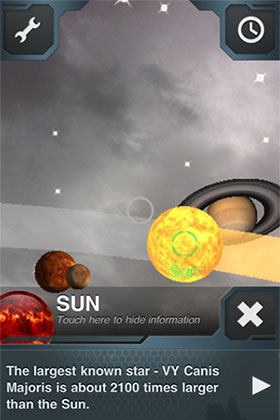 SkyView
Even if you don't care about stars, planets, satellites and other celestial objects in the night sky, this point alone may sway you to take a look anyway: SkyView -- Explore the Universe, an app by Terminal Eleven LLC, has a solid five-star rating by users in the Apple App Store. Not 4 or 4.5. All those little stars are filled in with color. Nearly everyone who bought it (and bothered to rate it) gave it a five-star rating.
I don't see that very often at all, certainly not when there are over a 1,000 ratings.
And the five stars? They're well-deserved.
This augmented reality app, which lets you point your iPhone at the sky to see what's up there, is pretty freaking cool.
SkyView works on a simple premise: It uses the iPhone's compass and gyroscope, along with the camera, to reveal on an "augmented reality" screen that shows you what is in the sky in the direction the camera is pointing. Major elements like planets, stars, satellites, the sun and even the International Space Station show up as graphics, sometimes in 3D, that you can tap on, which then provides you more detailed information. Some of the information is just trivia, but at least it's interesting trivia. For instance, I scanned my iPhone into a Cosmos 482 Descent Craft. Tapping it revealed this nugget: "Kosmos 482, launched March 31, 1972, at 04:02:33 UTC, was an attempted Venus probe which failed to escape low Earth orbit."
It also turns out that "Kosmos" is a Soviet name for Soviet spacecraft that remained in Earth orbit.
Putting It to Work
The first time I used SkyView, the sky was overcast. Lots of cloud cover, actually. Still, one bright shining star was barely visible through the clouds, so I pointed my iPhone 4 at it to find out what it was. Turns out, it wasn't a star at all -- it was Jupiter, the largest planet in our solar system.
After that identification, you might think it was game over for the night -- wrong. I found the International Space Station -- at least, where it was supposed to be out there beyond the clouds -- as well as additional satellites, constellations and Pluto, the "planet" that was demoted to dwarf planet status several years ago.
How about constellations? If you're at all like me, you've had a passing interest in learning a few constellations, at least beyond the Big Dipper and Little Dipper. On bright, starry nights in the Northwest, the Big Dipper is easy to find and relatively bold, making it possible for young kids to notice and then find again when they become adults. (Tiny bit of magic in that, I think.) But the rest of the constellations? Kind of hard. And they don't really look like lions or scorpions or bows and arrows at all. So what does SkyView do for you? It generates an overlay image. In the case of Leo, you can see the stars as well as the connect-the-dots lines that supposedly create the image of the lion.
While I still find most of the interpretations head-scratching, SkyView's ability to locate and explain them is certainly awesome.
Sky Paths and More
In addition to identification and trivia, SkyView boasts several other features. One shows you the sky path of an object, which is the direction it will move across the sky relative to your position on the spinning Earth. I particularly like to use this little trick with the sun: Find the sun, then tap it on your screen, then in move the screen back and forth through its previous path, which is illuminated on the screen, along with where it will be later in the day. I find the arc interesting, especially since it changes its relative position on the horizon over the course of the year. SkyView just helps you stay a bit more aware of the action around our little spinning rock, both far away and close to home.
If you're trying to find something specific, you don't have to make yourself go dizzy in the dark by spinning around in circles. Use the search feature. Pretty handy. Search for the North Star, for example, and SkyView will give you an arrow and point you in the right direction.
Just Waiting for a Warm Summer Night
SkyView is one of those apps that is undeniably cool on its own, but it really promises to come alive at certain times in the future, so you'll want to download it now and keep ready, just in case. For instance, the next time you go camping or stargazing with a girlfriend from the middle of a high school football field.
When you're in the forest, for example, far away from the light of cities, the night sky can come alive all on its own. I'm pretty sure the next time I'm out, I'll spend more time looking at it without SkyView, but I also know I'll pull out the app and augment my reality a bit. Especially if I see a satellite zooming across the sky. I'd definitely like to catch one of those fast ones with SkyView.