Outlook Web Email Has Its Points but Lacks Refinement
MacNewsWorld

Outlook Web Email, an app from iKonic Apps, is available for US$4.99 at the App Store.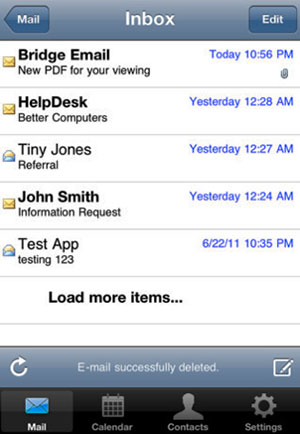 Outlook Web Email
Many iPhone owners bought their iPhones for personal use, then realized they wanted or needed to connect to their work-related email, which is often based on the enterprise-focused Microsoft Exchange mail server.
The PC client application is usually Outlook, and many companies offer their employees browser-based access via the Web. The great think about the iPhone and iOS is that it has excellent built-in support for connecting to your workplace Exchange-based email system.
What's not so great is that doing so can mean that you're connecting a personal device to your work email system, which may or may not be OK with your company. And depending on how your email services are setup, you may or may not be able to simply tap in your account information and log in in via Apple's built-in support.
Or you may not want to. For instance, with multiple email accounts all accessible on your iPhone, you may not want to mix up work email with play email. The handy "All Inboxes" feature in iOS means that you can simultaneously download, preview, and then individually open any of your email messages from all of your accounts.
Plus -- and I'm not positive how this works, exactly, because I've been using many email accounts on my iPhone since day one -- I can start typing in the name of a personal contact and my iPhone will automatically offer me suggestions on the remainder of the email address. Sometimes that's convenient, but it also makes it too easy to let an errant tap select the wrong person. Then boom, that funny photo from your weekend in Vegas gets emailed to a colleague who hates you for getting your last promotion. If you're totally buttoned down and fastidious with your thumbs, this may never be an issue. I'd say, "Lucky you," but .. how boring are you, anyway?
Back on Track: Separation of Church and State
Meanwhile, if you can't, or prefer not to, connect to your company's Microsoft Exchange server using Mail, you can usually access it via Safari on iOS. There's only one problem with that I've noticed: It's cumbersome to tap the right things with your thumbs because the screens are small. But it works, especially if you don't want to mix up your work calendar with your personal calendar.
Since tapping your way through a browser-based login on an iPhone to a calendar entry can take some time (and focus), there's room for another solution: an app that acts similar to a browser but displays your email content in ways that are easier to consume. So you can get a better interface and still retain the benefits of browser-based Outlook access.
One such app that functions like this is Outlook Web Email. With it, I simply entered my access URL, user name and password, and boom, I was accessing my Outlook Web-based email system.
Nice.
I could easily see and navigate through all my folders, as well as tap on messages and read them, reply, and forward. My calendar popped up, but only populated dates going forward from when I started the app. To access your calendar, you only get one view, though: a month-based grid of dates with dots that indicate if you have an event scheduled during that day. Tap the date and you can see a scrollable list of your appointments.
The downside? On an iPhone, there's not much screen space to see your appointments. If your day is full, you have to scroll through a narrow window to see what you're supposed to be doing. I tried to hide the month-view of the calendar but could not. Also, a landscape mode isn't supported (like in the iOS native calendar used with email).
On the iPad, none of this is an issue because there's plenty of screen space for appointments.
Trouble With Attachments
While I could view attachments from within the app just fine -- you have to notice the paperclip icon and tap it and then the file name -- I had trouble forwarding them. Some user reviews indicate that they have had similar issues.
To test this, I forwarded a couple of different emails with different types of attachments to another account that belongs to me. But I did not get the attachments on the receiving end. When I logged into my Outlook Web email via Safari on my iPad and forwarded the messages along, the attachments were properly received and sent.
I'm not sure where the problem with this starts (there are many types of ways to configure email servers, for example), and it's definitely not clear from within the app itself. For instance, there's no visual cue of the email having an attachment when you try to send it along.
In addition, when you create a new email message, there's no opportunity to attach a file to it.
As I look more closely at the official description of the app (version 2.5.2) in the Apple App Store, iKonic Apps doesn't mention or promise any ability to attach files and send them.
In my experience with business-oriented email, though, attachments are pretty common and often quite important. You'll have to weigh the pros and cons yourself here, based on your business needs.
All in all, if I want to check messages or my calendar quickly -- or even look up a colleague via a contacts search -- Outlook Web Mail can do the job. For reading a bunch of email, it's more friendly than tapping on a tiny Web page in Safari.