Mountain Lion Messages: A Few Crossed Wires, Lots of Potential
MacNewsWorld

Messages (beta), an app from Apple, is available for free here.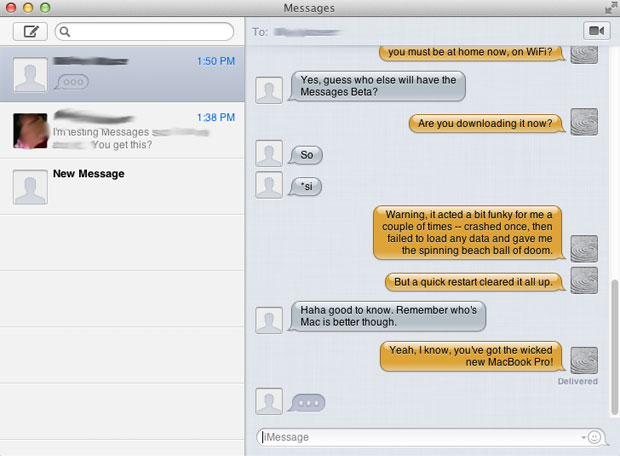 Messages beta for OS X Mountain Lion
The new Messages app for the upcoming release of OS X Mountain Lion -- that's right, it's "OS X" without the old "Mac" in front of it now -- is in beta and available for download. Unlike some companies, Apple tends not to release beta software, but it occasionally does. Of course, it took me all of six seconds to decide to give it a whirl.
Messages will basically replace iChat, the application that lets you chat via multiple chat protocols, along with video chat. While Messages neatly takes the place of iChat, your iChat settings and services continue to work. Meanwhile, what's the point of Messages again? It can't be just to replace the iChat app with a new name, can it?
No.
Messages is designed to bring in iMessage, the messaging system for iOS 5 devices that lets you send messages to other iOS 5 device owners without actually sending a regular SMS through your carrier's system. Why is this cool? You can now send messages to anyone on a Mac or using an iOS 5-based iPod touch, iPad or iPhone -- and receive them, too.
More Than Text
Messages also lets you send photos, videos, attachments, contacts and locations. You can also use Messages to launch a FaceTime video call, which launches the FaceTime app (it's not built-in).
Through your Buddies list, you can see your AIM, Yahoo, Google Talk and Jabber account chat buddies, which Messages supports in a separate window. If you want to chat with someone, though, you'll do it through the Messages window.
How Does It Work?
First, you must setup Messages (the app) to work with your iMessage system (the service). It's a little confusing, but the key is your Apple ID -- you'll need it to connect all your devices so that you can receive iMessages on your iPhone, on your iPad, and on your Mac, for example. But you certainly don't need multiple devices to use Messages.
In addition, you can use an email address as a sort of address where you can be reached. You can have multiple email addresses, so if you've got lots of friends or colleagues you want to segment, you could be messaged via different addresses.
Where else does this get confusing? You have plenty of choices. For instance, you can set up your preferences so that you receive messages to your phone number on your phone but get them via an email address on your Mac. And if you have your iPhone sitting next to you at your desk, this means people can contact you via both, maybe through different avenues, and maybe at the same time.
So, how's this work? Maybe in as many permutations as you can imagine. When I was testing Messages, I successfully sent messages and photos to a guy's iPhone 4, but could not use his email address until he went into his iPhone's settings (on his phone, in his hand) and changed them to use his email address, too. At this point, I was able to change the delivery method on my end to send intentionally to his email address, and he started receiving the messages via a WiFi signal on his iPhone.
Fortunately, Messages created thin horizontal line across the conversation at that point that said something like this:
---- iMessage with Guy's Name Here Today 6:30 p.m. ----.
So you get an indication within the conversation of how you're communicating with a particular person. When it finally comes out of beta, I'm pretty sure that Apple will try to make sure all this is super seamless, in that it will try to always use its iMessage service as a preference.
Polish and Understanding TBD
By default, your iPhone-toting friends might not have their Message app set to receive iMessages through their Apple ID and email addresses, which means the promise of starting a conversation on your Mac and taking it to the road with your iPhone isn't so seamless right out of the box.
To get it right, you have to pay attention.
At the same time, I experienced one buddy who had a MacBook, downloaded the Messages Beta and launched new conversations. So I was chatting with him from my Mac to his iPhone email address (using iMessages), but when he switched to his Mac and sent me a message to my email address, it generated a whole new conversation on my Mac. Similarly, I was texting him with iMessages to his iPhone when his Mac-based response came into my iPhone as a whole new conversation.
Confused yet?
Now imagine trying to explain this to your mother.
I suspect that users who frequently text (and chat via iChat) to many different people, with lots of iPhone friends, may find the setup more intuitive; for moderate users, plan to pay attention along the way.
In terms of speed and delivery, Messages is fast. It did crash on me once, and another time after waking my MacBook from sleep, all the Messages conversations from the night before were missing. Any attempt to send a message to an iPhone-using friend resulted in the spinning beach ball. I restarted my Mac and it knocked loose the hangup.
As for look and feel, it's solid, but it's smallest available size takes up a lot of screen real estate -- and you can take it full-screen if you want, which seemed laughable at the time. (No doubt it's just a default feature available in all new Apple apps).
All in all, while Messages is a deceptively simple application designed to show off OS X Mountain Lion and get Apple fans using the new messaging service across their leading-edge Apple devices, you will likely have to pay attention to setting it up the way you want on your devices in order to communicate with your friends the way you intend. For example, my Apple ID is associated with an email address that I don't typically connect to via Mail on my Mac (just Web-based), and I don't really want that email address out and about everywhere. So I had to intentionally choose a different address.
Either way, Messages will open up new methods of communication for you, and even if you like to have all text and MMS messages come to your iPhone via your unlimited messaging plan, you might eventually be seduced by the ability to "text" by using a real Mac keyboard. It's wicked fast compared to the iPhone's touchscreen.

---