National Geographic Adventure Thoroughly Thrills
MacNewsWorld

National Geographic Adventure: The Greatest Story Ever Told, an app from The National Geographic Society, is available for US$1.99 at the App Store.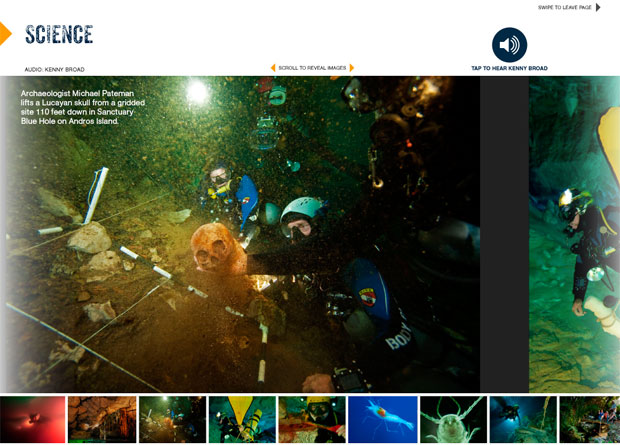 National Geographic Adventure: The Greatest Story Ever Told
I'm a fan of National Geographic and their society, though certainly not a rabid fan, so when I saw that the adventurous explorers had created a new app, I paused -- was this just more of what I've already seen, perhaps repurposed for the iPad? Or was it new? Compelling? Was it awesomeness wrapped up in an adrenaline sandwich just waiting for me to tear into it?
Yes. It seems to me that National Geographic Adventure: The Greatest Stories Ever Told app is all of those things -- bits of repurposed content enhanced by slick video, lush photos, information graphics, audio from explorers and adventurers, all packaged up with a dose of interactive textual stories. Oh, and is there flicking, swiping, and tapping? Yes, yes there is.
In fact, there's a good chance that you're going to get lost in this app at some point, which isn't that far off from a good adventure -- the adventurers in the stories all face the risk of getting lost, maybe in a deep, scary underwater cavern hundreds of feet below the surface in the Bahamas (with toxic clouds of biological gunk to swim through), or maybe lost on a ledge on the side of Yosemite's famous Half Dome slab of rock, alone without ropes.
In this case, though, getting lost is both metaphorical and real: If you even have a passing interest in adventure and exploration, you'll lose minutes and likely hours reading, watching, listening and exploring the stories, of which there are five. And while you'll be transported to far-off places of our world, you'll end up stuck, swiping away at pages in the app trying to make photos move or go to another page, or get the video you've already seen to stop playing so you can navigate your way back to the spot you accidentally left by tapping in the wrong spot.
Amazing Yet Labyrinthian
The core of this app is five adventure stories:
Alex Honnold scales Half Dome and El Capitan in Yosemite without ropes
Divers and scientists plunge into deep underwater holes and caverns in the Bahamas
Scientists Descend inside the Democratic Republic of the Congo's Nyiragongo Volcano to study a belching, fuming lava lake
In 50-below weather, a team journeys across Antarctica
The Titanic's resting place is explored and revealed
All of these stories feature a basic story line, which is easy to read and figure that you're done. You're not. There's lots more. One of the best ways of keeping track of where you're at in the app and in each of the stories is to use a horizontal bar at the bottom of the app. You can tap it, slide a node on it, or tap back or forward to navigate horizontally through the stories, from one page or video or interactive element to another.
At some point, you're going to try to swipe a page and nothing will happen, or you're going to end up swiping into a spot you weren't intending. The best way to survive this is to not freak out and just consume what you find. Seriously. For example, you might hit a spot where you can scroll through a bunch of photos, but if you try to swipe, you just move to the next image ... and don't leave the page. Sometimes you'll see small text hints and arrows in the app, but often I didn't notice these until I was swiping ineffectually or accidentally moved to a new page when I meant to see the next photo.
Here's a tip: Use the deliberate single finger tap, just once, when you get lost. You'll get a top and bottom navigation drop down (or drop up). There's a back arrow that will step you back (use it), and there's a Home button and a couple of different table-of-contents sorts of menu buttons. The first shows options to go to not only the main stories of this app, but the Web-enabled portion, which includes adventurous content from the National Geographic websites, like the "Extreme Photo of the Week" or a National Geographic Adventure blog that delivered up without all the trappings of a traditional website.
There's also a set of four vertical bars as a button icon at the upper right corner -- tap it. This navigation aid shows you a horizontal list of thumbnails, almost like magazine pages that you can flick through to find something interesting ... or get back to any spot you left off.
The Content
Beyond the tactical efforts to explore the app, the content is generally cool and engaging. One thing I did notice, however, is that the emphasis on multimedia, as well as creating an immersive environment with audio, video and flicking and swiping, comes at a cost -- the stories themselves. I had the sense that they lacked the drama that you can find in a more traditionally written tale.
If you come to initial end of a story, you can click to read the original article from the National Geographic website (through the app, though; you don't have to leave to go to Safari). These online versions are invariably longer in text but less interactive in "appiness." The app has the appiness. And lots of it. So instead of getting a great story in text, you get an experience of the story through gobs of vibrant photos, cool video and explorer narration.
So which is better?
Wrong question. Both are fantastic, just different. Fortunately National Geographic lets you leap to the original article for the original story -- as for which version is the "full" story, well, that's up to you.

---