Portrait+ Makes Everyone Beautiful People
MacNewsWorld

Portrait+ for the Mac is available from ArcSoft for US$179.99.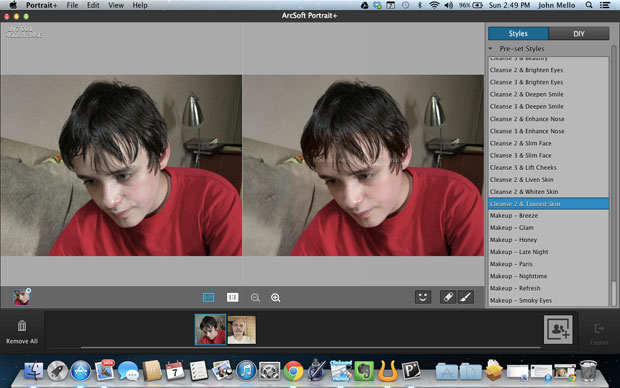 Before and After Comparison
ArcSoft may strike a dissonant note among PC users. It has been a prime contributor to the bloatware libraries found on many new Windows laptops and desktops.
Nevertheless, its professional and prosumer product lines have proven to be quality alternatives to the higher-priced offerings of its competitors. That's true of one of its recent offerings, Portrait+.
The software -- available now as a standalone version and in the future as an Adobe Photoshop plug-in -- is a high-powered touch-up program for photo portraits.
If you've ever gone to a book signing and compared the author's photo on the book jacket with the person signing the books, you've got an idea of what Portrait+ can do.
Gain Without Pain
Most image editing programs these days contain tools for cleaning up portraits. Blemishes can be removed. Skin softened. Wrinkles erased.
Using those tools can be labor intensive, though, and even your best efforts may produce mediocre results at best.
That's where Portrait+ shines. It gives you a rich set of predefined touch-ups, and it lets you make your own pre-sets to suit your tastes or a particular photo. Any adjustments you make can be saved, of course, so you can use them later on other images.
The quality of the final results is typically better than can be produced by most image hackers.
Batch Handling
The key to the software's magic lies in the precision with which it analyzes a face. It's able to identify 24 key facial features permitting it to remove blemishes, wrinkles and skin imperfections accurately and intelligently -- without giving subjects a Joan Rivers look.
If the facial point scheme isn't working quite right for a particular photo, you can modify it for a rendering more suited to your tastes.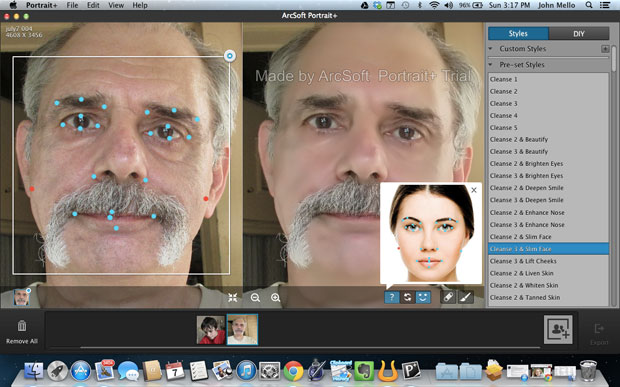 Modification points can be customized.
Here's another bonus: The program can detect up to 20 faces in a photo and touch up all of them at once. You can also exclude faces in a photo with a "skip face" tool.
What's more, Portrait+ lets you apply styles to batches of photos imported into or exported from the software. If you need to apply specific styles to individual photos in a batch operation, you can do that, too.
The software's ability to recognize skin in a photo, remove imperfections in it, and render a natural-looking result is superlative. However, tools are included to tweak any touch-up shortcomings by the program.
For example, there's a set of blemish removal brushes that can be used to remove deep scars and pimples in a "smart" way so skin texture is restored in a way that doesn't jar the eye.
Nip, Tuck
While fussy portraiture artists may want to tweak the pre-sets included with Portrait+, many image manipulators will find the offerings more than adequate for their needs.
All told, there are 27 pre-sets that give you a wide range of touch-ups for portraits. For example, there are five levels of "cleansing." Each level increases the smoothness of the skin in an image. Level 1 makes some modest adjustments to a mug; level 5 applies the kind of extreme airbrushing effects seen in studio stills from Hollywood's Golden Age.
A number of pre-sets combine cleansing with special effects and ersatz plastic surgery. There are a couple of "cleanse and beautify" settings, for instance, that remove imperfections and harsh lighting effects.
You can brighten the eyes of your subject, as well as deepen his or her smile.
You can make a proboscis more attractive with a nose enhancement or let your subject instantly shed a few pounds with the "slim face" pre-set. There's also "lift cheeks" for a subtle facelift.
Beyond Pre-Sets
A subject need not be dedicated to a facial skin regimen to obtain the benefits of that discipline, either, as Portrait+ lets you liven skin with a pre-set, as well as whiten it or tan it.
For female subjects -- or anyone else wanting to apply some makeup -- there's an array of cosmetic touch-ups with names like "Glam," "Honey," "Late Night" and "Smoky Eyes."
Many of the facial touch-ups in the presets can be customized through the program's DIY settings. There you can turn features on and off, as well as manage their intensity with slider controls.
In DIY mode, you can soften the skin of a subject, remove shine in a portrait, slim a face, brighten and enlarge eyes, remove circles, enhance noses, deepen smiles and whiten teeth.
In addition, the strength of each of those attributes can be set to low, medium or high, or any point between with slider controls.
Any touch-up combinations created in DIY can be saved so they can be used later on your photos.
Free Trial
Once you've finished a photo project, you can export it to a local destination or one in the cloud. You can also configure the size, quality and file type of the exported photos.
With the most recent version of Portrait+ for the Mac, ArcSoft has added Retina display support and cleared up an activation issue.
At $179, Portrait+ won't be an impulse buy for most folks -- and it's not meant to be. It's made for someone who is serious about touching up portraits. Nevertheless, you can test the program's chops by giving it a 14-day spin on your Mac as a free trial.
Want to Suggest a Mac App for Review?
Is there a Mac app you'd like to suggest for review? Something you think other Mac users would love to know about? Something you find intriguing but are hesitant to buy?
Please send your ideas to me, and I'll consider them for a future Mac app review.
And use the Talkback feature below to add your comments!

---