Obduction Comes Out of the Myst
MacNewsWorld
Way back in 1993, a little exploratory puzzle mystery game called Myst was released for the Mac. It took off to become one of the best-selling -- and moodiest -- games ever, expanding to a variety of other platforms. The creators followed up with Riven, and now, 20 years after Myst, they are using Kickstarter to launch a new indie-developed game, Obduction, to be produced by their little company, Cyan.
Obduction is an all-new, real-time, first-person adventure. It's designed to resurrect "that incredible feeling of suddenly finding yourself in the middle of a new world to explore, discover, solve, and become part of," says the Cyan team, which is led by Rand Miller, Stephan Martiniere and Eric Anderson.
The point of Obduction is to create a new immersive world where the point of the game is to understand your environment rather than test your reflexes, and along the way give you puzzles, scenery, incredible architecture and a compelling storyline.
The Story Matters
Obduction will supply a great storyline via a very personal window into a much larger world, according to Cyan. Obduction begins with your abduction: You are whisked away across the universe to who-knows-where -- or when or why.
Your job in the game to explore everything, read between the lines, and start answering questions. For instance, "Why is there an old, abandoned farmhouse -- complete with white picket fence -- in the middle of an alien landscape? You'll find out," Cyan promises. "From this point on the story becomes your story."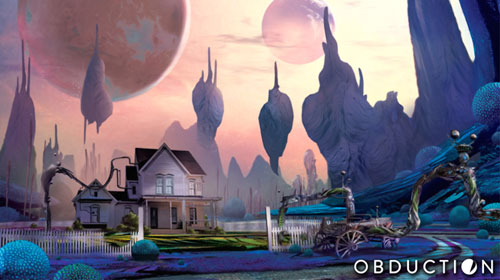 How It Plays
Obduction has a few game design elements in common with Myst and Riven, and it skews into new areas as well, according to Cyan. The company's basic design philosophy is simple:
Build every element of the experience to make you, the player, feel like this virtual world has become your world.
The interface should be intuitive and transparent.
The story should be revealed through exploration and not necessarily shoveled out in cinematic form.
The puzzles should range from easy to difficult, but even the toughest puzzles should be designed so that you know that all the pieces to solve it are there in front of you.
The sound and music should be balanced; they should add emotion but not become distracting or annoying.
The Add-ons
For US$25, you can get a digital download of the game. From here, there are various artsy rewards for your support. You can get a digital strategy guide, artbook, soundtrack, or a special boxed edition. If you pledge $120, the goodies include a limited edition t-shirt, 8 x 10 print, and three postcard-sized prints. And you can get your name in the Show & Tell Backers section of the game's credits.
The extras continue on into specially designed Easter eggs to find during game play, a visit at Cyan with the design team ($4,500), including lunch, airfare, and two nights lodging. For $10,000, you'll get a chance to watch some of the game development action play out, as well as a Supporting Producer credit.
Can Cyan Do It?
Cyan has a proven history of delivering visually stunning environments with an immersive player experience. Cyan plans to stay small, to keep the design team small, and to get the job done -- that's what Cyan does, what it's all about, it maintains. To build the world, Cyan will leverage Epic Games' Unreal Engine 4.
"Today's modern real-time engines have plenty of horsepower to produce zillions of bullets per second," Cyan notes, "but they can also be used to make remarkable landscapes and architecture that approach and even surpass the pre-rendered days of Riven. Unreal 4 is an amazing resource that enables us to build a world that you can lose yourself in."
As for using Kickstarter, Cyan worked through all sorts of game development and distribution models, it explained, from self-publishing to full-blown publisher models, with hybrids in between. Currently Cyan is independent and says that feels right.
Besides, "Kickstarter is a way for us to deliver a stunning experience that doesn't empty your pocketbook," Cyan says, "while keeping us independent enough to make choices that a publisher might not understand. (Like we did with Myst 20 years ago.)"
The Numbers
Obduction currently has nearly 9,500 backers who have pledged more than $515,000 toward Cyan's basic goal of $1.1 million. The funding period ends Nov. 16.
If Obduction exceeds its basic budget, Cyan plans to create even more puzzles in a larger cinematic world. "It's very straightforward. We'll spend the funds that you invest on making Obduction the best possible experience."
The Downsides
With Cyan's experience and history in this genre of game development, the risk of not finishing Obduction is likely small.
However, that's not to say there are no downsides: Game development takes time. The targeted release date, at the base funding level, is mid-to-late 2015 for Mac OS X and Windows.

---