One of the lingering concerns potential Linux users have is the worry of leaving behind Windows software they have relied on for playing audio and video files. That used to be a valid concern. But it isn't something to worry about any more.
Three relatively new Linux apps make it possible to convert sound and video files so that most Linux distros can play them. Arista Transcoder, SoundConverter and OggConvert together or separately can enable all of your media passions in Linux.
These three apps are keys to the survival of Linux as a viable desktop alternative to Microsoft Windows. Computer users are bringing an increasing number of portable devices to feed their frenzy for audio and video consumption. Nothing will send Linux newcomers scurrying away faster than not being able to get their sound and picture shows working.
Proprietary Affairs
The big stumbling blocks when working with video and audio files are the proprietary codecs some software in other platforms use. The goal with converting formats is not to rip off music or video content.
Rather, I want to be able to play what I already have on my computer platform of choice. Audio and video converter apps serve that purpose.
This means that you should be able to work with proprietary file formats from other platforms — such as Real Media, Apple Quicktime and Microsoft Windows Media Video — to quickly and easily convert them to open source players.
Using Arista
With Arista Transcoder you can select source videos in any encoding and file type as long as they are readable by GStreamer. This includes DVD content. You also can select an output format.
What makes this app so handy is the hefty supply of presets that are configured for a range of portable hardware devices. The presets remove the guesswork that typically baffles users of other media conversion software.
These presets eliminate having to fiddle with configuration elements such as the different types of video and audio codecs, the size of the output, the frame rate, and such.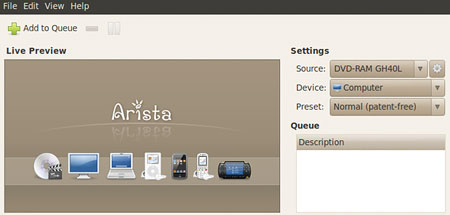 Arista Transcoder
Fiddle Free
I have yet to find a converter program as simple to use as Arista Transcoder. There is little to do in the Edit/Preferences panel.
If you check the Search box, the app will locate the media source based on what you have attached to the computer. Otherwise, you will have to do the selections yourself using the dialog box.
Quick pick drop-down menus show choices for media source such as optical drive, the device such as computer or attached mobile device (think: iPod, smartphone, Sony PSP, etc.) and the Preset selection.
A progress bar estimates the time remaining for the conversion process. A Live Preview window displays the output at two-frames-per-second.
Presets Ease the Pain
The interface has few other choices. But this is not a bad thing. The presets take care of the fiddling for you.
Preset options include a range from Live Input, Patent-Free, and Low, Normal and High.
Presets are available for iPod, computer, DVD player, PSP, PlayStation 3 and more. Automatic preset updating is built in.
SoundConverter Basics
SoundConverter has a great reputation for reliability and usefulness. It is the leading sound conversion application for the GNOME Desktop.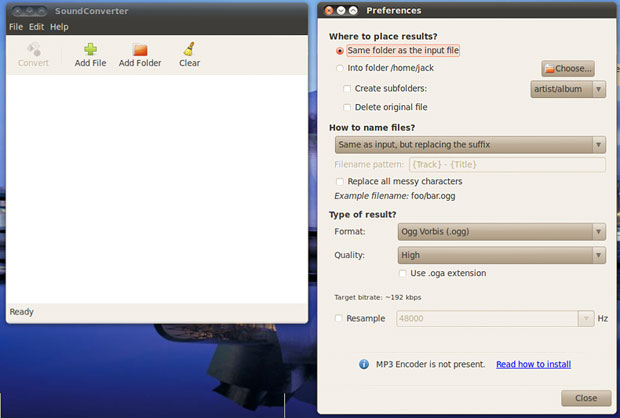 Sound Recorder
Like Arista Transcoder, SoundCoverter needs the GStreamer library. That duo lets this app read just about anything you can throw at it.
This app reads Ogg Vorbis, AAC, MP3, FLAC, WAV, AVI, MPEG, MOV, M4A, AC3, DTS, ALAC, MPC, Shorten, APE, SID, MOD, XM, S3M and more. It writes WAV, FLAC, MP3, AAC, and Ogg Vorbis files.
Go here for a mini tutorial on how to get SoundConverter to work with Ubuntu, Fedora, Mandriva, Gentoo, and Debvian distros.
Fast and Furious
The multi-threaded design behind SoundConverter gives this app its speed. It is able to use multiple cores on the fly.
It also can extract audio from the videos. This helps to energize the operating speed.
SoundConverter is designed around a simple GUI (Graphical User Interface) using GTK+ for the GNOME desktop.
The interface is very sparse in SoundConverter. All of the action takes place under the hood. You have little to decide in setting up the file conversion.
Few Choices
The biggest interaction with SoundConverter is found in the Edit/Preferences panel. Here you select where to place the output file, along with a few output choices.
You can choose between the same folder as the input file or elsewhere. You can also create a subfolder within the panel and delete the original file.
SoundConverter also offers limited adjustment of the sampling rate, depending on what other options you select. For instance, the target bitrate is preset at 192kpbs. If you check the Resample box, the app lets you change the frequency to seven other ranges.
Good Control
Being able to control output options is essential when working with converter apps. I like the options offered in SoundControl as they are not found in the other apps.
A drop-down choice list controls the naming process of the output file. Choices include track number-title, track title, artist-title or custom.
You can also control the format type in the output filer. Choices are Off Vorbis (.ogg), FLAC Lossless (.flac) pr MS Wave (.wav). This last option is probably a comfort zone for those coming from the Windows world.
This app also builds in a hierarchy of quality settings in the Preferences panel. You can choose among six quality levels. These range from very low through insanely high.
Ogging Along
OggConvert is a Gnome and GTK utility for converting media files to the patent-free Vorbis format. It is a bit more flexible than the other apps. OggConvert handles the latest variations of the format.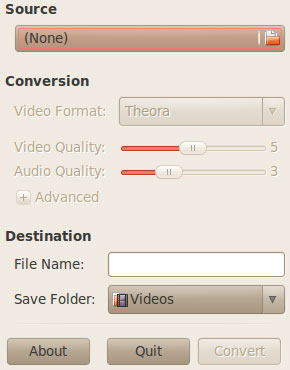 OggConvert
This includes Theora, Dirac and VP8 formats. Do not confuse OggConvert with Ogg Converter. These are totally different products.
The common denominator among OggConvert, SoundConverter and Arista Transcoder is they all use GStreamer to convert media files to Theora and Vorbis formats.
Formatting Limited
OggConvert. converts file formats more easily than other products I have used. The only potential drawback with this app is it only converts to Ogg and Matroska files.
Matroska is an open source, open standard multimedia container. It is usually found as .MKV files (matroska video), .MKA files (matroska audio) and .MKS files (subtitles). It is also the basis for .webm (WebM) files.
I have not had much run ins with Matroska files. But Ogg is a standard, especially with Linux file players. So I have found OggConvert to be a good choice when I have to work with different audio and video file formats.
How to Use It
Of the three converter apps I discussed here, OggConvert has the absolute barest of interfaces. The developer even dispensed with the traditional basic File/Edit/etc. menu bar.
Using it is a snap. Just scroll to the media location and select the file. Two slide bars control audio and vido quality.
Select Ogg or Matroska output, change the output file name if you want by clicking in the title window. Designate where you want the output file to store.
That's all there is to it. Just click the Convert button, and it is done.