Notebooks: A Better Scratch Pad for the Serious Scrivener
MacNewsWorld

Notebooks, a notepad app from Alfons Schmid, is available for US$4.99 at the App Store. OK, so maybe smartphone notebook applications aren't the most exciting pieces of software modern consumer technology has to offer. But it's hard to imagine a smartphone that can make VoIP calls, tell you exactly where you are on the face of the Earth and beat you at chess but won't let you write down a grocery list unless you care to take out a knife and carve it into the casing. Notebook apps may be bland, but they're necessary.
The iPhone's native Notes app does its job, but it's pretty simple -- create, sort, type, delete, send to mail. Alfons Schmid now offers Notebooks, an alternative with some advanced features not found on the OEM notepad application.
Added Features
Like the OEM app, you can use Notebooks to organize your various jottings into specific categories. Have one note for books you want to get around to reading, another for jotting down miscellaneous info, one for spontaneous moments of brilliance, etc.
All these different notes can be compiled into one notebook, and the app can keep track of multiple notebooks. One notebook can perhaps hold all your personal finance notes, another can hold onto all work-related matters, while another bundles together all your field observations on the harlequin poison frog. All notes can be moved around to other notebooks, moved to top-level access for quick reference, deleted or exported to e-mail using a menu at the bottom of the screen. SyncDocs is also supported.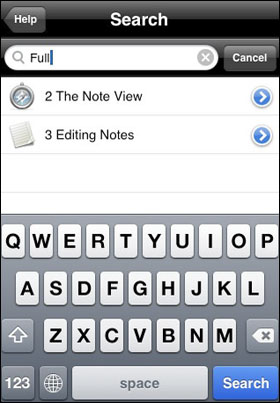 An added level of organization isn't the only way Notebooks trumps the OEM app. It features a search tool that scans all of your viewable notes for a specific word or phrase. The entire app works in landscape mode, meaning you can type and navigate using widescreen if that's your preference. Pinching and spreading change the font size for easier reading.
There's also a cut and paste option. Different apps have different ways of approaching this ability, and Notebooks' method involves hitting a special scissors icon a few times after placing the cursor in different positions. It's handy once you know how to use it, but it would help to see the text you're about to copy or cut highlighted.
Finally, Notebooks allows you to put the lockdown on certain notes you don't want anyone to see. Once you enable this feature, any notes you select for protection will require a four-digit PIN to access. You only have to enter the PIN once per session to access any and all hidden notes. Once you exit the app or the screen shuts down, the protected notes go back into hiding. The lock feature doesn't encrypt your info, so don't go running around with state secrets in there, but it does offer a level of privacy beyond the iPhone's own startup PIN screen.
Learning Curve
Lockout, cut and paste, note moving -- they're all nice features that make Notebooks a much more robust notetaking app than the iPhone's skin-and-bones OEM feature. But Notebooks has a small learning curve. You might initially think that something as simple as a note app would be really easy to just pick up and use, but with Notebooks, you're going to have to get used to referring to the Help section now and then, and each Help note tends to be a little verbose.
Notebooks unfortunately saves all the help and how-to information as a note in the same filing system as the user's original content rather than a dedicated read-me file located elsewhere in the app. I don't want to erase this info, but I'd rather it didn't clutter up the same drawer as my own notebooks and get in the way of whatever searches I run.
Bottom Line
Notebooks has a lot of features missing from the iPhone's own Notes application. Some require a close look at the Help section before you use them; others are easier to pick up.
If you're a very frequent user of the OEM notetaking app, you'll probably find the added features worth the $5.