Apple Re-Guts Desktops Large and Small
MacNewsWorld
Apple has updated its online store and announced new desktop Macs, including a refreshed all-in-one iMac, a new Mac mini, and a revamped professional-grade Mac Pro.
Overall, the updates include faster processors, more RAM (random access memory), bigger hard drives and new graphics processors.
The iMac
The new iMac line starts with the 20-inch desktop for US$1,199 with a 2.66 GHz Intel Core 2 Duo processor, 2 GB of 1,066 MHz DDR3 memory, a 320 GB Serial ATA hard drive running at 7,200 rpm, and Nvidia GeForce 9400M integrated graphics, which is the base graphics processor that has already been available in the MacBook.
The 24-inch iMac boasts a 1,920 x 1,200 pixel widescreen display with 30 percent more screen real estate than the 20-inch model, according to Apple. Its base configuration includes a 2.66 GHz Intel Core 2 Duo processor with 6 MB shared L2 cache, 4 GB of 1,066 MHz DDR3 SDRAM, Nvidia GeForce 9400M integrated graphics, and a 640 GB Serial ATA hard drive running at 7,200 rpm.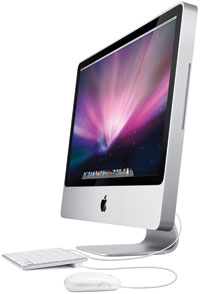 [Click Image to Enlarge]
It's upgradeable to a 3.06 GHz processor with 8 GB of SDRAM and a 1 TB hard drive. Depending on the model, the 24-inch iMac can also sport the Nvidia GeForce GT 130 or 120 or ATI Radeon HD 4850 graphics processors.
All models include a slot-load 8x SuperDrive with double-layer support, a glossy display, a built-in iSight camera, a Mini DisplayPort connector with adapters available for DisplayPort, VGA, DVI and Dual-Link DVI displays. iMacs also include built-in AirPort Extreme 802.11n WiFi networking, Bluetooth 2.1+EDR, Gigabit Ethernet, and a total of six USB 2.0 ports (including two on the Apple keyboard), as well as one FireWire 800 port.
In an interesting move, Apple has retained its previous price points, with one caveat: The base level 24-inch iMac is now priced at $1,499, which amounts to a $300 price drop.
"It is like a tiny price cut, but it's really not. The issue isn't better features for the same amount of money, and in general, I think consumers are looking for products that are less costly," Stephen Baker, vice president of industry analysis for The NPD Group, told MacNewsWorld.
"Given how much Apple focused on speeds and feeds and performance on the iMacs [with Apple's announcement], you can make the argument that the iMac buyer is their core desktop Mac buyer who isn't going to be as swayed by pricing -- they'll be more product-centric vs. price-centric. So, I'll accept that; however, I still would have liked to see the 20-inch iMac at $999," he said.
"I think that's a nice price point, and it shows some sensitivity to the economy, and I think it would have been a good direction to go," he added.
Mac Mini
Apple's diminutive Mac mini is a versatile powerhouse -- customers use them as servers, home media theater PCs connected to HDTVs, and even as basic desktop computers. It's handy for switchers who already have monitors and keyboards (it doesn't ship with a keyboard or mouse). Some industry watchers have been concerned that Apple had abandoned the Mac mini, but that concern was laid to rest today -- the new Mac minis retain the same form factor but get updated internals.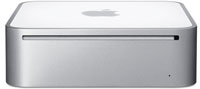 [Click Image to Enlarge]
Available in two models, the Mac mini features a 2 GHz Intel Core 2 Duo processor, up to 4 GB of DDR3 1,066 MHz memory, up to 320 GB Serial ATA hard drive, five USB 2.0 ports, FireWire 800 and a SuperDrive. The Mac mini features Nvidia GeForce 9400M integrated graphics, which Apple said now delivers up to five times better graphics performance than before. Plus, it now comes with dual display support that can drive two Apple or third-party displays via its Mini DisplayPort or DVI connections.
Pricing remains the same at $499 and $799 for the two available models.
"We think the new Mac mini is a great improvement," Brian Stucki, owner of Macminicolo.net, a company that manages hundreds of Mac minis for use as servers for its customers.
"The ability to officially support 4GB of RAM will go a far way with our customers. And of course the larger hard drive is nice for data storage. I know we've had a good number of potential customers waiting in the wings for new hardware, so this will be very welcomed in the Mac community," he told MacNewsWorld.
The Mac Pro
Apple also introduced a new Mac Pro, which uses Intel's Nehalem Xeon processors and a next-generation system architecture that delivers up to twice the performance of the previous generation system, according to Apple.
"The new Mac Pro is a significant upgrade and starts at $300 less than before," noted Philip Schiller, Apple's senior vice president of Worldwide Product Marketing.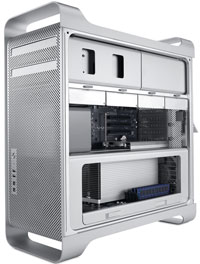 [Click Image to Enlarge]
"The Mac Pro features an advanced system architecture, new faster processors and our best-ever graphics options to deliver a faster, more powerful system that our professional customers are going to love," he added.
Pricing starts at $2,499.
The new Mac Pro includes Intel Xeon processors running at speeds up to 2.93 GHz, each with an integrated memory controller with three channels of 1,066 MHz DDR3 ECC memory that delivers up to 2.4 times the memory bandwidth while cutting memory latency up to 40 percent, according to the company.
Every Mac Pro comes standard with the Nvidia GeForce GT 120 with 512 MB of GDDR3 memory, which provides nearly three times greater performance when compared to the previous-generation system. Customers can also opt for an ATI Radeon HD 4870 graphics process for even better performance. With both a Mini DisplayPort and DVI port, the new Mac Pro provides out-of-the-box support for the 24-inch Apple LED Cinema Display, the 30-inch Apple Cinema HD Display, or other DVI-based displays.
In addition, Apple has updated the interior of the Mac Pro to make it easier to access components and upgrade it with new parts. The Mac Pro includes four direct-attach, cable-free hard drive carriers for installing up to 4 TB of internal storage when using 1 TB 7,200-rpm Serial ATA drives. An optional cable-free Mac Pro RAID card delivers performance up to 550 MB/s, Apple noted, which allows the four internal drive bays to be set up in RAID 0, 1, 5, or 0+1 configurations for improved disk performance and redundant data protection.
The Green Apple
Using less than 13 watts of power at idle, the new Mac mini uses up to 10 times less power than a typical desktop PC, Apple boasts. In addition, the new Mac mini is the most energy efficient desktop in the world, according to the company.
The iMac, Mac mini, and Mac Pro all exceed the current Energy Star 4.0 requirements, and Apple is moving toward the more stringent Energy Star 5.0 requirements, which will become effective later this year.