DirecTV App: Convenient, Intuitive, Light on Power
MacNewsWorld

DirecTV, an app by the satellite TV provider of the same name, is available for free at the App Store. I don't really know how to watch regular TV anymore. It's become difficult to take in any sort of home entertainment that won't pause at my will. What if I want to grab a snack, settle a spontaneous spasm of curiosity by looking something up on the Web, or just go do something else and finish this later?
Thankfully, my attention span hasn't been battered to the point at which I can't enjoy a live show or movie at a theater, but I've caught myself reaching for the remote on more than one occasion.
This spoiled little mentality of mine all started with TiVo, and it just got worse once iTunes started doing video and Hulu came along. Broadcasters hate DVRs, of course, because they let you speed through commercials. I can understand the concern, even if I do usually hit the FF button when ads start up. But even if every DVR on the market made you sit through ads, digital recorders would still be worth it because of the "any time, on your time" factor: Watch what you want, when you want, and take your sweet time if that's the way you like it. Force-feed me ads in pre-roll, post-roll, mid-roll -- I don't care, as long as I get a pause button, a rewind button, and the ability to start watching when I want, not when a network's schedule dictates.
The ability to program your DVR from anywhere, even when you're far from home, is yet another link in the convenience chain. If you're a DirecTV DVR user, you've been able to do this for a while via its Web site, and now -- if you also happen to be an iPhone user -- you can do it through your handset with a dedicated app.
Set Up and Go
The DirecTV app accesses the satellite provider's programming schedule via a celluar or WiFi connection and can schedule recordings on your at-home DVRs. In order to use it, you have to set up online control capabilities through DirecTV's Web site. Identify your account and give yourself a password. Once that's done, you'll use the same sign-on to access your account via the iPhone app. You can set the app to remember your log-in or ask for your info each time you use it.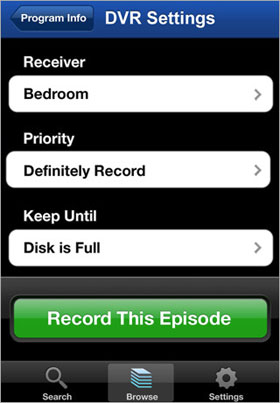 Once you're in, the DirecTV app is incredibly easy to use. You can search for programs by name, browse by channel (ordered by channel name or channel number), and browse by date and time. HD programming is usually marked as such, and you can tell it whether to show you all the channels in the DirecTV universe or only the ones available under your plan.
If you find a show you want to record, setting it up is a lot like doing so through the DVR proper. Tap the name, and you get a list of upcoming showings. Tap a showing, and you get a description, plus the option to record the entire series or just that episode. From there, you can tell the app which receiver you want it to record on (bedroom, living room, etc.) and give it a priority setting. "Definitely record" will make the selection pre-empt any other shows you may have already set for that time; "Record if possible" means it goes on the bottom of the totem pole. You can also set it to keep the recording until the DVR is full or until you specifically delete it.
Snappy Response
To see how fast selections get added to the DVR's to-do list, I sat in my living room, added a handful of random shows using the app, and continuously reloaded my list of upcoming recordings using the actual DVR in front of me. Each show took less than half a minute to appear on the lineup.
The DirecTV app doesn't offer complete control, though. For instance, there's nothing here like the Prioritizer -- the DVR's list of all your recurring recordings in order of importance. So small scheduling changes can't be done. Also, you can't delete any scheduled programs, so if you screw up and program "Facts of Life" reruns to record over your favorite show -- well, there's always iTunes and Hulu.
Bottom Line
DirecTV for iPhone is intuitive, responsive and convenient.
The absence of a delete option and more advanced prioritizing controls is no big deal, considering it's a free app that does offer some practical and convenient features.
Perhaps an update -- or even a two-buck paid version -- could provide those tools in the future.