Multiple Choice Makes 'Trivial Pursuit' for iPhone Easy as Pie
MacNewsWorld

"Trivial Pursuit," a game by Electronic Arts, is available for US$4.99 at the App Store. Depending on who you're playing with -- and what deck of questions you're playing with -- a game of real, in-the-flesh "Trivial Pursuit" can be many things: a relaxing way to spend a night in with friends, perhaps, or an abject lesson in intellectual humility.
It can also be a fine way to drift into a coma if you're playing with someone who clearly doesn't know the answer but just won't give up pondering the question. On the other hand, some people like watching the other guy sweat as they sit back comfortably, knowing it was, in fact, the Lakers' Kermit Washington who punched out the Rockets' Rudy Tomjanovich in 1977 (sorry, no orange pie for you).
For these reasons and others, playing EA's iPhone/iPod touch version of "Trivial Pursuit" isn't much like playing a round of the real board game. However, EA's version is well-designed, easy to start, and full of versatile features. Even in multiplayer mode, it doesn't exactly simulate the "let's all sit around, drink beer, answer trivia questions and talk about everything on our minds" setting that "Trivial Pursuit" usually conjures up. Instead, it turns up the pace and becomes a more casual, rapid-fire quiz game you can finish in 10 to 15 minutes -- which is just about perfect for a game that you play on your phone rather than your living room table.
Getting Started
Data-wise, "Trivial Pursuit" is fairly large -- you'll need to either connect to WiFi or your computer to download it.
Starting up, you can choose from several modes of play: Classic Mode will put you up against an AI player; WiFi Multiplayer lets you play against others on the network; Pursuit Mode is a series of short games that test how fast you can answer questions; and Pass'N'Play is a mulitplayer mode for when there's only one iPhone to go around. Additionally, an Options screen lets you view your stats, get help and adjust your settings.
Some modes allow you to save up to four games in progress. You can also adjust the intelligence of your AI opponent, if applicable, as well as the time limit, if any, for answering questions.
Once you've set up your mode, you're invited to create a profile for yourself -- your name, your image (many options to choose from here) and your puck color.
Multiple Choice
Gameplay flows very quickly -- there's very little lag here. You're either rolling the die (touch it or shake the phone), selecting which square to land on, or dealing with a trivia question -- not waiting for the processor to figure out what's going on. For some reason, that snappiness is really pronounced in a game usually known for being played at a very slow pace.
If you have an AI opponent, you can either watch its puck move or skip ahead to your own turn immediately. You don't get to see what question it was given -- only whether it was right or wrong.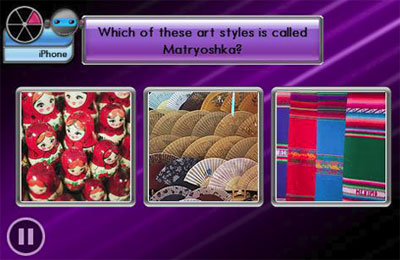 One big difference between this and the real board game (apart from the ability to play with imaginary friends) is the multiple choice nature of the questions. In real "Trivial Pursuit," the answer to any given question is completely up in the air -- you really have to know what you're talking about. In EA's version, you get three choices. Guessing gives you at least a 3-to-1 shot, which takes a lot of the challenge out of it. Worse, sometimes one of the choices is completely ridiculous. One set of answers presented "extreme ironing" as a competitive sport alongside triathlon and cycling.
Bottom Line
"Trivial Pursuit" for iPhone/iPod touch is well-designed, and the various play modes it offers give it a good amount of versatility.
Unless artificial intelligence gets to the point at which computers really can think like humans, multiple choice might really be the only way to go with trivia-oriented games. However, more than three choices (and fewer obviously wrong choices) would make things more challenging.
Also, it would be great to see EA "shuffle the deck" every now and then with updates that completely change out the game's question sets or offer alternative question sets.