TwitterFon Pro: Tweet Harder, Tweet Smarter
MacNewsWorld

TwitterFon Pro, a Twitter app from Naan Studio, is available for US$4.99 at the App Store. Twitter was made for the mobile device. If it was confined to a desktop browser, the question "What are you doing right now?" wouldn't have much of an answer, other than something like "Looking at this Web page -- here's a link." Access Twitter on your cellphone, though, and you can tweet from almost anywhere and probably say something at least marginally more interesting.
Twitter's creators have put some effort toward facilitating the use of the site on mobile browsers. Sign onto Twitter.com from an iPhone's Safari browser, for example, and the server will recognize you're coming in from a handset. The page it will show you conforms nicely to the screen -- no zooming, pinching or panning required.
Still, third-party iPhone developers have recognized an opportunity to create apps that make Twitter on a smartphone more usable and feature-rich. My favorite is TwitterFon, and I've been using the free version for a few months. TwitterFon also has a paid version on the App Store, TwitterFon Pro, so I decided to see what extras you get for US$5.
Let's make this a contest. Since the free version costs five bucks less, we'll give it a five-point head start.
Score: Free: 5 / Pro: 0
Bit.ly to the Rescue
Opening TwitterFon Pro for the first time, you'll need to log in with your Twitter account, which is stored. You're also immediately given several customization options -- what sort of messages to autoload and which of four color themes you want to use. You also have the option to sign onto your Bit.ly account, which is a service used for shortening links into compact URLs suitable for tweeting. These extra features are not available on the free version.
The initial sign-on screen for the pro version also gives you the option to enable Safari bookmarklets. It takes a little configuring, but bookmarketlets basically let you flip the URL of whatever Web page you're looking at into TwitterFon's tweet composition screen. It takes literally two touches, so it's even easier than the copy-and-paste options coming along with iPhone 3.0.
This bookmarklets feature is only actively advertised in the pro version. However, if you have the free version, go through the iPhone's main Settings app and select the settings for TwitterFon Free. You'll get the option to set up bookmarklets for the free version, though that option is labeled "next launch only." Next launch nothing -- it worked fine for me on the free version as well as with Pro.
Still, in both scenarios, you're sending an entire uncompressed URL to your tweet composition screen, which could take up quite a few characters. Bit.ly is a service that compresses URLs to fewer characters, and TwitterFon Pro can sync with your Bit.ly account, as long as you also do the proper syncing on Bit.ly's site. If you use the bookmarklet feature on a URL that's especially long, the pro version will automatically run it through Bit.ly and deliver a shortened link to TwitterFon Pro.
So, Pro gets a point for color selection and two for Bit.ly integration, because that's really useful. Both Pro and Free get a point for bookmarklets.
Score: Free: 6 / Pro: 3
Ads vs. No Ads
After setting up, my first few minutes playing around with the pro version didn't reveal any big features that differentiate it from the free app, besides the color option.
Bit.ly functionality notwithstanding, composing a tweet appears to be the same experience for both the pro and free versions. You get a character countdown from 140, crosshairs to embed your location, an option for sending a photo tweet, and a friend selector if you want to target your message to an individual.
Reading others' messages is also very similar with both apps. You can star messages to save into your favorites; zero in on a tweet to reply to it; send a person a direct shout-out; or retweet text. You can also see every other message a person has sent recently. However, the free version places an ad at the top of your feed each time you refresh; Pro does not.
The search function lets you find out what people are saying about a certain keyword, what keywords seem to be most popular right now, and what people are tweeting about in your immediate vicinity. This is all the same as in the free version.
Even though I don't really get annoyed by ads, the pro version looks better without them, so I'm giving Pro another mark.
Score: Free: 6 / Pro: 4
Setting Menu Half-Baked
In the App Store, TwitterFon Pro's unique features are spelled out: multiple account support, landscape keyboard, Instapaper integration for saving links for later, and shake to reload, among others I've mentioned.
Some of these controls are accessible through the iPhone's main Settings app. Shake to reload worked fine, and the optional landscape keyboard is something every app that involves typing should have.
However, not all of these advertised features were as easy to use.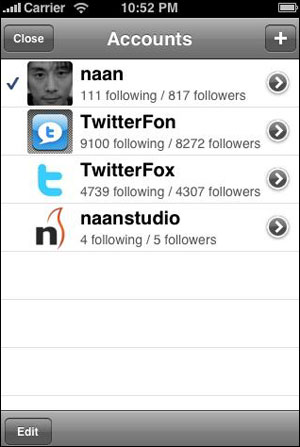 For instance, I was stumped for a while with multiple account support. The only time TwitterFon Pro asked me for account info was during initial setup, and there was only space for one account. Only after much poking around did I figure out that you just have to tap the account name at the top of your Friends feed to access the controls for that, as well as some of the other settings you go through with initial setup. But why not put all the settings in the same place, like within the main Settings app?
I would give TwitterFon Pro an extra point for multiple accounts, but figuring out where the controls are kept was an annoyance. However, I will give it two points for the landscape feature -- it's just that necessary.
Bottom Line
Final Score: Free: 6 / Pro: 6
How convenient; we have a tie. Pro is worth exactly five bucks. But that conclusion is based on the original concept that five points are worth five dollars, which just might be totally bunk. In fact, this whole evaluation is suspect.
What you really need to know is this: If you're into tweeting links and need a Twitter app that will automatically Bit.ly-ize your URLs, and if you appreciate landscape typing mode, then get TwitterFon Pro. Otherwise, TwitterFon's free version is a great mobile tweeter.