Ntractive CRM Tethers the Mac Desktop to the Cloud
MacNewsWorld
In the architecture of heavy-duty business programs, customer relationship management (CRM) software is a load-bearing beam. It's a mission critical application that can be a key to success. It's also the sort of app that operates very comfortably in "the cloud" -- that metaphor for the Internet and platform-agnostic computing.
Justin Bartak realized the cloud's potential for managing customers relatively early. Bartak is CTO and cofounder of Ntractive, a Grand Folks, N.D., Macintosh-centric CRM software maker.
Bartak explained that he began noodling with the idea behind Ntractive's primary product, Elements CRM, in 2003 while working for a Macintosh developer on Web applications.
"I was looking a lot at NetSuite and Salesforce at that time, even though they were in their infancy," he told MacNewsWorld. "I thought it would be really cool if I could do this for the Mac."
NetSuite and Salesforce are Web-based applications, including CRM, aimed at businesses.
Browsers Shunned
After working on the cloud piece of the program for two years, Bartak enlisted his friend and fellow North Dakota native, Dale Jensen, to help him give his application some desktop flair.
"The idea was to make a Web app that looked like and felt like a desktop app," Bartak explained. "That's how we married the desktop and the Web together."
Elements CRM departs from typical cloud apps because it doesn't run in a Web browser. Rather than embrace the agnosticism of those apps, it has steadfastly entrenched itself in the Mac camp.
Eschewing browser operation gives Elements CRM certain advantages, according to Bartak.
"We're able to blend a lot of the desktop pieces that no one can do into the Web," he maintained.
Better Security, Better Interface
"For example," he continued, "we're able to do drag-and-drop technology. You can grab an Excel file or iPhoto file from your desktop, drag it onto Elements, and it will auto upload. No upload buttons. None of the typical Web stuff you'd have to do."
"We're able to jump back and forth from the desktop and the Web and blur the lines," he added. "A lot of people can't tell where one ends and one begins because we're doing both at the same time."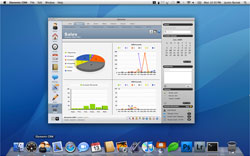 (click image to enlarge)
Moreover, it makes execution of the code in the program simpler and more secure.
By not having to write code to accommodate every browser on the market, Bartak explained "we can write one unified piece of code that can be used constantly."
Without URL bars and add-ons found in browsers, he continued, Elements can avoid security problems commonly plaguing them, such as SQL injections.
What's more, the non-browser approach gives Bartak and company more control over Elements' interface.
"It's easy to use," he observed. "Every screen looks the same as you click through. It's simple. It's clean. You always know what to expect."
Hedging Bets
Although currently locked in a Mac silo, Ntractive has left its options open. That's because the application is based on WebKit, an open source, cross-platform browser engine.
"Since we are using WebKit at the back end, we will be able to move to any platform, be it Windows or whatever else we'd like to fairly easily," Bartak contended.
When he began building Elements in 2003, selling IT departments on using Macs for core business applications could be a tough sell, Bartak acknowledged.
"I was a Mac guy, and I wasn't really thinking about market conditions," he confessed. "I built something that I loved. I loved the Mac and I wanted to build something for the Mac. If it were a business decision, it would have been the wrong one in 2003."
However, "today it's a great decision," he continued. "We have many, many companies saying, 'Forget it. We won't wait for your Windows version. We'll just buy new Macs."
Golden Cloud
What began as a labor of love appears to be a savvy business move as more and more firms turn to the cloud for their IT solutions.
"Cloud computing is a full replacement for premise-based computing," Denis Pombriant, managing principal with Beagle Research, told MacNewsWorld.
"What's happening is that many vendors are building to standards that enable applications to work together in the cloud," he continued, "so that it's now possible to build entire end-to-end business process support from multiple vendors there."
"The cloud offers so many things," he added. "A premise-based system might offer several things, but it doesn't offer all the capabilities that go into making cloud computing so cost effective and so powerful."