HP Works Macs Into the Media Server Mix
MacNewsWorld
There's more for Mac users to like in a pair of media servers unwrapped this month by HP.
The new media servers, the MediaSmart EX590 and EX495, offer an array of new features aimed at Apple-using households.
They can collect media from Macs on a home network. Media collection can be automated so as new photos, video or music are added to a Mac on the Net, they will be automatically copied to the server, where they can be viewed or heard, depending on access configuration, by any computer or device -- like an iPod touch -- connected to the network.
Video converter software has been added to the servers. It will convert video snagged by the collector into a number of formats, including forms hospitable to the iPhone and iPod touch.
Bare-Bone Restore
Administrative functions can be performed on a Mac. Users can be set up. Access -- both locally and remotely -- can be controlled. Backups -- using Apple's backup software, Time Machine -- can be configured.
"Bare bone" restoration of a Mac can be performed from the server. "Before, we worked with Time Machine, but if you had a system crash, you had to load the MediaSmart software [on the Mac] then load your application," Charlie Shilling, future product manager for Palo Alto, Calif.-based HP, told MacNewsWorld. "Now we can do a full image recovery."
Although the servers are based on Microsoft's Home Server software, HP has redesigned the interface for the machines with easier use in mind. The main screens for the server -- one for administration, one for access to media -- look alike whether accessed from a PC or Mac.
24 Terabytes of Storage
The EX490 (US$549) is sold with 1TB of storage and is built around an Intel Celeron processor running at 2.2MHz. The EX495 ($699) has 1.5TB of storage and a 2.2MHz Pentium Dual Core processor. Both have 2GB of RAM in a single socket and can be upgraded to 4GB. They're also nicely compact, measuring 9.7-by-9.2-by-5.5 inches.
The dual core model offers a significant performance boost over its Celeron brother. In benchmark tests performed by HP, the Pentium server converted two hours of DVD video into H.264 format in one hour and nine minutes, while the single-core model performed the operation in two hours and 33 minutes.
The servers have four Serial ATA II hard drive bays, but only one is occupied out of the box. The additional bays allow up to 7TB of internal storage to be added to a unit. Adding drives can be accomplished without the use of tools or connecting cables. The front of the unit swings open to expose the drive bays, and new drives can be easily popped into place.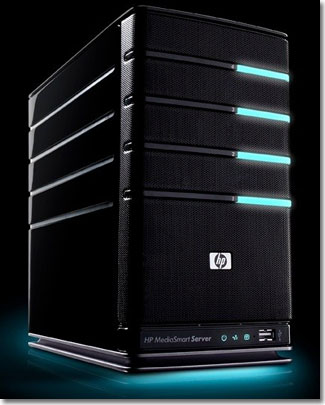 HP MediaSmart Server
Moreover, the machines have four high-speed USB ports and an external Serial ATA port. They permit up to another 17TB of storage to be added to a unit.
Aimed at Mixed Households
The target audience for the servers, according to Schilling, is a mixed Mac and Windows environment. Denizens of that world tend to be early adopters who have lots of photos, videos and music on their home network.
The first generation of MediaSmart servers were aimed at a segment of the early adopter market that HP calls "the technology enthusiast," he explained. For them, technology is an end in itself. With the new servers, the company hopes to broaden the appeal of the units in the segment to early adopters whose enthusiasm for technology is tempered by need. For them, technology is a means to an end. "They're into an application that solves a need, rather than just being enthralled with a technology," Schilling expounded.
When HP says the new servers are aimed at mixed home networks, it isn't kidding. Although the company has beefed the hardware's Mac capabilities, a Windows machine is still needed to get one of the media boxes connected to a home network. "You need a Windows-based PC to get the server up and running and do the first out-of-box installation," Schilling noted, "but after you've got it installed, you can add Macs and administer from a Mac."
Right On Target
That Windows ante to use the new MediaSmart servers won't hurt HP in the demand department, according to Kurt Scherf, vice president and principal analyst at Parks Associates in Dallas, Texas. Citing findings from Parks research of the home market, he told MacNewsWorld, "Demand for enhancements and storage is pretty low among the pure Mac households."
"About 10 percent of all broadband households have at least one Mac and one PC in the home," he continued. "and when you look at the demand in those households, it is very strong for backing up, for media storage, for media sharing."
"The HP strategy is right on in terms of targeting," he added.
Despite the growth of digital media creation by consumers, storage hasn't gained much mindshare in the market, according to Scherf. Only 8 percent of respondents in a recent consumer survey conducted by Parks were "highly familiar" with media servers, he said. That compares to 13 percent who were highly familiar with Blu-ray DVD players and 50 percent with a home network router. "The awareness is really limited, which crimps the demand right there," he observed.
However, that's bound to change, he maintained. Parks conservatively estimates that within five years, the average home's media storage requirement will be enormous. "When you take into account the photos and the music and the video and managed copy for Blu-ray discs, you're looking at a terabyte or more of storage for the average home for digital media," he noted.
"Yet," he added, "it still doesn't seem to be growing significantly."