Shazam! Jobs Illuminates Shape of iPhones to Come
MacNewsWorld
Apple on Monday unveiled the iPhone 4 at its World Wide Developers Conference in San Francisco. Describing it as the "most precise thing and most beautiful thing" Apple has ever made, the company's CEO and chairman Steve Jobs compared its design to those of old Leica cameras.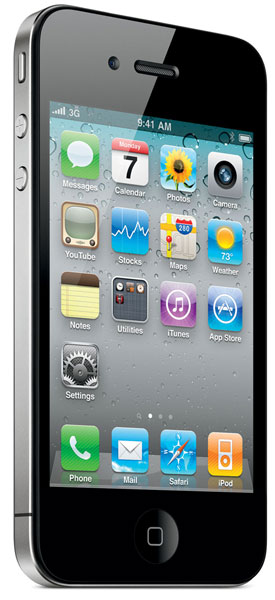 Apple's iPhone 4
Jobs also revealed details about the new iPhone operating system, now dubbed "iOS"; introduced FaceTime, a video calling feature; promised iBooks availability on iPhones and iPod touches; and discussed other new features, functions and apps.
The iPhone 4 will be available in the U.S. and select other markets June 24; pre-orders begin June 15.
The Shape I'm In
Apple's latest incarnation of the iPhone has more than 100 new features. It has glass on the front and rear for optical quality and to provide scratch resistance.
Three stainless steel bands running around the device constitute its primary structural element and provide it strength. The bands do double duty, serving as part of the antenna system. Apple has integrated Bluetooth, WiFi, GPS, MTS and GSM elements into the bands.
The iPhone 4 is 9.3 mm thick -- 24 percent thinner than the iPhone 3GS. It has a front-facing camera and another camera with an LED flash in the back. The front-facing camera is for one of the iPhone's newest tricks -- FaceTime.
Apple's new mobile has a retina display with four times as many pixels -- a 960 x 640 resolution -- on the same 3.5-inch screen as the iPhone 3GS. That provides an 800:1 contrast ratio and very clear, high-resolution pictures, Jobs said.
"Well, the resolution of the iPhone 4 may be sharp and clear, but some users would still like a bigger screen," Ramon T. Llamas, a senior research analyst at IDC, told MacNewsWorld. "For instance, the HTC HD2 from T-Mobile has a 4.3-inch screen. That offers pretty sharp pictures and it's a lot of fun to watch a movie on that."
New Camera Stuff
In addition to increasing the camera sensor's resolution from 3 MP (megapixels) to 5 MP, Apple is using a backside illuminated sensor to increase the amount of photons captured by the lens, improving its low-light capabilities. The camera has 5x digital zoom and a tap-to-focus feature.
The camera also records high-definition (HD) video in 720p at 30 frames per second. The iPhone 4 has built-in video editing and one-click sharing capabilities. It can export clips to YouTube at 360p, 540p and 720p video, and users can produce full-scale videos entirely on the iPhone 4. Apple also plans to sell a version of iMovie for iPhone through the App Store at $4.99, allowing more advanced video editing capabilities.
Through a new feature called "FaceTime," the iPhone 4 also offers video phone capabilities.
These camera features are similar to those of the HTC Evo, launched last week. That device runs Android 2.1, has an 8 MP HD Video camera on the rear, and a 1.3 MP camera in front for video calling.
Other iPhone 4 Features
The iPhone 4 is powered by an A4 chip, the same processor that powers the iPad.
It has a slightly larger battery than its predecessor. It offers 7 hours of talk time on 3G, six hours of 3G Web browsing, 10 hours of WiFi browsing, 10 hours of video, 40 hours of music and 300 hours of standby time, according to Apple.
The iPhone 4 has built-in GPS, an accelerometer, a compass and a three-axis gyro to handle pitch, roll and yaw that's tied into the accelerometer and compass to provide six-axis motion sensing. This six-axis sensing makes the iPhone 4 great for gaming, Jobs said.
The iPhone's New OS Is Reborn
Jobs also announced Monday that Apple is renaming its new operating system for the iPhone "iOS 4."
This has more than 1,500 new developer application programming interfaces and more than 100 new features, including multitasking.
Its interface controls all the audio, and Apple has added a new folder system, a unified inbox, and message threading. The iPhone OS 4 contains several enterprise features, Jobs said.
Google Search is the default search engine, and Yahoo is an option. Apple has also added Bing as another search option.
Apple will put a golden master candidate into developers' hands Monday.
Mobile Ads and the iPhone 4
Apple is also aiming to make it easy for developers to add iAds to their apps through capabilities built into iOS 4. Apple will host and sell the ads, giving developers 60 percent of the revenue. Developers will be paid through iTunes.
In the past eight weeks that Apple has been selling iAds, it has lined up several major clients, including Nissan, Citibank, AT&T, Chanel, Best Buy and DirecTV, among others.
Clients have committed to taking more than US$60 million in ads for the second half of the year. The mobile display market for the United States for the whole year is $250 million, Jobs said.
Apple will turn on iAds July 1 for all iOS 4 devices.
Cheek to Cheek, Virtually
With the new FaceTime application, the iPhone 4 can be used as a video phone. The feature runs over WiFi directly between iPhones, and there's no setup or special code or buddy list required. Jobs predicted that Apple will ship "tens of millions" of FaceTime devices this year.
FaceTime is based on H.264 video and other open standards, Jobs said. His company's going to the standards bodies this week to push for the adoption of FaceTime as an open standard.
iBooks for the iPhone 4
Jobs also announced that iBooks will run on the iPhone 4. This will have the same controls, highlighting, bookmarking and notes features as the version for the iPad, as well as the same depiction of a bookshelf for users to store their iBooks.
Consumers will have to pay for an iBook once, after which they can sync it to all their idevices. The iBooks app automatically syncs all a user's bookmarks and notes across all his devices free over wireless connections, Jobs said.
Getting the iPhone 4
The iPhone 4 will come in two colors -- black and white -- Jobs said. U.S. pricing will be $199 for the 16 GB version and $299 for the 32 GB model, with a two-year carrier contract.
AT&T customers whose contracts expire at any time during 2010 are immediately eligible for a new iPhone 4 at these subsidized prices, which means some customers may become eligible up to six months early.
The iPhone 4 goes on sale June 24 in the U.S., France, Germany, the UK and Japan. Apple will begin taking preorders June 15.
In July, Apple will begin shipping the device to 18 more countries; in August it will add another 24 countries to the rolls; and in September it will add another 40, to total 88 countries.
Owners of the iPhone 3GS, the iPhone 3G and the iPod touch (after the first generation) will get automatic upgrades to iOS 4 for free on June 21. However, not all devices will support all iOS 4 features. The iPhone 3G will not support multitasking, for example.
"Will the iPhone 4 be a hit? Certainly," IDC's Llamas said. "It's going to be 2007 all over again, with lines of people outside Apple stores waiting to buy the new devices and a sharp spike in Apple's results in the third quarter."