Mighty Macs Top List of New Apple Gear
MacNewsWorld
Apple released a flood of new products on Tuesday.
It refreshed the Mac Pro and iMac lines, added a multi-touch desktop touchpad, and unveiled a 27-inch Cinema Display with a whole new set of bells and whistles.
The iMacs are available now, with the multi-touch touchpad as an option; the new Mac Pros will hit the streets in August; and the Cinema Display will be available in September, Apple said.
The Mac Pros come with up to 12 processor cores, and may signal a shift in Apple's product line.
The Apple Multi-Core Story
"I think the most interesting thing in the announcement was the Mac Pros with 12 cores," said Carl Howe, director of anywhere consumer research at the Yankee Group. "They have two 6-core Intel processors, and I have to think there's probably a 24-core motherboard in the wings."
Apple has been "slowly but surely" making sure all its operating system code is multicore-friendly, Howe told MacNewsWorld.
"Apple has a technology, Grand Central Dispatch, which takes all the software you run with your applications and makes it multicore-friendly," Howe explained. "If you support Grand Central, you don't really care how many cores you support."
Multicore support is being made available on the Mac Pro line first and will trickle down to other Apple products, including the iPad and iPhone 4 or its successors, Howe said.
"There's no need to redevelop apps for iOS -- it uses the same technology as Snow Leopard," Howe pointed out. "It just has a different user interface."
Apple introduced Grand Central Dispatch last year in OS X 10.6, otherwise known as "Snow Leopard."
Details of the New Mac Pros
The new Mac Pro line can handle up to 12 processing cores and offers up to 50 percent greater performance than existing products in the family, Apple said.
It uses the latest quad-core and 6-core Intel Xeon processors as well as ATI Radeon HD 5770 graphics processors, and it can take up to four 512 GB solid-state drives.
The new Intel processors run at up to 3.33 GHz. Each core can share up to 12MB of L3 cache. The cores have integrated memory controllers; Turbo Boost to dynamically boost processor speeds up to 3.6 GHz; and hyper-threading, which creates up to 24 virtual cores.
The ATI Radeon HD 5770 graphics processors come with 1 GB of RAM. Apple offers the faster ATI Radeon HD 5870, also with 1 GB of RAM, as an option.
Apple reportedly ran into trouble with the ATI Radeon graphics processor family in its 27-inch iMac last year, so why is it continuing to use ATI cards instead of Nvidia's?
"Apple bounces back and forth between Nvidia and ATI a lot," the Yankee Group's Howe explained. "When it feels one of them offers advances over the other, it goes to that one."
The Lowdown on the New iMacs
Apple's new iMacs have the latest Intel Core i3, i5, and i7 processors, as well as discrete graphics. They come with the Magic Trackpad as an option.
New iMacs with dual-core processors offer speeds of up to 3.6 GHz; quad-core models have speeds of up to 2.93 GHz.
The iMacs can be configured to order. Customers can order the Magic Trackpad as an option for US$69.
The iMacs use IPS screens. IPS, or in-plane switching, was developed by Hitachi in 1996. It's used in top-of-the-line LCD screens.
However, some of the 27-inch iMacs introduced last year had problems with their IPS screens, the main one being a yellowish tinge that led to hundreds of consumer complaints. Whether or not the new iMacs suffer from similar problems remains to be seen.
The Magic Trackpad

Magic Trackpad
Apple's Magic Trackpad is the first multi-touch trackpad designed to work with desktop Macs. It uses the same multi-touch technology as the MacBook Pro.
The trackpad can be used with any Bluetooth-capable Mac, including notebooks. It has the same aluminum design as the Apple Wireless Keyboard. Users can disable gestures they don't want.
The Magic Trackpad runs on two AA batteries and requires Mac OS X Snow Leopard V10.6.4 and the latest software updates.
"With the Magic Trackpad, Apple has achieved the ultimate in minimalism," the Yankee Group's Howe said. "There are no buttons, no screen, nothing else."
Cinema Display Essentials
Apple's 27-inch LED Cinema Display, also unveiled Tuesday, offers 2,560 by 1,440 pixel resolution and 60 percent more screen area than its 24-inch LED Cinema Display.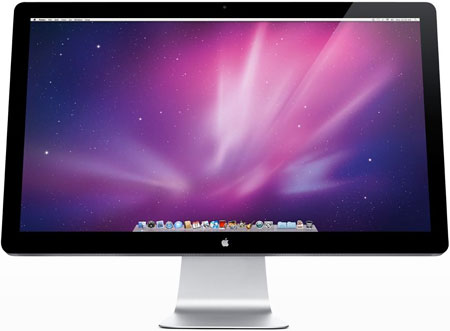 27-inch LED Cinema Display
It has speakers, a microphone and an iSight video camera built in. The display also has a powered USB 2.0 hub and Apple's universal MagSafe connector. It works with MacBooks and Mac desktops equipped with a Mini DisplayPort.
The display includes an ambient light sensor that optimizes energy use. Price is $999.
"What's interesting about this product is that they're offering it for under $1,000," Laura DiDio, principal at ITIC, told MacNewsWorld.
"Apple, which has always been known as a premium band with a price premium, seems to have realized we're in a recession and there's a lot of cheap stuff out there that people will buy."