Nike's New GPS App Leaves the Old Shoe-Chip System in the Dust
MacNewsWorld

Nike+GPS an app from Nike, is available for US$1.99 at the App Store.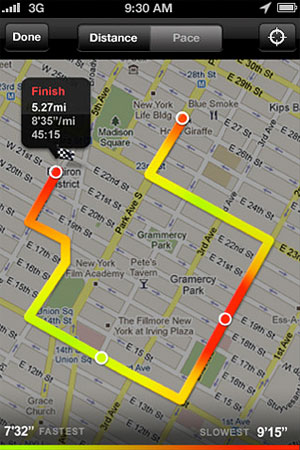 The Nike+iPod system has been a great idea from the get-go: Use this music machine not only to play tunes while you run, but also to measure your time and distance, provide audible updates on your stats and keep track of your progress over a period of weeks, months or years. Even if you're a purist who shuns on-the-run music, you might get something out of Nike+'s other features.
The only problem with the original setup was that it required a bit of extra gear. Have a favorite pair of running shoes? Toss 'em, 'cause you'll need a new pair of Nikes. And they'll have to be a certain kind of Nikes with a special divot in the sole where the chip goes. And the chip's sold separately. And the interface and control scheme is limited to the little window-and-trackwheel setup you got on the old-fashioned iPod.
It all seemed pretty slick at the time, but now iDevices have accelerometers and GPS. With the new Nike+GPS app, you can ditch the chip and wear whatever shoes you want -- or none at all if that's your thing.
Stretch and Prep
The app works on both iPod touches and iPhones. Both have an accelerometer that can act as a pedometer to figure out how far you've actually run (a feature that works both in treadmill/elliptical situations and when you're actually hitting the streets or the track). If you're using it on an iPhone, you can use the GPS to record your route on a map.
First up is the Home screen, with options for starting a run or taking a tour that shows you some of the app's main features. Other screens include History and Settings.
Settings allows you to personalize the app in several ways. Using Your Profile, you can give the software an idea of your physical characteristics (height, gender and weight down to a half a pound for you real sticklers) so it can give you more accurate feedback about your performance and statistics like how many calories you've burned on a specific run.
You can also do things like select a Powersong from the music you have stored on the device and set up Voice Feedback. The Voice Feedback feature will provide spoken updates through the headphones at specific distance or time increments. Those can be set down to a half a mile or one minute, respectively, with either a female or male voice, whichever happens to get you going better.
The Settings window also has an option for signing in to Nikeplus.com. The site works in conjunction with Nike+ devices, and it can be used for tracking your performance and goals over a longer span of time, accessing specially designed coaching programs and communicating with other runners to challenge each other or share favorite routes in your area.
The History window will show you an overview of the saved runs you've taken in the past.
Let's Get Moving
From the Home screen, you can either start a fresh run or challenge yourself against previous personal records.
A new run can be set to a specific distance or time (both can be customized down to a tenth of a mile or a single second, respectively), or you can set it to ignore these parameters and just run wild.
Next, you choose your location (outdoors or indoors on a machine) and your music options. You can set a specific playlist that you have in your phone and turn shuffle on or off. Or you can select Now Playing to go off the list you already have playing in the iPod app, though when that list runs out, you'll have to manually go back and find a new list to play.
Once everything's in place, you'll go to the actual workout interface, which shows a clock, an odometer, a time-per-mile/km indicator, and nice, big music controls that are easy to jab at when you're on the move.
Just hit the green triangle to start the workout and the music, if you've selected any. The music controls are standard iPod issue: Skip back/rewind to the left, skip ahead/fast forward to the right, pause/play in the center. The current song's title appears inside the Play button.
Pausing the music will actually pause the entire workout -- it stops recording distance and time. You also have to pause in order to see options like "Cancel Workout" and "Change Music" (pick another playlist, turn shuffle on/off or quit music altogether). While the music and clock are running, your options are to get an on-the-fly update from Voice Feedback or go straight into the Powersong you've selected in Profile.
Your stats will be preserved if you exit the app, but it won't run completely in the background. Exiting will automatically pause the workout, so you'll have to resume the app to get it recording your performance again.
There's a built-in lock feature in the upper right corner of the workout interface that uses the familiar swipe-to-unlock setup.
The Finish Line
When you've finished, you can review stats like total distance, calories burned and your average time per mile or km. If you're using an iPhone outdoors, you can also review a route map, which in my tests was accurate right down to the side of the street I was on. You can have your route color-coded to show where you were fastest and where you were slowest. All this data is stored in your history and can be synced with the Nike+ website (or deleted if it's one to forget).
I was a little skeptical about the app's ability to accurately gauge the distance of a run without GPS, which is what you'll be doing if you use a cardio machine or an iPod touch. However, the pedometer measured my distance to within 2 percent of the readout on the treadmill I used -- not bad. If you decide the distance is way off, you have a calibration option to tell the app how far you really ran, which will recalculate some of your stats.
A note of caution: In order for the pedometer to work correctly, the app tells you to hold the iPhone or iPod in your hand as you run. It'd be a real bummer to drop and break it just because your hand got sweaty, so I recommend some sort of case with a strap you can wrap around your wrist.
Bottom Line
Nike+GPS is easy to use, it seamlessly blends its music interface with the various statistics it displays, its GPS tracking is great, and its pedometer is acceptably accurate, at least on a treadmill.
iPod touch users who already have a Nike+iPod chip and the shoes to match may opt to hold off on this new app. With the chip, you can strap your iPod safely to your arm or wherever else you like it. Having to hold it in your hand in order to make the pedometer work would be a step backward.
But if you already take your iPhone along with you for music when you run, a mere two bucks will give you new ways to measure yourself and evaluate personal progress (or at least personal maintenance). If you're not already in that habit, an armband or wrist strap case may prove to be money well spent.