If You've Got to Have a White iPhone 4 Right Now...
MacNewsWorld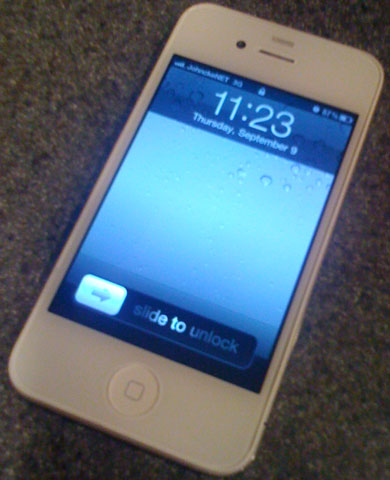 DIY White iPhone 4
The white iPhone 4 is set to be released in 2011, but that does not mean you can't make your own now. I've seen many requests come through for white iPhone 4 conversions.
Sometimes this happens because somebody has already broken their screen or back cover, and other times simply because people want it and they want it NOW!!!
Regardless of whether you need an iPhone 4 repair or not, a white iPhone 4 could make you the most popular iPhone owner in your region, state, country or animal kingdom.
In fact, my friend and repair tech Chris was telling me this not long ago. A white iPhone 4 is an icebreaker.
His iPhone, in particular, has been dropped in water, smashed on the sidewalk, and rubbed in dirt for good measure. He does not regret any of this because, in addition to mass amounts of YouTube hits from this recorded behavior (i.e., shameless promotion, i.e., tech nerd fun), it led to a white iPhone conversion. Magic happens when people lock their eyes on this hidden jewel: I want one of those.
Tools Needed:
Phillips head screw driver
Plastic spudger
Parts needed:
White front glass/digitizer/LCD assembly
White back iPhone cover
The above parts can be costly, but they're a bargain compared to what it would cost to buy another iPhone. It is important that you use original equipment manufacturer parts (OEM) -- or parts as close as possible in quality. A common mistake is to go cheap on the conversion, with bad parts resulting in a substandard phone.
If you are going to take the time to pimp it out, make sure there is substance behind the flash. You are considering this because you really want a white iPhone.
If you don't have a thick wallet and are looking to excuse yourself from splurging, consider this: You now have quality replacement parts for the very fragile iPhone 4, and you or a friend is likely going to break it very soon, resulting in your making your money back -- or even profiting.
Of course, this whole "saving money by spending money" thing is not meant to be if you screw up the process. Here are the basic steps. Make sure you reference the resources and pictures below to aid you on your mission to become one of the coolest iPhone 4 owners in all the land.
Caution: This information is provided for your entertainment and education, but tinker at your own risk! ECT News Network makes no guarantees of success. If in doubt, consult a professional.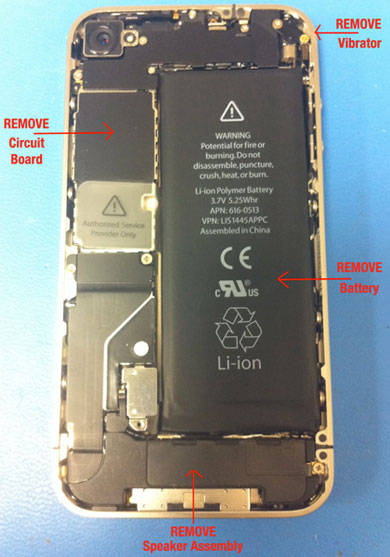 iPhone 4's Guts
Steps:
Remove two bottom screws
Slide back cover off
Remove battery
Remove circuit board
Remove vibrator
Remove speaker assembly
Remove screws holding in glass
6 screws with washers
4 screws without (1 each corner)
Remove front glass
Put new white glass in
Reassemble phone using white back housing
Things to remember:
Use paper to layout screws when taking them out.
If possible, ground yourself.
Take your time.
Use quality parts.
For additional pics and steps to help:
DIY iPhone 4 Screen Repair - Don't Lose Your Screws!

---
Jesse Herman
is the editor at
iFixyouri
, an electronics repair service that specializes in iPhones.