Xfinity TV Smooths Comcast's Rough Interface Complexion
MacNewsWorld

Xfinity TV, an app from Comcast, is available for free at the App Store.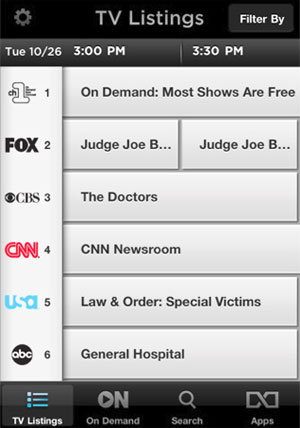 Personal appearance can be a sensitive issue sometimes, but I'm going to have to risk hurting my TV cable box's feelings in order to get this out of the way: It's ugly. Not necessarily the box itself, though its remote does seem to resemble a big, rubbery club. I mean its interface is ugly. The thing is capable of delivering great-looking HD programming, but the controls and interface you have to deal with to get there look like they've been stuck in time for a decade or more. And whatever kind of processing hardware is rendering these four-color graphics, it seems to suffer plenty of lag.
I happen to be talking about a Comcast/Motorola cable box at the moment, but the same can be said about lots of other service providers. It only makes sense -- if the cable company is the one giving you the box, they're not going to splurge on expensive boxes when good enough is good enough.
But if navigating your DVR cable box's functions is becoming just too much of an eyesore -- and you happen to be a Comcast cable subscriber -- then the company's new Xfinity TV app may bring some relief.
Phone as Remote
The Xfinity TV app provides a much better-looking interface for TV listings and on-demand programming. It also lets you control some of Comcasts higher-end cable boxes through your phone via the Net.
Of course, this takes a bit of configuring. My initial setup hit a couple of "unknown error" reports on the app's screen, but on the third or fourth try, things just fell into place. Upon signing into the app using my Comcast-issued email address (does anyone ever actually use that for real email?), I was told to turn on my TV and match each name on the phone's screen with the name I see displayed on the TV. I saw no names displayed on the TV-- just the show that happened to be playing. Whatever -- I only have one eligible box, so the default name in the box ("TV 2") must be right, huh?
Then it asked for a ZIP code, and viola -- my area's channel lineup was displayed in the app. Just like the display you see when you hit Guide on your cable box remote, the app feels compelled to show you ALL Comcast channels, even the ones you don't get with your particular package. However, it does have a Filter By option, allowing you to sort out movies, kids' shows and sports. It also has an option for only displaying HD broadcasts -- much appreciated.
Select any given show in the lineup, and you'll get an info screen with graphics, summary, ratings, etc. Besides TV Listings, other top-level options include On Demand and a Search feature for finding shows by name.
After that initial round of setup, your app will be mind-melded with your cable box. As you hunt through the app's TV listings for your area, you'll immediately be able to change the channel on your cable box through the app -- just select the show in Listings and hit the Watch on TV button.
That feature didn't really impress me much at first. It seemed only useful in instances of dead batteries or hopelessly lost clickers.
But later I realized that it's a huge improvement over the outdated interface found in typical Comcast-issued cable boxes like mine. When done directly through the cable box, the act of scrolling through a menu of hundreds of channels or using the Search function to find what you're looking for is, by comparison, a slow, rickety process that makes me think someone poured tree sap through the vents. On the app, searches and scrolls happen smoothly, quickly and gracefully. By comparison, the app is a dream, if only for that limited little purpose.
DVR Commander
The app/cable box connection goes deeper than that -- the Xfinity TV also lets you program your Comcast DVR from the phone. There's no immediate gratification with this feature, though. It's a slow marinade -- you'll have to set yourself up at Xfinity.net, which warns you that it could take as long as 24 hours for the service to get kicking. But sure enough, a day later, the function was ready to roll.
Once you've enabled DVR control, you can hit the Record button that appears on TV Listings entries, and your DVR will be told to grab it. Don't cut it too close, though -- the app will warn you that it might not work if you give it less than 30 minutes notice. One attempt worked at 20 minutes notice; another failed at five minutes before showtime.
I couldn't find a way to call up the DVR option on my cable box and play an already-recorded program, which detracts from the app's usefulness as an actual remote replacement. You still need to use the old rubber clubber to make that happen. This might be a good addition for Xfinity TV's next update.
Finally, the Xfinity TV app also has a function for calling up on-demand content. This isn't a Comcast service I'm very familiar with, mostly because I find its through-the-cable-box controls to be kind of frustrating. But with the way the app lays out the options, I might be willing to give it a try.
The spread is very simple: Movies, TV and Top Picks. Scroll through the list and select a show; prices are clearly marked. Within seconds, it's playing on the TV. Very nice.
Bottom Line
The biggest advantage Xfinity TV has going for it is its Record command. If you're away from home and realize there's a show you want to catch later, instead of jotting down a note-to-self, you can schedule it in, right there, right then.
But the app has its uses even when you're already in front of the TV with the real remote at hand. Finding general programming and ordering on-demand content through the app is so much smoother than the circa-1995 interface found in the box that it might be worth it to keep your iPhone around alongside the remote.
That does leave you with one more clicker to keep track of, so perhaps next Comcast should get together with Logitech and the rest to make this app something you can download and install directly into their high-end universal remotes.