Lights, Camera, Capture Is a Shutterbug's Delight
MacNewsWorld

Lights, Camera, Capture, an book by Bob Davis, is available for US$9.99 at the App Store.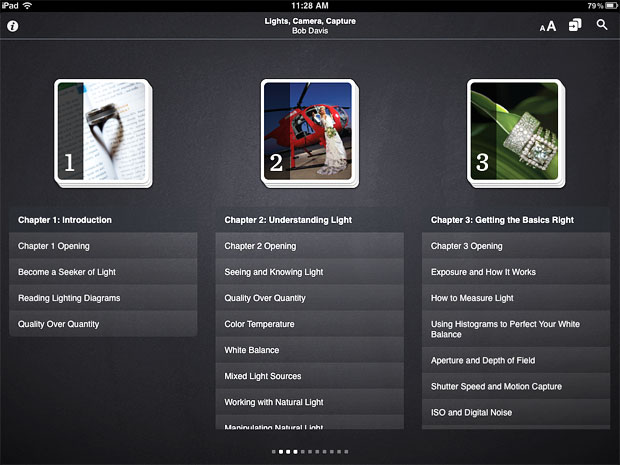 Lights, Camera, Capture
If you want to see the future of books, take a look at Lights, Camera, Capture for the iPad.
You won't find the volume in the Apple bookstore. That's because the book is being sold as an app. Some publishers have taken their wares for the iPad to the App Store so they can charge more for what's not much more than type adorned by pictures. That's not the case with Lights, Camera, Capture.
The book on using lighting in digital photography is a rich mix of media that's expertly integrated into an arresting package. While the app still has the trappings of a book -- chapters, appendices, glossaries -- it feels like so much more. At US$9.99, LCC is more expensive than most apps -- although, ironically, not so expensive for an e-tome from the Apple bookstore -- but shutterbugs will find the app/book worth every penny they paid for it.
Lights, Camera, Capture is penned by Bob Davis, former photog for the Chicago Sun-Times and a celebrity wedding lensman. He shot the nuptials of Eva Longoria, Eddie Murphy and Tracey Edmonds, as well as events for Oprah Winfrey. Davis, though, had plenty of help producing LCC, which has a credits list that looks like one at the end of a Hollywood movie.
Nicely Knitted Together
The book tackles a subject that many digital photographers ignore in their obsession with megapixels, zoom specs, focus zones, processor speeds and such. That subject is light. Truer words were never written than these by Davis:
"It is perfectly possible to take amazing photographs with a very simple camera -- as long as the lighting is good ... The corollary is that the opposite is true as well: If you are taking photos in situations where the lighting is truly appalling, having the fanciest camera in the world isn't going to help you capture the photographs you want."
What's nice about LCC is the way its text, illustrations and video are knitted together. A lighting technique will be explained in the text, for example, accompanied by a shot that uses the technique. You can double tap the shot, and see a larger version of it, along with a detailed caption that includes info, such as camera model, lens, shutter speed, aperture, ISO setting and exposure mode.
Along with the photo is an illustration of the lighting setup for the shot and a caption explaining the light sources for the pic and the settings for any lighting hardware used for it. You can easily move between photo and illustration by poking thumbnails or arrows on a bar at the bottom of the screen. To return to your place in the text, you simply tap an arrow at the top of the screen.
Powerful Combinations
Photos in the book are accompanied with video tutorials. Video links appear as bars below the photos. Tap a link, and an HD video will appear with the author explaining and illustrating the nuts and bolts of a shot. The combination of text, photos, diagrams and video is a powerful one and the ability to move among the elements quickly with a swipe or a tap adds a dynamism to the learning experience that's impossible to duplicate in a printed book.
On each page of the book you'll find a nice set of tools for customizing and navigating throughout the volume. You can change the type size and screen brightness, as well as toggle page numbers and hotspots. You can search for text anywhere in the book. You can also jump to particular or bookmarked pages, call up the glossary, view a history of the pages you've read and see a list of passages you've highlighted or notes you've made to pages.
Adding a note or highlighting text is as easy as tapping and holding a word on the screen. When that's done, a menu will pop up with those options, as well as an option for copying text. Each page also has a bookmark icon on it for facile marking.
No matter what kind of camera you have, if you have an interest in photography, Lights, Camera, Capture is a must-have book for your photo library -- and it's one that doesn't have to sit on the shelf. You can always have it with you in your iPad.