'Infinity Blade': Gorgeous, Epic and Surprisingly Addictive
MacNewsWorld

"Infinity Blade," a game from Epic Games and Chair Entertainment, is available for US$5.99 at the App Store.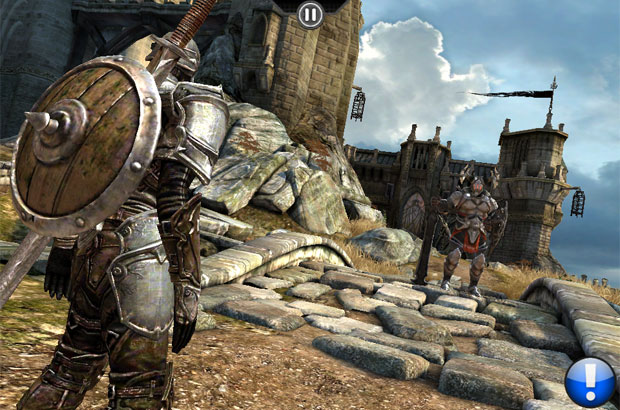 "Infinity Blade"
Currently among the highest-grossing apps in the Apple App Store, the sword-slashing fight game "Infinity Blade" is one of the must-have games of the year. Like "Angry Birds," it's surprisingly addictive. I'm far from a hard-core gamer, but I can recognize a masterpiece when I see one. Odds are, you'll enjoy this one, too -- with a few caveats, of course.
First, you should enjoy challenges, particularly those that involve slashing, slicing, magic and armor. Second, you should appreciate amazing graphics. If either of these two caveats slip into your personality at all, spend the US$5.99 on Infinity Blade and start attacking storm paladins, horned guardians and feral trolls.
Luscious Visuals
"Infinity Blade" first hit my radar back in September when Apple CEO Steve Jobs called out Epic Games for an on-stage demo during the Apple media event that introduced new iPods. The guys from Epic demoed "Project Sword" which showed off a vast 3D landscape. It's the same that could be previewed in the "Epic Citadel" runabout game, along with an astounding sword battle between a little knight and some big ugly monster. Mike Capps, president of Epic Games, pointed out that Project Sword used Epic's Unreal Engine 3 technology, which is the same technology that powers its console game hits like the "Gears of War" series.
"If your jaw is not on the phone, it should be. Take a look at this place. It's a gorgeous 3D world, and it's filled with intricate levels of detail," Capps gushed, noting that Epic uses the same lighting and motion capture animation techniques that you seen top CGI films.
After the demo, Jobs smiled, and said, "It's on a phone ...That's pretty remarkable."
Project Sword, of course, was delivered as "Infinity Blade." The game follows a predictable path that somehow defies boredom: You play as the son of a father killed by the dreaded God-King, working your way through epic sword battles on the grounds of a ruined castle in a quest to avenge your father by killing the God-King.
Along the way, you snag bags of gold and find or buy new weapons, armor and magic rings, with which you then equip yourself. By using them successfully in battle, you become increasingly proficient until you master the item. When you master an item, you gain experience points -- you level up -- which makes you stronger. As you might expect, two things are happening here: Because of your new, more powerful weapons, you become more effective against the evil minions, and you, as the game playing person, become more proficient with your swiping and dodging strategy.
Of course, the monsters get stronger, too.
Don't Give Up Too Soon
Here's a word of advice for the non-gamers: Don't worry when you first start playing. My first reaction was, "Oh man oh man, there's no way I'm going to be able to level up to 40 and kill the God-King. I suck!" Stick with it for a while, and you'll get good at blocking with your shield and then attacking during moments of weakness.
Now, back to the predictable game play. The conceit for the game is simple: As a son slicing and bludgeoning your way through bad guys, you eventually reach the God-King, who toys with you a bit and then promptly kills you. Twenty years later, which is about three seconds in real-time, you get to start your assault on the castle and God-King again, this time as the fallen hero's son in a new "bloodline."
When the kiddo begins his quest to avenge his father, he starts out with the same gear and experience as his fallen dad. It took me six bloodlines to get good enough to slay the God-King, but I might have been able to do it in five if I had been paying more attention along the way. Oh, and if I could actually parry with any sort of intent.
Sounds sort of monotonous, no?
Well, yes, it does sound monotonous, but it's not: There are plenty of opportunities to try out new weapons, new magic spells, and new combinations of armor and swords that each time you go into battle you get a slightly different taste of action. Plus, I don't know about you, but when a creature from a nether world stomps on my face, I get a little irritated, and I really want to drive a sword into its head. But that's just me.
As for the achievements and the buying of weapons, that's a secondary element of interest: I'm not a teenager, nor do I have a lot of free time, so there's no way that I'll somehow find enough gold to add up to $4.5 million, which is the amount of gold that one player who posted on the Epic Game Infinity Blade discussion forums had managed to amass.
As for leveling up, I'm currently at level 21. Before Epic Games released its latest update, the previous limit was 40, but now that's raised to 45. The update also brings five new swords, five new shields, five new helmets, and a new set of armor, in addition to a new enemy, the Marrow Fiend, which devours its victims and takes their bones for its blade and shield.
It's times like these, as I write about the Marrow Fiend and get excited about it, that I realize that I've got some serious nerd tendencies.
What's Next?
In future updates, the game promises to deliver even more action. As you play, you'll get a sense of what's going on and how the bloodlines work, and you'll get to challenge new enemies (like the Marrow Fiend). In addition, Epic Games should eventually deliver multiplayer modes with Game Center, along with a whole new dungeon environment.
Should be a kick in the pants!