With PhotoForge2, Hammering Out Great Photos Takes Some Elbow Grease
MacNewsWorld

PhotoForge2, an app from Ghostbird Software, is available for US$2.99 at the App Store.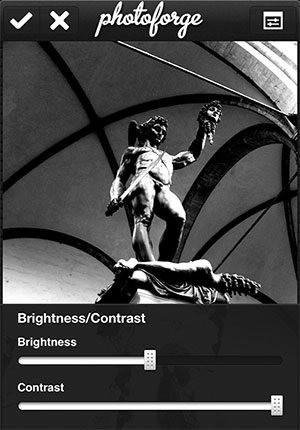 PhotoForge2
Among iPhone photography applications, Camera+ simply rules. I said as much back in March after using it only a couple of days, and since then it's been my go-to shooting app. My opinion hasn't changed -- it's a must-have app for anyone who takes photos with an iPhone.
One of the things I like about Camera+ are its quick-edit options. You can make an image "Grunge" or "Hipster" or "So Emo" instantly, and you can toggle the depth of the effect.
But what if you're more of a darkroom control freak -- someone who wants to use more detailed tools for fine-tweaking an image? Dedicated image-editing apps are plentiful in the App Store, and Adobe itself has even figured out a way to whittle down its massive Photoshop software into something that can fit on a phone. However, even though Photoshop is the biggest name in photo editing, you might want to try out something other than Photoshop Express for in-the-phone manipulation.
PhotoForge2 offers a hefty collection of full-res, layered editing capabilities, all within the phone, using images from your Camera Roll or other albums. It also has a respectable variety of quick-edit options.
Feature-Heavy
When PhotoForge2 is run for the first time, small dialog pop-ups will appear to explain the app's various functions. Best to pay attention to these messages. PhotoForge2 has plenty of how-to verbiage, but most of the how-tos appear to be quite a bit more long-winded than the relatively concise pop-ups, which I couldn't figure out how to bring back.
The app starts with an empty gallery. Hit the + button to import images from your phone's Photos collection or from a group of images you've synced directly to the app via iTunes. Or you can take a new image on the spot.
Once in the gallery, an image can be edited. That's done by tapping the image itself -- tapping the Edit button actually just gives you the chance to remove photos from the gallery.
Now your main tools come into play. Along the bottom of the screen are icons for your manipulation options. Experienced photo editors will be very much at home with the jargon in the Adjustments category (the one on the far left): Unsharp Mask, HSL, Exposure, Curves and Channel Mixer, among others. These are presented in a sort of Cover View style -- pretty slick.
Whichever type of adjustment you select, you'll probably be given a set of sliders to adjust, or in the case of something like Curves, a graph in which to plot points. You can send the adjustment screen away at will to inspect the image, then bring it back up immediately. When you hit the level you like, touch the checkmark and the image will be saved. Hit X to cancel.
Special FX
Next is your FX menu for fast stylistic edits. The options include tweaks like Emboss, Neon, Posterize and Sin City. Most can be adjusted for intensity.
Some photo editing apps impose limits as to how many different effects you can give an image. Technically you're not limited at all, as long as you save the image after each alteration. But that can be a cumbersome process. PhotoForge2 is set up to make it very easy to hit any photo with effect after effect without having to go back to the Camera Roll and import yet another image into the gallery.
Moving along the bottom row of icons, you then come to your cropping options: Crop, Resize, Texture and Frames. Adding textures gives you the ability to rotate the alignment of the texture and toggle how intensely it affects the image. Resizing a photo can be done with the proportions constrained and otherwise, or you can just tell it to scale down to a certain number of megapixels. Using the Width/Height sliders doesn't give you a pixel readout, however. And the Crop function isn't always very responsive to the touch.
Skipping over to the icon that looks like a clock, you'll have the option of backtracking along each effect, adjustment and crop you've made along the way. So if you paint yourself into a corner, you won't have to restart from the original image -- just go back to right before things started to go wrong.
Finally, the upper-right icon contains links for saving your image or sharing to any of several popular social networks and photo sites -- Twitter, Facebook, Picassa, DropBox, etc.
One more thing: If at any time you need help, an extensive guide can be found by touching the "PhotoForge" logo at the top of the screen.
Things Get Interesting
The menu item I've saved for last is Layers. This is what you can use to combine different photos into the same image. Each layer can be selected from you Photos library. From there it can be inverted, reproduced, reordered and displaced, then flattened to make a final image.
A feature like Layers might be useful in some instances, and it's definitely the first time I've seen anything like it in an iPhone photo editing app. But I almost get the impression that it's trying to take on too much. When you get to a certain level of detail manipulation, sometimes you just need more than 3.5 inches of screen space in order to get a satisfying experience. Also, someone who'd really know what they're doing in Layers mode is probably trained in traditional Photoshop -- trained enough to know that they're not really going to get what they envision by using a phone app rather than a desktop app.
The app isn't as versatile as a desktop photo editing application (and shouldn't be expected to be), and the functions it lacks might be needed in order to pull off the desired effect one would use Layers for.
For instance, in Florence, Italy, there is a famous statue of Perseus holding up Medusa's severed head. I have an image of this statue on my phone. Just as an experiment, I wanted to replace Medusa's head with an image of my own head. It was easy enough taking a shot of myself, adjusting the color a bit, inverting the image horizontally, etc. But I couldn't do a precision cut around my jaw, ears and hair. If that feature exists in PhotoForge2, I couldn't find it. Instead, I could only make a close -- yet still rectangular -- crop of my self portrait, resulting in an image that makes Perseus look like he's wearing a framed photo of me as a prosthetic hand.
Bottom Line
Despite the criticism above, I still think PhotoForge2 is the most advanced image editor I've used on an iPhone.
Its impressive collection of adjustments and effects, its ability to pull off a long series of adjustments without manual re-saving and its ability to track changes are all a step up from your typical iPhone image editor. Even the Layers feature will probably come in handy sometimes.