Apple Unleashes the Lion and Electrifies the Air
MacNewsWorld
Apple released its long-awaited Mac OS X Lion operating system Wednesday, together with a lineup of new MacBook Airs, a refresh to the Mac mini line, and the world's first display using the next-generation Thunderbolt port.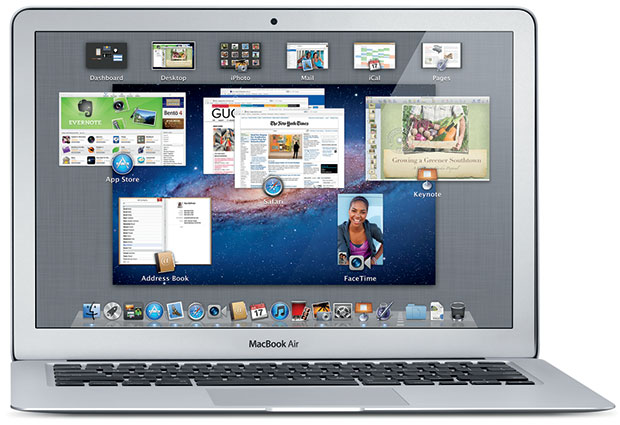 A new MacBook Air with OS X Lion running Mission Control
Thunderbolt technology will offer up to 10 Gbps of access speed in each direction simultaneously over one cable.
King of the Mac Jungle
OS X Lion, the eighth major release of the operating system, has more than 250 new features, Apple said.
These include new multi-touch gestures; support for full-screen apps; Mission Control, which lets users view everything that's running on their Macs; a redesigned Mail app; and access to the Mac App Store built into the operating system's LaunchPad.
Other features include Resume, which brings apps back to where the user left off when a Mac is restarted or users quit and relaunch apps; an autosave feature; Versions, which automatically records the history of documents as they're being created; and AirDrop.
"The AirDrop feature could potentially pose a security threat," Laura DiDio, principal at ITIC, told MacNewsWorld.
That feature automatically sets up a peer-to-peer wireless network between a user's Mac and other nearby Macs to enable easy file sharing -- but that could also give hackers access to people's Macs.
Although users can disable AirDrop as needed, "Given the increase in security threats, Apple would be wise to be explicit and highlight all of the security features in its products and also provide users with configuration recommendations up front," DiDio stated.
Apple did not respond to requests for comment by press time.
Mac OS X Lion is available as a download from the Mac App Store for US$30.
The New MacBook Airs
Apple on Wednesday also released new 11- and 13-inch MacBook Airs with Intel Core i5 and Core i7 dual-core processors. The new mini notebooks also feature Thunderbolt input/output technology and backlit keyboards. These run Mac OS X Lion.
The new MacBook Airs have twice the performance of their predecessors, Apple said.
They use Intel HD Graphics 3000 processors and have up to 4GB of 1.3GHz RAM. Their multitouch trackpads support Mac OS X Lion's new gestures such as momentum scrolling, tapping, pinch and spread to zoom, and swiping.
The new MacBook Airs support Bluetooth and have two USB ports each.
The 11-inch model weighs less than 2.5 pounds and offers up to five hours of battery life, while the 13-inch model weighs just under three pounds and provides up to seven hours of battery life.
They are available now. Prices range from $1,000 to $1,600.
"The new MacBook Airs offer improvements on earlier models, which were stellar," ITIC's DiDio said. "And Apple's decision to hold the line on prices was a very sagacious move."
Mac Mini Redux
Apple refreshed the Mac Mini line, unveiling a new model in three configurations based around the Intel Core i5 and i7 dual-core processors.
These new minis don't have an optical drive but can access optical drives on other PCs and Macs, and they also work with the MacBook Air SuperDrive.
The lack of an optical drive may not have much of an impact on demand, Danielle Levitas, a group vice president of research at IDC, told MacNewsWorld.
"I think optical is one of those things most consumers don't want to give up entirely, but most aren't using the optical drives," Levitas said.
The lack of optical disks signals Apple's direction. "Apple is clearly moving away from optical," Levitas said. "Wireless is where they are pushing people to."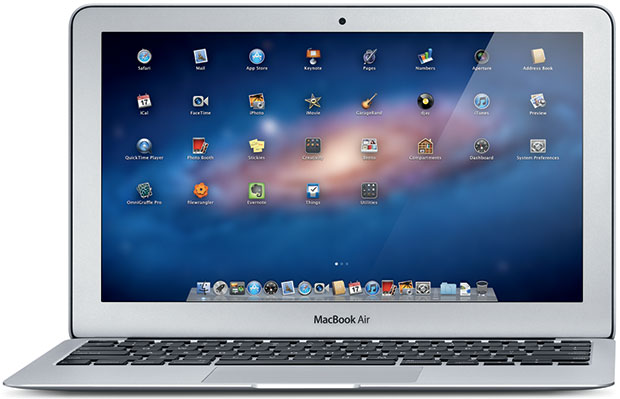 MacBook Air running OS X Lion
Or perhaps Apple was simply seeking to control pricing.
"[The Mac Mini] is a small form factor desktop, and Apple was trying to keep costs down," ITIC's DiDio suggested.
Whatever the case, consumers who regularly use their optical drives can always buy an external drive, Levitas pointed out.
The new minis have Thunderbolt I/O technology and run Mac OS X Lion. They are available now. Pricing ranges from $600 to $1,000.
The Mac Minis can be used with the 27-inch Thunderbolt display that Apple also revealed Wednesday.
This is the world's first Thunderbolt screen and was designed specifically for Mac notebooks.
It has 1 Gigabit Ethernet port, a FireWire 800 port, three USB 2.0 ports and one Thunderbolt port that can let users daisy-chain up to five additional Thunderbolt devices.
The Thunderbolt display includes a built-in FaceTime HD video camera, integrated speakers, an integrated MagSafe charger to charge Mac notebooks, and an ambient light sensor that adjusts the display's brightness according to external lighting conditions.
Pricing is $1,000. The Thunderbolt display will be available within the next 60 days, Apple said.