SAS Survival Guide: Want to Stay Alive on the Edge?
MacNewsWorld

SAS Survival Guide, an app from Trellisys.net , is available for US$6.99 at the App Store.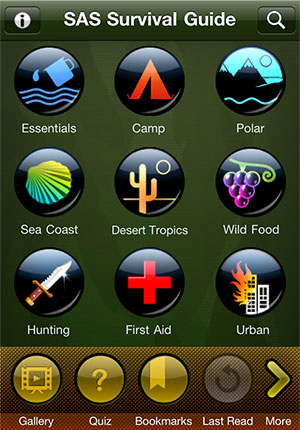 SAS Survival Guide
In the modern age, the closest many urbanite HDTV watchers have come to survival in the great outdoors is watching quasi-documentaries like "Survivorman" or "Man vs. Wild." While I'm a fan of those shows, there's so much entertainment mixed in that I'm not sure that I actually learn all that much.
Enter SAS Survival Guide, an app for the iPhone and iPod touch (or separately, the iPad) for $6.99.
Based on the bestselling survival guide book written by John "Lofty" Wiseman, former SAS member and instructor, the SAS Survival Guide app promises the elite survival training techniques of Britain's toughest fighting force. While the tone is indubitably British and features quirky spellings (quirky to U.S. users, anyway), the guide is packed with tips, instruction, situations and videos, and best yet, it's put together in an easy-to-read, easy-to-search and easy-to-consume package.
iPhone or iPad?
The first question about this app is which version you want to use. If you don't have both an iPhone and an iPad, the answer is easy. If you do have both devices, like me, the choice is the superior readability of the iPad or the superior packability of the iPhone. I chose the iPhone version because I'm far more likely to have it in my pocket as I flee into the forest from a zombie horde. (Note: The SAS Survival Guide book was written a couple of decades ago, the app is based on it, and as such, it doesn't cover zombie apocalypse scenarios at all.)
It does, however, cover all other elements of survival, ranging from basic essentials like how to stock a survival kit, build a shelter in almost any type of environment, hunt, find food, avoid poisonous snakes, administer first aid, and exit a car under water.
Aside from the mandatory "Warning" about the guide describing extreme scenarios and vital techniques for use in dire need only, the app launches into an easy-to-access interface. Nine icons cover Essentials, Camp, Polar, Sea Coast, Desert Tropics, Wild Food, Hunting, First Aid, and Urban situations and techniques.
Below the main categories, SAS Survival Guide has a series of of buttons for other sorts of navigation: One button lets you browse through all the photos and videos that are built into the app, another lets you take a quiz, while others cover checklists, Morse code, and using a sun compass. The nicest of these options is the ability to use and store bookmarks, as well as return to the last section that you were reading the last time you closed the app.
The full text of the guide is searchable, which is quite handy, and it illustrates a key benefit of using such an app. Of course, if you're stuck out in the wild with darkness approaching, you can decide for yourself if you'd rather have a physical old-school book or a light-producing iPhone with a draining battery. At least with the app, while you're waiting in line at the grocery store you can tap it open and learn how to build a fire.
Case Studies?
Each of the nine sections are kind of like functional chapters (I never read the book, so I'm describing here -- they might not match the book at all). The beginning of each chapter has case studies that describe accidents or situations that led to a survival situation ... or simply cool little anecdotes that address possible situations. For instance, it turns out you probably don't want to run from primitive tribes, even the head-hunters, and you definitely don't want to act aggressive or pat their children on their heads.
What else can you learn? Almost anything, it turns out. The app describes how you can create rope out of various plant fibers, build a fish trap, gut a chicken, use an Eyebright plant to fight eye infections or crush up various other plants to fight infection, build a fast snow trench for shelter, or use a termite's nest as tinder to help start a fire.
A new tip that I learned is how to build a "gripper bar raft." Basically, you use several logs for your deck, and rather than using a bunch of rope or vines to weave and tie them together, you use two sets of two smaller crossbar pieces of wood. The crossbars go perpendicular to the logs and extend out past the logs on top and bottom. The ends of the crossbars are lashed together, creating pressure between the crossbars on the logs to hold them together. Make sense? Fortunately, Wiseman does a better job of explaining things than I do, and besides, he offers up sweet graphics when you need a visual.
Bottom Line
If you want to survive in almost any situation, the SAS Survival Guide app is good app to have on your iPhone.
Using it to learn ahead of time is a good idea too, and barring that, it makes for decent entertainment, especially at night while tent camping.