Peakfinder: A Primo Panoramic Portfolio of Prominent, Pointy Places
MacNewsWorld

PeakFinder, an app from Fabio Soldati, is available for US$1.99 cents at the App Store.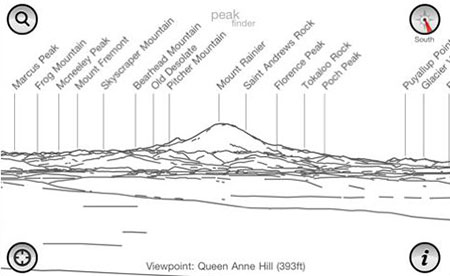 PeakFinder USA West
As I drive around the Northwest, I see a lot of mountains. Some are majestic, rising suddenly out of nowhere after a bend in the highway reveals their snowy tops etched against a blue sky. These big peaks usually have well-known names like Mt. Rainier or Mt. Hood. And then there are mountain ranges, like the Cascades or Rocky Mountains, and these ranges satisfy part of a guy's need to know the name of a mountain -- because they are part of something greater that is known, the range.
But still, some peaks jump out at me, and there's a jagged one along the I-90 corridor 60 or so miles out of Seattle that always gets my attention. I'd kind of like to know its name, but downloading the right map or Google mapping it always seems like too much trouble -- or too likely to fail.
Enter the PeakFinder series of apps by Fabio Soldati. These apps use the GPS, compass, and accelerometer in your iPhone to help you identify local mountains and hills. In fact, if you have any interest at all in the high points of the world that surround you, you need to download one of the PeakFinder apps now. In my case, this was PeakFinder USA West.
How It Works
Basically, once you launch PeakFinder and ask it to find your current location using the GPS unit in your iPhone, along with the accelerometer and compass, you can hold it up like a pair of binoculars (away from your face, of course, because you're looking at a screen) and use the results to identify the mountain peaks in front of you.
And what are the results? A black and white line drawing of the horizon. Named high spots within 200 miles get identified with little red dots and lines that point to their names. If there's a small peak or one that's close to another peak, you can zoom in with a funky virtual binocular vision zoom tool. What's cool is that this panoramic view rendering works completely offline, as well, making the app functional when you're far off the beaten path.
Of course, to get access to some additional features, you need access to Internet-based data -- in particular, if you want to look at your position on Google Maps, you'll need to has a cell signal or WiFi. While the app is compatible with iPods and iPads, not all features are supported if the relevant hardware isn't present. So on an iPod, which doesn't have a GPS unit inside, you would have to search for a peak or manually enter in its GPS coordinates ... or locate it via Google Maps and then change the view to the PeakFinder horizon view.
Panoramic Wonderland
One of the coolest features is the panorama view. You can turn around in a circle and watch the horizon on the iPhone screen turn with you -- the black lines showing the peaks -- or you can stay in one place and touch and swipe the screen to get it to move. So, effectively you can face south in person and look at the virtual horizon of peaks to the north.
Here's another cool feature: If you tap on a peak, you can virtually go to that peak to see what could be seen from that location. Want to know what peaks are visible from Mt. Rainier? You can get the panoramic view from the top just by tapping a little graphic button of a hiking dude. This little hiking dude button will also show up on the Google Maps feature -- locate any spot on Google Maps and tap it, and you can go there.
Of course, if you navigate to a spot using Google Maps that isn't in your PeakFinder app, you won't be able to go there. So Eastern Nebraska? Not part of PeakFinder USA West. For that, I imagine PeakFinder USA East will do the trick.
Where do the names come from? There are more than 30,000 high points noted in the PeakFinder USA West app, and they all come from openstreetmap.org and geonames.org, which means that even some local tiny little "hills" can be on PeakFinder. It's pretty, cool, actually.
Get It Now
It's not very often that I recommend anyone to shell out good money for an app, immediately, right this minute, but I've got a story to tell, and it'll illuminate the point: I screwed up.
I had been meaning to download and install PeakFinder USA West before I went backpacking to Ship Island Lake in the mountains of central Idaho this summer ... but I forgot to do it in advance. Once I remembered, I was on an EDGE-based AT&T cellular network, well out of any town, and driving down the road. Pulling over didn't matter because my iPhone wasn't going to let me download the 97.8 MB app with just a cellular signal -- it prompted me to use WiFi. So, with time spinning on, my buddies and I weren't going back to town, and we went backpacking into some awesome wilderness without PeakFinder loaded on my iPhone.
It would have been so awesome.
Don't make the mistake I made. Shell out the $1.99 now and have the app ready for those moments you ever look at a rise of rock and wonder what it's called.