Mactracker Faithfully Pins Down Apple Product Specs
MacNewsWorld

Mactracker, an app by Ian Page, is available for free at the App Store.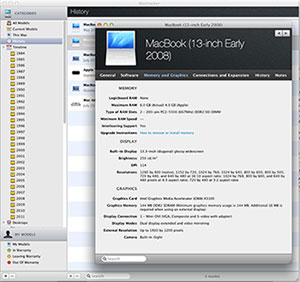 (click image to enlarge)
If you've ever wanted to track down the specifications of a particular Apple product, you can eventually find them through the company's online support pages. However, there's a better way than drilling down through Apple's site or searching until you find the right document that refers to the Mac in front of you: Mactracker, a free app for Mac OS X available through the Mac App Store.
Created by Ian Page, Mactracker provides detailed information on every Apple Macintosh computer ever made, including items such as processor speed, memory, optical drives, graphic cards, supported Mac OS versions and expansion options. Plus, it adds additional information, such as the date when the product was first introduced and the initial price.
More importantly, it often provides you with information that Apple does not: the actual maximum memory configuration that your Mac can hold. For example, Apple originally reported that the maximum RAM a 13-inch MacBook introduced in early 2008 could hold was just 4 GB, when in fact it can handle 6 GB. This is important information when you're trying to figure out if you need to upgrade to an entirely new machine or not. For, example, as my iPhoto library grows ever larger, I've got to wonder how well all my Macs will be able to handle the latest version of iPhoto and its fancy facial recognition features.
But back to the RAM. Why would Apple report lower than actual specifications? According to Mactracker, Apple sets maximum memory configurations based on the memory modules available at the time of the product's release. So, after the release date, as compatible higher-density modules become available -- and more important, affordable -- Mactracker can illuminate your true options.
All Apple Products
Mactracker keeps track of other Apple products besides Macs, including mice, keyboards, displays, printers, iPods, iPads, Apple TV, iPhones, WiFi Cards/Base Stations, and Mac OS versions -- including the bundled software shipped with various units.
Each product has a breakdown of elements that make up the specs. A Mac mini (Mid 2011) model not only shows you the expected general overview that includes the model numbers, weight, dimensions, processor and storage, for example, but also more focused information like "Connections and Expansion," which gives you insight into which types of peripherals you could add or the hard drive interface if you want to upgrade your hard drive.
As for "Memory and Graphics," many of the specifications in Mactracker include cool links to additional how-to information. According to Apple, the latest Mac mini will hold 8 GB of RAM, but it will really handle a whopping 16 GB -- not that many consumers will need that much. Still, if a consumer is considering buying third-party RAM and not buying direct from Apple, Mactracker provides a link to an Apple Web page that shows you how to remove or install memory in a new Mac mini. Quite handy.
One of my favorite features is the "History" of various models. The second-generation Apple TV, for example, includes a paragraph that describes Steve Jobs announcing it in September of 2010 -- a year ago! -- and notes that it was about a quarter of the size of the original Apple TV and a third of the original price. I forgot those little tidbits. But the history section also points out that the new Apple TV doesn't have a hard drive and must stream content from local devices or through the Internet.
Mactracker keeps a handy history log of the models you view, so you can always go back and easily see what it was you were looking at a couple of days ago. Plus, each product has a "Notes" section where you can add your own notes. And if you want to keep track of your own inventory for your home or family, you can through Mactracker. (It will probably also work for a small business as well.)
Decision Time
As I try to figure out which new model of Mac to buy, I spend a lot of time reading reviews and poring over Apple's store and specifications pages. Now I use Mactracker, too. It has a handy side-by-side comparison feature that will, for example, let me look at the specifications of various models of the MacBook line.
In addition, many models have links to performance information, as delivered by Primate Labs. This little detail Apple pretty much always obfuscates by saying one product is 3x faster than the previous generation, which points to how Apple improves from one product to another. But in my experience, consumers rarely compare the two most-recent generations.
For example, I want to know how well my aging MacBook stacks up to a brand new Mac mini. I can get some relative performance numbers from Mactracker, but a better way is to go straight to the Primate Labs Mac Benchmarks source and scroll through the ongoing list of Mac models and their respective scores.
All-in-all, Mactracker is a handy app. It's easy to use and it's free. It's the sort of app I like to have in my toolbox, so to speak, ready to for me to pull it out whenever the need arises.
So download it, and if you have an iPhone, you can install the Mactracker for iPhone version, too. Oh, and don't forget to bookmark the Primate Labs link above for the same reason.

---