Songify: Get Ready for Some Hilarious Ear Worms
MacNewsWorld

Songify, an app from Khush, is available for free at the App Store.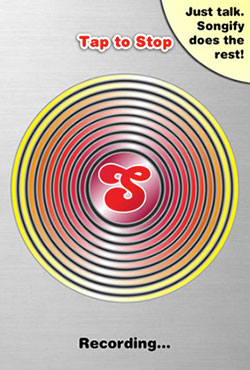 Songify
I stumbled upon Songify, a free app for iPhone and newer iOS-based devices, when I ran into the wildly popular video about a homespun chick named Debbie who supposedly recorded an eHarmony video introduction bio. The YouTube video is called "Songify This: Can't Hug Every Cat," and it's freaking hilarious.
Unfortunately, it's kind of catchy, too, and I found myself singing bits and pieces of it at random for the rest of day and laughing, too. The song hits that weird intersection of addictive stupidity that turns into a funny mind worm your brain wants to enjoy again and again until the effects are long gone.
So what do you do then?
Obviously, I searched YouTube for some more Songified videos. I found "Songify This: Best NASCAR Prayer Ever." Go watch it. It's worth it. The risk? You waste two minutes of your time.
You Can Do It, Too
I didn't download Songify right away, though. Frankly, I was skeptical that I could create a catchy song simply by speaking into the microphone on my iPhone. But I tried it anyway, and whoah, I was surprised at the results. I played one song for a friend of mine, and she was cracking up and simply blown away. Her first question?
"How did you make that?!"
And her second response?
"It uh ... you even made your voice sound nice!"
A bit of background: I was apologizing in the song for being "an assmunch lately," so who knows how much was delight in the funky song or delight in the apology. Of course, your mileage with Songified apologies may vary. But hey, it worked for me.
How It Works
It's important to note that Songify doesn't actually create videos -- it just works with audio information and transforms it into catchy songs. So the YouTube videos? I'm not sure how those were produced, but it had to have been with additional video editing software.
Meanwhile, to make Songify work, all you have to do is talk into the microphone on your iPhone (or iPod touch or iPad) and record what you say. All you need is a paragraph. Songify then very very quickly processes your recording and breaks up your speech into interesting phrases that mimic the structure of a real song. And it applies a catchy background track. It's probably doing more than that, but you get the idea.
Hit play, and boom, you've got a smoother, electronically modified, higher-pitched voice that's delivering the words and phrases as if they were sung.
You can save it to your hard drive, re-Songify it if you want to have the app try again, or apply different background tracks to the recording. The app is free, so how does the maker, Khush make money? Through in-app purchases. Songify comes with several built-in "Styles," which are what Songify calls the background tracks. So they aren't exactly background tracks either because they really do seem to change the whole effect of the Songified words.
As for in-app purchasing, I quickly bought "Can't Hug Every Cat," "NASCAR Prayer," and "Bed Intruder" for 99 cents each.
Social Media Extensions
As expected, Songify lets you share your song by email, Facebook or Twitter. You should email yourself some of your songs ... or at least plug your iPhone into some external speakers for playback -- it'll sound far richer (and funnier) than it will coming out of the iPhone's tiny speakers.
If you share your song via Facebook or Twitter, it automatically gets added to Songify's built-in Winning Page that showcases user-created songs. There are a ton of fantastic songs, so be sure to check some out.
All in all, it's free, fantastic and fun. You can share it will people of all ages, and you can't go wrong. Get it. Talk. Make songs. Amaze your friends. It really is that easy.