GoodPlayer: The Stronger, Faster, Pricier Media Player
MacNewsWorld

GoodPlayer, an app from Xia Tao, is available for US$2.99 at the App Store.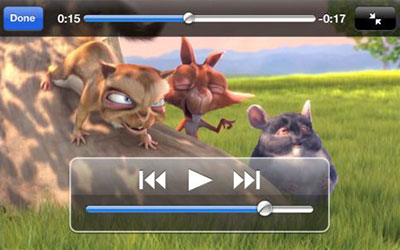 GoodPlayer
Long ago, I reviewed an app called "VLC Media Player," and though I was less than amazed by the app's performance at the time, I'll admit that it grew on me.
VLC made it easy to play a wide variety of videos on an iPhone without futzing with an MP4 converter. You could just load up videos through iTunes directly to VLC, then play them regardless of what format you were dealing with -- AVI, WMV, MPG or even the iPhone's own MP4.
Sadly, though, VLC was not long for this world. Months ago it was dumped from the app store, reportedly over licensing issues. Those who'd downloaded it when it was around were able to keep it (mine's still on my iPhone), but anyone who'd come along too late or accidentally deleted it was out of luck.
But now a new video player, GoodPlayer, has arrived, and it may well be a bigger, better and stronger player than VLC was.
Lock and Load
Obviously the iPhone already has a video player in its built-in iPod app. However, that player will only deal with a limited list of video formats. That means if you want to load up a video you didn't get directly from iTunes, you may need to run it through a converter application. Depending on the hardware, software and file, that could take anywhere from a few minutes to many hours.
With a third-party media player like GoodPlayer, though, you might be able to skip the conversion process entirely. It'll play common video formats like AVI, WMV and MPG, as well as some I've honestly never heard of.
If you want a complete list, here goes: AVI, Xvid, Divx, DAT, VOB, FLV, WMV, MKV, MP4, RM, RMVB, AC3, HTTP, FTP, RTSP, MMS, SMB, MMSH, MMST, RTP, UPnP and UDP. Actually, that might not be a complete list, because the app's description on the App Store follows that with "etc." Suffice it to say, it'll play a lot of stuff.
The first step, of course, is to load GoodPlayer with videos. Like VLC, that can be done via iTunes, but GoodPlayer offers additional options as well: via WiFi through either a Web URL or an FTP portal. If your iPhone is on the same WiFi network as your computer, you can cue up the computer's browser and manage files without touching iTunes.
Aside from your computer, GoodPlayer can draw in media from other sources too. On the lower-right corner of its main screen is a globe icon that will take you to a variety of input options, including Downloader & Browser, Input Direct Streaming URL, WebDAV Client, and others.
If you just want to go the traditional iTunes route, though, that works too. Just plug in, select your phone on the left, select Apps along the top of the main panel, scroll down to the File Sharing section, select GoodPlayer, and click Add.
Broader Shoulders
GoodPlayer's Settings selection is surprisingly robust. You get options for adjusting subtitles, toggling plug-ins, adjusting playback characteristics, changing the UI appearance and, of course, managing your audio and video settings.
That final option lets you do things like select audio track, toggle the TV Out and decide whether to crop the image on full-screen mode. However, it doesn't seem to offer any help when it comes to digesting large video files.
By "large," I don't necessarily mean long videos. A three-hour movie might get along just fine with GoodPlayer. I'm talking about videos with a large frame size -- high-definition stuff. VLC would often choke if fed a file that was a little too high-definition for its liking, and the same is true for GoodPlayer. However, GoodPlayer seems a little better at handling larger sizes.
Neither player could cut it with the highest-definition AVI I could muster (a frame width of 1,920). The results were nothing but freezes, a mess of a picture, etc. A WMV at 1,280 was a no-go too, though GoodPlayer did manage to run an AVI of that size, unlike VLC. Down in the 720 frame-width range, GoodPlayer generally got along with formats like MP4 and MPG, though its WMV performance here was jerky. In VLC, 720 is hard to deal with unless it's an AVI.
At 480, almost everything plays smoothly in both.
That's a very informal test, but it looks to me like GoodPlayer is a little better at handling higher resolutions. Having to dumb down a video's resolution can take almost as long as converting it to another format, so the less you have to do that, the handier a media player like this is.
Bottom Line
GoodPlayer is simple to use, does its job, and comes with more features and settings options than my old media standby, VLC. It also seems to be able to handle slightly larger videos.
Finally, though, unlike VLC, GoodPlayer is not free. It's $3. But if you missed out on VLC or erased it after it was removed from the App Store, you might consider GoodPlayer a worthy buy, especially considering that its developer has added some significant improvements over the VLC player.