The Enthralling 'Steve Jobs' - Brilliance, Weirdness, Warts and All
MacNewsWorld

If you are on the fence about whether to buy and read Steve Jobs by Walter Isaacson, I have an answer for you: Do it.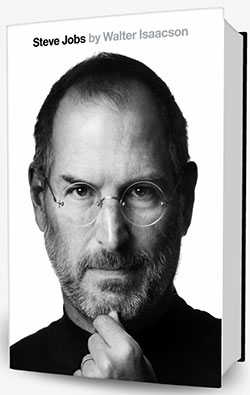 Steve Jobs by Walter Isaacson
However, I should warn you, the book isn't for the faint of heart. It's 656 pages in the hardcover edition, which translates to a couple thousand on your iPhone if you buy it as an e-book. It covers a lot of ground, from the initial pairing of Jobs and Steve Wosniak in a garage to the rise and fall of Jobs at Apple Computer, to Pixar and "Toy Story" to the passive-aggressive takeover of Apple 12 years after he was shown the door. Of course, there's the iPod, iPhone and iPad, and the worldwide juggernaut that Apple has become, spawning astounding products, amazing ad campaigns and millionaires left and right.
But that's the best or worst of it. If you dive right into this bio, you might also learn that Steve Jobs was a mean, emotional train wreck of a man wrapped around an intense and focused genius capable of masterful manipulation of others and utter self-delusion. I've got to say, I had a hard time slogging through the "sh*t" -- and it is sh*t, as Jobs was so apparently fond of saying about anything and everything that didn't amaze him -- about his "abandonment" as a child when he was given up for adoption and his subsequent abandonment of his first daughter. As a young man, Jobs was pathetic and sad. Oh, and this whole notion that his fruitarian diet meant that he didn't have body odor or need to shower? Well, you might have some questions come up, like, "How can a guy be so intelligent, so amazingly insightful, and yet be such a freaking idiot?"
Of course, as a creative genius, Jobs was astounding. Mesmerizing.
No Compromise
If you can get over some speed bumps -- irritation with ongoing and persistent petulance that I never expected out of the guy, for instance, or his penchant for crying -- there are some truly amazing stories going on here. Many of these stories have been thrown about before, so they aren't entirely new, but the insight here seems pretty solid, no doubt due to the fact that Isaacson had 40 interviews with Jobs over the course of a couple of years, along with 100 or so interviews with friends, colleagues and outright enemies.
Behind the historical movement from garage to corporate digs in Cupertino, Jobs' vision, mission and way of producing products seemed rock solid very early -- for instance, to build "insanely great" products or to focus on design both inside and out. I've framed a few houses, worked on remodeling bathrooms and such, and there's always a balance between making sure that the inside frame does the job it's intended to without getting all anal-retentive about it. I have a tendency to want those insides to look good, too -- to be right on, exactly as they should be. And while Jobs learned this from his father, apparently I can compromise, usually at the point where I bash my finger with a hammer or realize that I'm no longer making money as I futz around with something. Jobs rarely compromised, and it's elements of personality like this that illuminate how he was able to create such amazing products -- works of art, really -- when everyone around him was compromising left and right in order to ship products.
And then you learn that Jobs wanted to create special tools when his team built the Macintosh so that only Apple employees could crack the cases to get inside them ... and you realize -- like I did -- that Jobs was still up to his old tricks with the iPhone 4 with the special pentalobe screws. It's one thing to want to create an amazing product. It's another thing altogether to freak out about a consumer wanting to tinker with it -- or even repair it, for that matter.
As you read this bio and possible feel irritation toward Jobs, maybe even a bit of disappointment, you'll slowly start to realize that perhaps, just maybe, none of Apple's amazing products, not to mention the company's resurrection from the brink of disaster, might have been possible without Jobs doing it exactly the way it was done: berating, manipulating and doing everything in his power to distort reality and bend it to his will. As a reader, when I hit this point of understanding, I started appreciating Jobs more than ever. It's damn hard to "make a dent in the universe" for example, and be a great father at the same time -- or even be nice as a general rule, for that matter.
You Don't Have to Read It Old School
While your slow understanding -- and possibly appreciation for Jobs -- might best be experienced by reading the bio from start to finish, you don't have to. I was talking with a buddy, and he said he just had to jump around, reading the good parts first. I hadn't considered that approach, and about half-way through, I looked ahead to a few places here and there. Turns out that while Isaacson does build upon previous experiences and passages, you can successfully jump around. It's kind of like getting a picture of Jobs through bunches of different news articles. You don't have to stick with the traditional narrative. If you find yourself losing interest in a topic you're already well aware of -- say, the cool, amazing, and exciting "1984" Super Bowl commercial or the deal with Bill Gates to secure Microsoft Office on the Mac and US$150 million of funding to keep Apple from falling off a cliff -- skip ahead to the iPod, iPhone, iPad, or even his cancer discovery and treatment.
Of course, you might be the kind of reader who gets hung up on the corporate politics, the industry players like Larry Ellison who became a board member at Apple and yet missed most board meetings. Or you might enjoy the insights like Jobs trying to get President Bill Clinton to call Tom Hanks for Jobs to convince Hanks to narrate the "think different" poem/manifesto that kicked off the transformational Apple ad campaign when Jobs regained control of his company. (Robin Williams' wife apparently refused to give the phone to her husband to let Jobs convince him to do the voiceover work because she was well aware of Jobs' ability to persuade. Lots of fun details, like I said. Gobs of them.)
But back to this Think Different campaign. Even then, in 1997, Jobs managed to evoke and clarify an overall message that offers up a sense of how he may have thought about himself, about his world, about his mission. I barely remember it and the campaign from the late nineties, but this snip is worth mentioning again -- and if it stirs anything in your soul, well, then you know: It's time to read the book.
Here it is:
Here's to the crazy ones. The misfits. The rebels. The troublemakers. The round pegs in the square holes. The ones who see things differently. They're not fond of rules. And they have no respect for the status quo. You can quote them, disagree with them, glorify or vilify them. About the only thing you can't do is ignore them. Because they change things. They push the human race forward. And while some may see them as the crazy ones, we see genius. Because the people who are crazy enough to think they can change the world, are the ones who do.