Forget a Million Filters - Picturesque Focuses on Just a Few Awesome Effects
MacNewsWorld

Picturesque, an app from Acqualia Software, is available for US$15.99 at the Mac App Store. A while ago I ran into a little photo effects app that helped me make drop shadows and those cool reflection photos that Apple popularized -- you know, the ones that make the iPhone look as if it is sitting on a shiny white tabletop, with a faint reflection below it.
To make that reflection happen with a more robust photo-editing tool took many steps, and even though I found myself following instructions on YouTube, I invariably created images with reflections that looked as if my objects were sitting on dirty desks in poor light.
Back then, I stumbled upon Picturesque. It was too late in my project to really use it, though, and I forgot about it. When it appeared on the Apple App Store last week for $15.99, I promptly bought it. Why?
Easy, Intuitive Photo Editing
Upon launching Picturesque, you get a basic window with light gray text and icon that says, "Drop Images Here." So what do you do? Grab the photo you want to tweak and drag it into place. Doing so launches the rest of the application.
This move sounds easy enough, but is it really? It assumes that you know exactly where the graphic file is located on your machine and can visually navigate to it. Of course, you can open files the old-school way through the Mac OS X Finder, too. So what about iPhoto? Lots of people don't have .jpg files littered around their desktops -- they have their graphics in iPhoto.
That's easy, too. You can simply drag images from iPhoto onto the Picturesque image loader window.
And what then? What makes Picturesque cool?
Awesomely Easy Drop Shadows
The great thing about Picturesque is that it doesn't try to be a super-duper, do-everything photo editing app -- it's focused on a few elegant techniques for quickly manipulating photos to give them a polished, professional look. I'm talking about beautiful drop shadows, easy angles (perspective shifts), reflections, and corner trimming. And that's it. It doesn't really change the photo itself, just how you can display the photo.
Take, for example, the drop shadows. Just last week, I wanted to create a photo with a Polaroid-like white border with a drop shadow, but I only had a few minutes before I had to leave my desk. No way I could figure that out with a regular photo editing app in under 20 minutes (I'm no expert.) If I had Picturesque, I could have whipped it out in seconds. Literally. Less than a minute. And it would have looked awesome.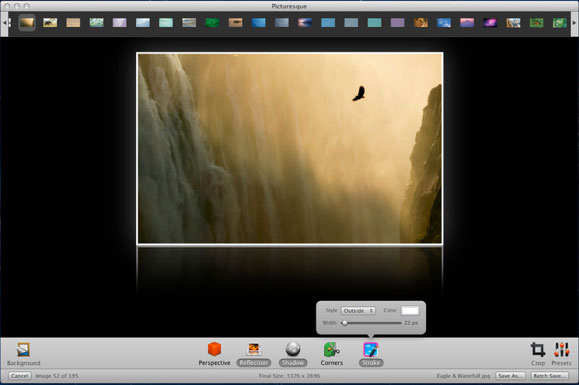 Picturesque
So who needs drop shadows, really? Anyone who works with graphics at all in a business environment -- drop shadows can spruce up basic PowerPoint presentations, for example. Bloggers are also a key audience, as well as anyone who messes around with social media and wants to offer a more polished look every now and then. If you mess around with your own desktop photos, there are some cool things you can create for your own work environment, rather than the standard flat photos that populate most Mac desktops.
Even if you're just a Mac enthusiast, Picturesque offers a chance to change up the photos you send to your friends via email, and if you're building a Christmas letter, for example, to send to your friends and family, you can make it pop with better photos.
Crystal-Clear Reflections
In addition to drop shadows, one of the best features is the ability to create instant reflections -- and then modify them on the fly. How do you modify a reflection? Well, how far is the reflection spaced from the original? How bright is the reflection? Is it hazy? The feature term is "opacity," and Picturesque lets you tweak it at will.
Another option is to change the perspective to seem 3D. Imagine you are holding a photo in your hands directly in front of you, the bottom resting on a table. Turn the photo 45 degrees so it faces past your right shoulder. You can make these sorts of moves in Picturesque just by clicking a button and moving a slider to adjust the angle.
If rounded corners are your thing, Picturesque lets you trim the edges.
And what about that Polaroid-like effect of borders? The oddly named "Stroke" function provides a border of any color you like. Choose white and pair it with a drop shadow, and boom, you've got that printed photo-with-a-white-border look. It's nice.
Presets Save Your Favorites
If you are a blogger, for example, and you want to have all of your photos maintain a similar look and feel, you can create presets that will enable you to instantly create the same effect time and time again -- your drop shadows will be the same size and in the same place and your reflections, and borders will all match exactly. No need to repeat steps and work from memory.
While Picturesque is meant to change the look and feel of photos in only a handful of key ways, it does let you crop a photo or resize it too, both of which are much-appreciated features. As for the cropping, it actually can change the look of the photo as you crop it so that you only see the cropped area, and not the rest of the photo that you are cropping out. I found this action disorienting at first, but it turns out it's handy for giving you an early look at what you'll see, without seeing cropped-out borders in the periphery while you try to frame the shot via the crop tool.
Picturesque will let you save your creations in TIFF, JPG or PNG formats.
All in all, if you want an easy way to instantly create professional-looking drop shadows, reflections and perspective tweaks -- or just round off your photo's edges -- Picturesque does the job admirably without fuss.