Action Movie FX: Have Fun Blowing Up the Neighborhood
MacNewsWorld

Action Movie FX, an app from Bad Robot Interactive, is available for free at the App Store.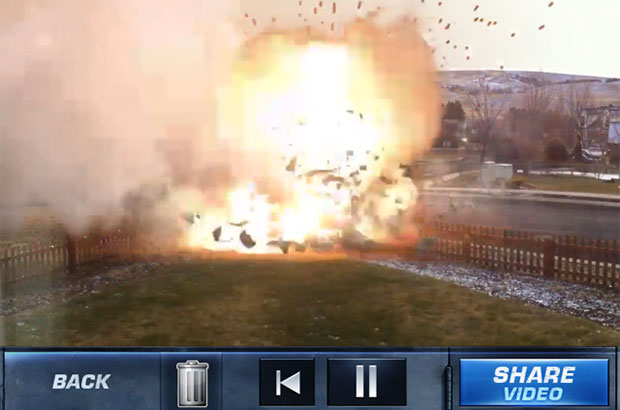 Action Movie FX
A free and unassuming little video effects app tapped into my practical joker personality this holiday season, and I just have to share it: Action Movie FX by Bad Robot Interactive. What does it do? It lets you film a short scene and then apply big-action Hollywood movie special effects to it.
For example, you can film your best friend's car, then apply the "Missile Attack!" scene to it, which then generates a short video clip showing a streaming rocket entering the scene and exploding the car in a ball of flame and debris. The audio sound effects are right on, too, lending it a tiny bit of realism.
Fool Your Friends
Obviously, most people's friends aren't going to believe that you accidentally fired your rocket launcher at their car, but with the right email setup, maybe something frantic about watching the police chasing a naked crazy man wearing cowboy boots and a packing a rocket launcher outside your neighborhood, you can put your email recipient on just enough of a edge of curiosity that your clip will surprise and delight.
And here's the other thing about the clips: They are so short that there's little time for a viewer to really analyze the clip and notice the flaws of reality.
What Else Can You Do?
The app is free and comes with two effects -- the aforementioned "Missile Attack!" and "Car Smash," which is a car that comes flying and bouncing into the scene as if it were kicked by a massive monster or alien robot. If I were going to try to turn this into a joke, you'd have to come up with a reason for a car to fall suddenly, so I'd film in front of a parking garage. Alternately, your clip keeps your audio and your motion, too.
Over the holidays, it was easy enough to get a teenager to run down the street, look over his shoulder and scream, which is when you let the car come flying out of the air. Obviously the youngsters love the results, and you get to be a super hero tech geek for 20 minutes or so before they take your iPhone and disappear.
Other Effects for a Price
To get other effects, you can buy them and download them through an in-app purchase. I happily bought "Chopper Down" and "Tornado" for 99 cents. There are only two other options right now, though: "AirStrike," which drops a series of bombs on your scene, and "Fire Fight," which shows a bunch of hands wielding automatic weapons that can shoot up something, like a car.
Are they worth a buck for a pair? Definitely. Echoing some of the App Store reviews, what's missing? More effects. Bad Robot Interactive has an opportunity here if they'll just deliver a bunch more effects. If I could find some more realistic ones -- as in, things that could possible happen in my neighborhood -- I'd buy them in an instant just for the practical joke fun.
How Does It Work?
Simple: Just point your iPhone and film a video segment for at least five seconds. Try to stay stable, and throw in an audio narrative "Uh oh," for maximum effect while filming. After you film the clip, you have a slider you can move to select the snip you want to add the effects to (very easy). Tap a start button and your iPhone will start processing the footage. In about 10 or 15 seconds, you'll have a clip.
You can share it on Facebook, via email, or save the video to your Camera Roll.
There's not much else to say here, except, I enjoyed it. And for a free download, it's definitely worth seeing the promotional ad notice for "Mission: Impossible -- Ghost Protocol."