Apple Goes Back to School With E-Textbook Apps
MacNewsWorld
Apple entered the textbook world on Thursday with free apps for creating and managing e-textbooks. Apple SVP of Worldwide Marketing Phil Schiller took the stage at the Guggenheim Museum in New York City to present iBooks 2 for iPad, a product that manages digital textbooks, and iBooks Author, a tool designed to help authors produce textbooks for the iPad.
Apple has forged a relationship with the major textbook producers, Houghton Mifflin Harcourt, McGraw-Hill and Pearson. The three publishers, which represent a dominant chunk of the textbook market in North America, will produce textbooks for the iPad, with most priced at US$14.99 or less.
Both the iBooks 2 for iPad and iBooks Author became available immediately.
Apple did not respond to our request for further details.
Good Move for Apple
The e-textbook market could be very profitable, especially if the model catches on at the college textbook level.
"I think textbooks right now are niche market, but it has the potential to be a huge market," Zeus Kerravala, principal analyst with ZK Research, told MacNewsWorld. "I can see a day when all students carry only a tablet and have access to all of their textbooks through it."
The educational field isn't new to Apple -- in the 1980s, Macs were prevalent in schools.
"This certainly seems like a good move for Apple," said Kerravala. "Considering the popularity of the iPad and the potential market for textbooks, this could become a significant contributor to Apple's business."
Apple has dominant share in the tablet space, and an audience that wants to do more with them, observed Kerravala. "E-books have been very popular to date with the younger generation leading the way. I expect Apple to be successful with textbooks."
iBooks 2 for iPad
While Amazon sold the Kindle Fire at a loss to prompt content sales, Apple may be giving away book software in order to drive iPad sales.
"Apple wants to sell devices first and foremost, but the company certainly understands that hardware alone is not enough," Allen Nogee, principal analyst for wireless technology at In-Stat, told MacNewsWorld. "You need the ecosystem, and it's that ecosystem that sustains the hardware purchases over time."
Apple has a long history in the education market, Nogee noted, and the iPad has fit very nicely into the classroom.
"It completely makes sense that Apple would want to grab the textbook market as much as possible and as early as possible," he said.
iBooks Author
With iBooks Author, it would seem Apple is toying with publishing -- but since it is giving away the software, its intention is likely to spur iPad sales.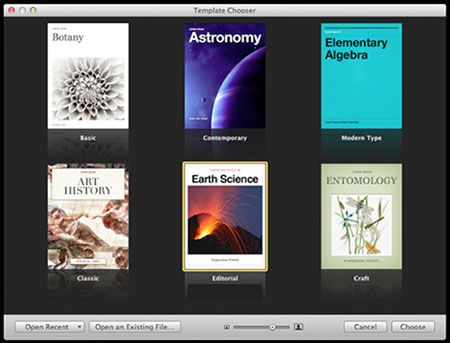 iBooks Author
"If a college professor could easily produce an iBook and sell it to his students for cheaper than a conventional college textbook, I think many professors would, and this would sell more iPads," said Nogee. "The iPad could pay for itself in just one semester, considering how expensive textbooks have become."
Professors would likely also produce a greater number of textbooks if the process were easy, Nogee suggested.
Knocking on Amazon's Door
The company that Apple seems to have in its crosshairs with these e-textbook offerings is Amazon. If Apple can get students to depend on iPads, it may be able to beat back the Kindle onslaught.
"Apple is clearly looking to compete directly with Amazon while becoming more vertically integrated than Amazon," Neil Shah, analyst for wireless devices strategies at Strategy Analytics, told MacNewsWorld. "Apple is trying to gain control here by taking digitization of books to the next level."
Apple is propelling its e-textbook offering by changing the very nature of the textbook.
"Apple is making books more interactive and leveraging its iOS SDK platform to grow the iOS user installed base," said Shah.
This strategy not only generates additional revenues, he said, but also locks the current and prospective iOS users into the Apple ecosystem with content that can be consumed only on Apple products.