Numberlys: A Top-Shelf App for Kids, Though a Bit Overhyped
MacNewsWorld

Numberlys, an app from Moonbot Studios LA, is available for US$5.99 at the App Store.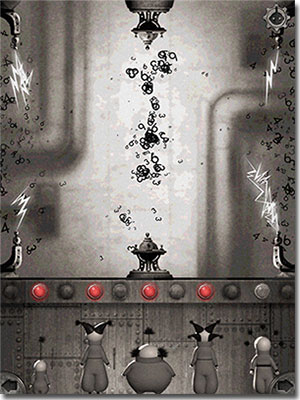 Numberlys is a gorgeously illustrated, animated, and moderately interactive ebook that will likely delight youngsters.
I must admit, I felt a bit duped by the description of the Numberlys app after I bought, downloaded and launched the app. I was expecting something bigger and longer that would appeal more to adults. Something gorgeous, imaginative, and slightly dystopian with an uplifting ending. What I got was something gorgeous, imaginative, and slightly dystopian with an uplifting ending. Just not something huge.
In order to be fair in this review, I have to juggle the expectations set up by the description with my personal expectations and connect that to what you actually get -- which, I must also admit, remains pretty freaking cool.
My expectations, I should note, were also elevated by the fact that this app was named one of Apple's iPad and iPhone apps of the week.
Overselling a Great App?
In the Apple App Store at the time I purchased the app, the description said this:
Numberlys presents a fanciful depiction of the origins of the alphabet and is the newest interactive epic from Moonbot Studios, the creators of "The Fantastic Flying Books of Mr. Morris Lessmore." Numberlys is a story app celebration of the early fantasy epics King Kong, Metropolis and Flash Gordon with a dollop of the Marx Brothers, a splash of the Fleischer Studios technicolor Superman and a little bit of the 1939 New York World's Fair. ... Numberlys is huge in scope. It's an adventure! A mystery! A game! And a story! ... It's a new way to entertain, learn and rediscover our storytelling "golden age."
The description is laden with promising key words like epic, huge, adventure, mystery, game and King Kong.. I was expecting a huge adventure experience, and what I got ended in 20 minutes or so, including the built-in intermission (which was cute, by the way).
Numberlys Is More of a Story for Kids
In order to set the right expectations, Moonbot Studios LA could easily have said something like, "Kids will love revealing the creation of letters through interactive games as they experience the story, and adults will appreciate the muted (yet somehow lush and vibrant) black-and-white Numberlys world."
If I were a parent deciding to buy this app, I could easily see it working well with small children who are just learning the alphabet or are even beginning to put words together on paper at school. Their surprise at recognizing the creation of individual letters might be quite fantastic, actually. For me, as an adult, some where slightly humorous, which I appreciated. But after I got to the letter "J" or so, I was pretty sure how the story would continue to shake out.
What to Expect
If you check out the screenshots, you'll see a fanciful, imaginative black and white landscape with people-like beings as sentient as they can be in a world driven only by numbers. Imagine these screenshots being animated, then imagine more detail and depth than you have a right to expect on a two-dimensional iPhone or iPad screen. It's quite nice, actually.
While there is animation, which makes this seem like a movie or video, its story is more like a book than like a movie. And the "app" parts? As five little Numberly beings try to create something different, the narration stops here and there along the way to let the reader tap, spin and blast various parts of the Numberly world to help create individual letters. For example, you can use a little canon to shoot a straight bar and bend it into the shape of a "J" or spin four arms of a clock until they make the letter "K."
The narrator's voice is delightfully odd, with some sort of accent and pacing that must only come from the Numberly world, though the Numberly beings don't speak English. And the soundtrack? Wonderful.
As an adult, this app shows off a way to create a rich storytelling experience by blending an app with a movie and a book. If you have kids or nieces and nephews of the right age, you might spark their imagination with something that is far different than "Bob the Builder" or talking race cars.
As for the price, Numberlys unfortunately gets stuck in what I see as a rough spot: A wonderfully illustrated and engaging children's book -- with real pages on paper -- is a steal at $5.99, whether it's hardcover or paperback. But an app, for some reason, doesn't get the same scale of value. I don't know why. It seems too expensive to me, and at least one online reviewer in the App Store agrees. If it were priced at $2.99, boom, I would be quite happy. At $5.99 ... slightly disappointed.
Of course, small children might love it regardless of price.

---