Apple Cross-Breeds Desktop With Mobile in OS X Mountain Lion
MacNewsWorld
Apple revealed on Thursday a developers' preview of the next version of its OS X operating system, and it's loaded with some of the features found in the company's popular iPhone, iPad and iPod touch.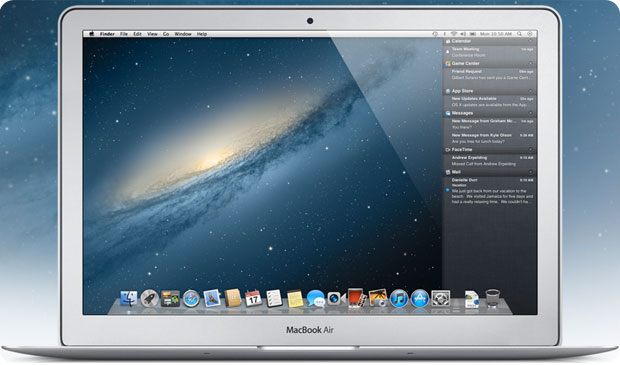 OS X Mountain Lion will feature a Notification Center similar to the one found in iOS.
Parts of the OS X refresh, called "Mountain Lion" and expected to be released in late summer, will be deja vu for users of Apple's mobile products.
A new messaging app will replace iChat. The new app closely resembles the one used by Apple's mobile devices and allows sharing of words, photos and videos among Mac users, as well as users of iOS gadgets. What's more, it lets you start a task on one device and continue to work on it on another.
A reminder app lets you create lists that can be pushed to all your devices through Apple's online storage service, iCloud.
Sharing Everywhere
The notes app in the OS looks exactly as it does on the iPad, although it has more formatting options and a neat feature that permits you to "rip" a page from the pad and place it on the desktop. Notes, too, are synchronized and shared with other devices through iCloud.
The Notification Center found in iOS will be in Mountain Lion, too. It's a single place to view your latest emails, calendar events, reminders and system notifications.
On iOS devices, sharing what you work on can be done with a single poke. With Mountain Lion, it can be done with a single click. No matter what you're doing with your computer, a share icon is always available with a context menu that lets you do things like bookmark pages, email a document, message a contact or create a tweet.
Airplay mirroring will also be found in Mountain Lion. So if you have Apple TV, you can mirror the screen of your Mac on a TV. That's especially useful for business presentations created with programs like Keynote.
Gatekeeper Security
There are also some new features in Mountain Lion not found in the realm of iOS. Support for Chinese speakers will be beefed up, and security will be improved with Gatekeeper.
Gatekeeper allows you to determine what apps can be downloaded and installed on a Mac. That isn't necessary in iOS because Apple itself acts as the gatekeeper by only allowing apps that it approves to be sold to iPad, iPhone and iPod touch users.
Gatekeeper gives you the option of installing apps only from the App Store, from the App Store and developers who have been certified by Apple or from anywhere you want.
One feature from the iOS world that doesn't seem to be making it over to Mountain Lion is Siri, the virtual assistant found on the iPhone 4S.
Robust Upgrade
"This is one of the most robust upgrades that we've seen from Apple in a while," Tim Bajarin, president of Creative Strategies, told MacNewsWorld.
Apple is sending a message to the markets with Mountain Lion, he added.
"The takeaway message is that Apple is more than ever committed to the Mac platform," he said. "That even though it's not the central hub of their revenues, it's still an important product in the overall Apple line and they have no intention of stopping to be innovative on the Mac or to stop supporting it aggressively."
Feature Convergence
As more features from iOS begin to show up in OS X, some believe it's only a matter of time before Apple merges the operating systems together.
"Within the next one to two years, they'll try to drive the operating systems together," Rob Enderle, president and principal analyst with the Enderle Group, told MacNewsWorld. "It should be done by 2015 at the latest."
Neither Apple nor Microsoft is rushing into convergence, maintained Carl Howe, a research director at the Yankee Group. "They recognize that computers still have a lot of utility," he told MacNewsWorld. "Nobody is going to say you should give up word processing on your computer because you can watch movies really well on it."
Apple isn't alone is trying to create ties across its family of devices. Microsoft is trying to do it with Windows Phone and Windows 8. Google showed signs of it when it recently introduced a version of its Chrome browser for Android.
"Everyone is moving the mobile world and non-mobile world together," ABI Research Mobile Devices Analyst Michael Morgan told MacNewsWorld. "So all your data, all your experience will become synchronized across all of your computing activities."