OnLive Almost Smooth Enough to Make You Forget You're in the Cloud
MacNewsWorld

OnLive Desktop an app from OnLive, is available for a US$4.99 per month subscription at the App Store.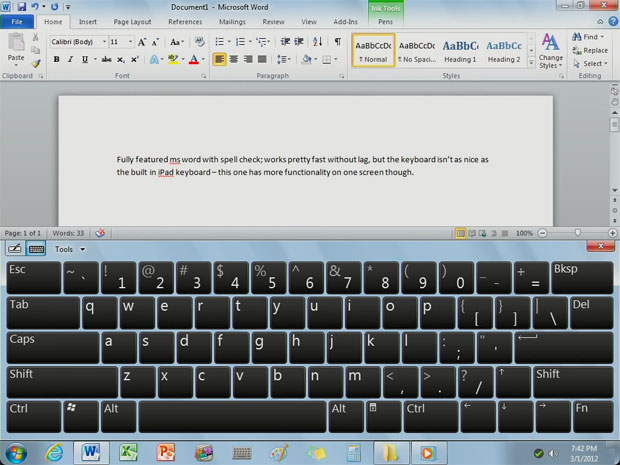 OnLive Desktop for iPad
When I first considered taking a look at OnLive Desktop Plus, a cloud-based service from OnLive that delivers a Microsoft Windows desktop-like, touch-based experience on my iPad, I admit, I was skeptical. Really skeptical, and not just because trying to describe the service is a mouthful.
At first, I'm like, why bother? Apple's iWork apps -- Pages, Numbers and Keynote -- do a pretty good job of opening Microsoft Office documents already and can usually export them well enough. Do I really need to have access to full-fledged Microsoft Office apps from the cloud, usable through my iPad?
I don't have that need that often, because, well, if I'm not already parked in front of a full-featured laptop, I tend to have one handy. But sometimes I don't. And road-warrior businesspeople, particularly those who are transitioning to an iPad as their go-to device, might really appreciate OnLive Desktop Plus.
Worth noting, though, is that Microsoft is already grumbling about licensing issues regarding OnLive. It's unclear whether the two companies will come to some sort of resolution, but buyer beware that a battle between the two could possibly result in a service shutdown. That said, let's jump in.
What OnLive Desktop Plus Offers
First, you need the OnLive Desktop app, available free from the Apple App Store. This app is useless, of course, if you don't sign up for the OnLive service. There are two tiers to the OnLive service: Standard and Plus. Both tiers will get you 2 GB of file storage included, as well as built-in, ready-to-use applications: Microsoft Word, Excel, PowerPoint and Adobe Reader. To get access to your files, you can load them up via a browser by signing into your OnLive account from your PC or Mac. They appear in a folder on the desktop of the app for you on your iPad.
What does this get you? The ability to create and edit Microsoft Office files by using the familiar full-feature MS Office app interfaces, right on your iPad.
This is cool enough, but where do the Standard and Plus tiers differ? For $4.99 per month, which you can cancel anytime, you also get what OnLive calls "cloud-accelerated Web browsing." I have no idea what that means, but I do know it means that you get full-featured Adobe Flash, cloud file access (like Dropbox), as well as Web-based email attachment access (like Gmail). This last feature means that if someone emails you a file, you can get it to OnLive Desktop by logging into your webmail email interface to download it.
Oh, and there's some sort of speed feature where you get up to 100 Mbps -- of what, I'm not sure, exactly, but I'm guessing OnLive is trying to say that OnLive Desktop Plus users get to access the service through bigger, faster pipes. In addition, they get priority access to Cloud Desktop, which I believe means that the customers who pay will likely get a better experience in the event of overwhelming end-user access.
How Well Does It Work?
Wow is how well it works. I was pleasantly surprised. In general, Microsoft Word, for example, launched faster than it does on my four-year-old Dell laptop, and Excel and PowerPoint were no less snappy. The apps have the big (and for many users, overcooked) toolbar ribbon, plus a more Microsoft PC-friendly virtual touchscreen keyboard.
At first glance, this keyboard is bit off-putting because it's not the familiar iPad keyboard. In addition, the keys are smaller and it simply does not act in quite the same way when you type. But you're still typing on touchscreen glass, so hey, it works. What bugged me the most was not being to cut and paste the same way you cut and paste from within the iOS system and in other more Apple-focused apps. I'm guessing this has more to do with how the app provides the layer that presents the Windows desktop touchscreen experience.
How Touchy Is It?
OnLive promises a multi-touch instant response (at least in their marketing verbiage online), and for the most part, the company delivers. Tap, touch, and drag ... and things happen on the virtual Windows desktop. Touch an open folder window title bar, hold and you can drag it around to reposition it if you so desire. Works pretty well. Try to resize the window, however, and you should be prepared for a few misfires. Why? Getting your fingers to touch the right part of small items when you can't see them because your finger is in the way can cause a few unregistered swipes, drags and pinches, causing you to pay more attention and try try again. But even when you miss, it's not terrible. Besides, after all, your whole intent is to access a Windows-based desktop via your iPad ... what do you expect!?
As for the apps and the interactive experience, I did wonder what would happen after you're busy editing a file and then want to refer to another app or even accidentally press the home button on your iPad. OnLive Desktop is a cloud-based app and service, so how persistent is it, really? It's surprisingly great, but I'm not sure in what situations you can truly count on it. In my tests, I would start editing a Microsoft Word file, for example, then hit the physical home button on the iPad, exiting me from the app. Oops. So I hit the OnLive Desktop app icon again to launch the app, which launched the login screen again.
Ouch. Not good, right? Wrong. Once I logged back in, my Word document was right there waiting for me. However, if you're a serious power user, or someone who makes a lot of changes to a file or even gets crazy enough to create your own PowerPoint presentation via OnLive Desktop on your iPad, I'd plan on saving the file plenty often. The bottom line is that there are a lot of different kinds of layers between you, your creative mojo, and the end file.
How 'Bout that Flash, Baby?
While the need for Adobe Flash has obviously been waning, especially after the high-profile passive-aggressive pushing match between Steve Jobs and Adobe, there are still some websites that utilize Flash-based content or apps that you might want to tap and touch your way into via your iPad. For business users, this might especially be the case.
Since I didn't have any particular Flash-based need, to test the feature, I navigated to Hulu.com via the IE browser on my "Windows desktop." I was delivered what looked to be the full browser-based website. Nice. Try that move on Safari on your iPad 2, and you'll be treated to a "go get the app and buy the monthly" service page.
Instead, via OnLive Desktop Plus, I launched a video, sat through an ad, then started watching a TV show. What's even better is that it was pretty darn smooth and clear. Quite good, actually.
It's Still Cloud-based, So Use With Appropriate Expectations
All in all, OnLive Desktop Plus is surprisingly good. The interface is generally snappy, the touch-based controls reasonably intuitive, and it seems to do what it promises: Bring you Microsoft Office apps via a Windows-based desktop experience on your iPad.
On the downside, you need to be connected to a fast and stable Internet connection. If you lose your connection, you lose your ability to work via OnLive Desktop Plus. Pretty straightforward. If you have a poor connection, I would expect you to have a poor experience. In a few instances as I was moving things around and working the desktop by playing music and opening and closing files, moving photos, etc., I saw some pixelation, but it usually didn't take too long to refocus.
On several occasions, I was able to experience at least three different sorts of network activity/connection problem screens. Once, while I was checking out the "Getting Started" folder, I was told I had a network problem (from my home, which has a normally reasonably fast DSL-based connection, usually tooling in around 5 Mbps). And it appeared to be testing my network quality. I hit a "Continue" button a couple of times and it resolved itself. Similarly, when I closed the app via the iPad 2 home button, then tried to immediately relaunch it, I sometimes got a screen that told me networking was disabled and to check my iPad settings to verify that WiFi or cellular (3G) connections were enabled and configured. All looked normal on these instances, but the app seemed to think I wasn't connected to WiFi. I launched a YouTube video via Safari to check, and this action seemed to kickstart the app back into noticing that I did indeed have an Internet connection.
The good news here? A bit of tapping and opening always resolved the issues within a minute or two. But like I noted before, I don't really expect a cloud-based app to be perfect ... and I'm pleasantly surprised during the times it sure seems to be. If you have to mess around with Microsoft Office files or tap into Flash-based websites all via your iPad, OnLine Desktop Plus is a pretty reasonable solution.

---