Icon Project's Lost That Shortcut Feeling
MacNewsWorld

Icon Project, an app from FMProject, is available for 99 US cents at the App Store.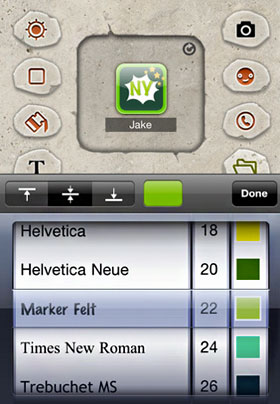 Icon Project Tools
Long ago, I jailbroke my iPhone. Ultimately, the experience was less than fulfilling, and within a few weeks I opted to unjailbreak it back to its normal state.
Jailbreaking somehow made the phone feel a little frail. The only jailbreak options I could find at the time necessitated the phone to be hooked up to my computer each time it was turned on. Not a huge problem -- I don't turn my phone completely off very often.
But then there was the respringing ... the constant respringing. My jailbroken phone tended to fall into an odd stupor several times a day, at which point I'd have to go through this little sub-reset routine called "respringing." And as the respring routine slapped it awake, I'd have the privilege of staring at a picture of a damn pineapple for several minutes at a time.
Maybe current jailbreak options are a little heartier than the one I used. Even with the method I tried, there were upsides to jailbreaking. I found a great email app. A couple of the customization themes I found weren't incredibly ugly. And I really liked the ability to have easy, shortcut access to common settings: Bluetooth, WiFi, Airplane Mode, etc.
For normal users, these toggles are buried in iOS' Settings app. Some are right there at the surface; others are two or three buttons deep. And depending on how old your phone is, Settings isn't always the fastest app to wake up, either. If you frequently toggle the Bluetooth on and off, for example, you'll need to go to Settings>General>Bluetooth, then hit the switch. Wouldn't it be nice to have the option of putting that switch somewhere on the main screen among the other apps you use all the time?
Recently, I learned there were ways to do this on a non-jailbroken iPhone, and several of the blogs I consulted for information pointed to the same app: Icon Project. But it seems that ability is gone now thanks to iOS 5.1.
Icons, for Better and for Worse
Judging by the app's official App Store description, it doesn't appear that Icon Project was intended for use as a Settings shortcut maker. It's apparently not something that it advertising, so it isn't quite fair to judge it by its failure to make it happen.
The app is intended to create custom icons that can perform a more narrow set of functions: sending messages to people on your contacts list, striking up a FaceTime session, even creating an icon that links to a given URL, something iOS has long been able to do by itself.
You can also create customized icons using photos and an assortment of in-app bedazzlers. The icon's border can appear in one of seven colors, or there can be no border at all. The user can pick the background fill, insert text, and use a photo as the function's icon. Clip-art-esque designs can be applied using the app's library, along with little embellishments like hearts, sparkles, a Facebook logo, and a pile of what I can only guess is excrement.
Icon Project then redirects you to Safari, where you'll find yourself on a webpage dedicated to the function you've chosen and the icon you've made to represent it. Save it to your homescreen just like you would a website you want easy access to, and there's your new button. Hit it and you instantly cue up whatever activity you've specified. The app's creator is quick to point out that no personal information is actually being transmitted when using this app.
Basically, this gives you easier access to contacts and webpages you frequently hit up. The URL option might seem redundant since iOS is able to do this without Icon Project at all. But some websites don't offer up good-looking icons for users who save the page to their homescreens. Users who want better-looking icons for their website links could use Icon Project to make them. Or, with the correct application of hearts, sparkles and bodily waste, they could create the most hideous icons this side of MySpace.
Forget the Trick
But until recently, much of the attention Icon Project received wasn't about one-touch access to your favorite friends' Skype accounts. It was about a simple hack that could be used to create home-screen shortcuts to common settings toggles.
The user needed only to begin creating an icon that would ostensibly take the phone to a URL. Once a decent-looking icon was designed and named, instead of typing in a real URL, the user could input a special code for accessing system functions. "prefs:root=General&path=Bluetooth" would take you to your Bluetooth settings. "prefs:root=MUSIC&path=EQ" would give you your music equalizer settings. "prefs:root=General&path=Network" got you instant access to network settings.
But no more. This function is apparently unusable thanks to iOS 5.1. Icon Project is taking a pounding in its reviews on the App Store by angry users who can't make the trick work after installing the OS upgrade. It seems to be out of FMProject's hands, though. Further research led me to a site by Jeff Broderick that uses a similar technique to make settings icons that can be saved directly without the involvement of a native app. But Broderick's page carries a warning that this system doesn't work on iOS 5.1 either.
Bottom Line
It's unfair to batter Icon Project for no longer being able to support homescreen settings shortcuts. It's not a feature the app advertises. Maybe tweakers and bloggers figured it out on their own, or maybe FMProject encouraged it, but if you go only by what the app says for itself in the App Store, there's no bait and switch.
What Icon Project is left with is a way to create one-touch access to favorite contacts and Web pages you frequently hit up, using icons that are as tastefully or gaudy as you want them to be.