Printer Pro Gets Docs From iPad to Printer, Though It's Not Always a Direct Flight
MacNewsWorld

Printer Pro, an app from Readdle, is available for US$6.99 at the App Store.
I don't know why, but printing is still -- after all of these years -- rife with pain, agony and confusion. Usually, I like buying new electronic gadgets, but when it comes to printers, it's painful. There's the cost of ink to consider, all the byzantine methods of connecting to printers, setting them up, updating the drivers and trying to troubleshoot WiFi connectivity vs. direct USB. Printing over a network.
If you have a multifunction printer, the questions and potential problems just keep coming: Do I have to install the clunky software applications provided by the manufacturer just to scan a picture? How about to send a fax? Why does the illustration in the setup guide not match the look of my printer and name applications that don't appear on the setup disk?
So once I have a working printer set up, I baby it, talk nice to it, and hope the price of ink eventually starts coming down. So in some ways, I believe it takes brave souls to a) create apps that let you print, and b) buy apps that let you print.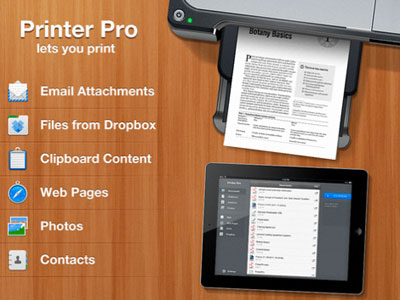 Printer Pro
Apple, of course, has this nifty little built-in feature called "AirPrint," and it lets you print from you iOS devices to your home printer if your printer and your iOS device are both logged into your home WiFi network. Cool idea. You don't have to worry about printer drivers and configuration and whatnot.
The trouble with AirPrint, though, is that you need a printer that supports it. Fortunately, five major printer manufacturers have printers that support AirPrint, but my printer model, a Canon MX340, does not.
Printer Pro to the Rescue
The iPad app Printer Pro, on the other hand, doesn't use AirPrint. Instead, it gives me an easy option to print from my iPad from my couch. Of course, for the most part, I don't need to print from my iPad, but sometimes it's quite handy to be able to pull up a PDF of a contract or some reference material that's better understood on ink and paper.
In some ways, Printer Pro is surprisingly integrated, and in others, not so much. For example, printing a Web page takes a deft little move, but this move is much faster than finding a Mac or PC, loading up Safari, and printing from there. So how do you print a Web page with Printer Pro? Tap and hold the text of "http://" address line in your browser, then slide your finger over to the left to place the cursor in front of the "h" ... and type a "p" to create the url with a "phttp://". Then tap the return key. Boom, you'll exit Safari and move into the Printer Pro app, and if you're lucky, the Web page will load for you inside of the app.
In my experience, really complicated Web pages took a while to load or choked somehow. Of course, I tend not to print really complicated Web pages, so most people will not likely have much trouble here. When I print a Web page, it's a receipt, coupon or article. Easy stuff.
Initial Setup
When you first launch Printer Pro, it walks you through a series of steps. First, tap "ADD PRINTER." The app thought for a few seconds then gave me a new screen. I could print to PDF files or select my printer from the list. Since there's only one printer in my office, I selected Canon MX340 Series, which was connected to my Mac and had that connection note beneath the printer name.
At this point, it's important to note how Printer Pro communicates: It can print directly to some printers that have built-in WiFi or those that have connections to a PC or Mac. Fortunately, Readdle is smart enough to let potential customers try before they buy -- you can download Printer Pro Lite, which is free, to make sure you'll be able to print with your existing equipment.
Next, the app prints out a test page. If it looks bad, tap "LOOKS BAD." If nothing printed, tap "NOTHING PRINTED." If it looks good, well, you get the idea. My test page looked good. Next, there's a series of letters and numbers printed in the corners of the page, with some of the writing cut off at the end of the page. You have to calibrate Printer Pro by telling it which letter-number combo was the last intact combo on the printed page.
After that, you go to the main Printer Pro app page. Each section has built-in how-to text. So while it takes a bit of paying attention to figure out what you get to print and how, the instructions are all right there in front of you. Case in point? How to print a Web page.
I was a bit disappointed to learn that I can't directly print an email. That would have been nice. To print an email message, you have to select the text, copy it, then launch Printer Pro. Tap the Clipboard setting, and boom, your copied text will appear on the Printer Pro clipboard, ready for printing. A couple of steps, not as easy as I would like, but far, far easier than moving from the couch to my office desk, waking up my MacBook and finding the email to print directly from my Mac.
As near as I can tell, if you can copy it to the clipboard, you can print it.
Documents, which are stored as attachments in Mail or other apps, seem to be a bit easier to print. You can tap the Open In icon, which gives you a chance to open up the document in a particular application, like Pages ... or now, Printer Pro. For example, a PDF document in an email message: Tap and hold the icon for the PDF and you'll get a pop-up menu. Quick Look gives you the familiar quick look, or you can open it in iBooks ... or tap "Open In" and you'll get a list of apps that will handle the file, including Print Pro.
Photos, Too
If you're into printing your own photos (oh, the cost of ink!), the integration is pretty sweet -- you can browse through your Camera Roll or Photo Stream and select the photo you want to print.
Similarly, you can print documents from Dropbox, MobileMe iDisk, and GoogleDocs. Printer Pro supports PDF, Word, Excel, Powerpoint, Pages, Numbers, Keynote, TXT, HTML, JPG and Safari webarchive formats.
All in all, Printer Pro seems to do what it says it does, and well enough that I was never confused. And when it comes to printing, I consider that a big win.

---