Camping App a Powerful Cure for Cabin Fever
MacNewsWorld

Camp & RV - Tent Camping to RV Parks and Services, an app from AllStays, is available for US$5.99 at the App Store.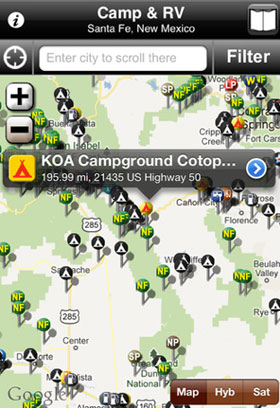 Camp & RV
As winter finally releases its clammy grip around my house, I'm getting cabin fever something fierce. I've got an eclectic travel schedule, hitting hotels for business then heading off to some dive campground near an outdoor activity ... or planning a backpacking trip, which usually requires a base camp before you head off into the mountains.
That's where this app comes in: Camp & RV - Tent Camping to RV Parks and Services. Despite the long and boring yet apt name, Camp & RV does what you would expect it to: point you to camping and recreational vehicle resources around the U.S. and Canada -- more than 22,000 of them, actually.
While I tend to prefer federal and state-owned public lands for camping, there are plenty of private RV, tent, and yurt campgrounds in some nice areas of our country. I've stayed in several here and there and haven't been disappointed yet -- especially when you consider the camp as a base camp for explorations into the surrounding areas.
What's in the App?
Camp and RV is primarily map-based, either on your current location (using GPS and location services in your iOS device) or based on a location you want to visit. You can enter a search city or park location and the app will take you there, populating the map with a bunch of relevant pins with icons and initials that let you know what type of resource is located in that spot. For example, an independent, privately owned campground or RV park has a tent icon with an "I" in the center, while a state park is a pin with "SP" initials.
Once you play around with it, the app is easy to figure out.
There are filters, too, to help you in your search results. You can select to only see state parks or KOA campgrounds, or even Army Corps of Engineers locations. How about Walmart "Ask to Park" locations? They'll show up too for those people who park their RVs and stay over night in Walmart parking lots.
For RVers, there are also low-clearance warnings on roads, RV dealers and mechanical service providers, as well as all sorts of rest area locations.
As for camping equipment, sometimes you need to hit a store. Camp and RV will point out the locations of key gear stores like Cabelas, Gander Mountain, REI, as well as popular warehouse stores like Costco and Sam's Club. Need a truck stop with big wide turns and diesel fuel? The app has filters for those too.
If you want your search results to show only certain kinds of amenities, like Internet access, fishing, hiking, or propane, a whole set of Advanced Filters will help you narrow the results. Don't worry, though, the app is pretty intuitive, though I wouldn't expect tent campers to know what all of the RV-focused filters mean (but they can easily be ignored).
Digging Into a Site
Once you find a site, such a campground, you can easily view the details of that site, including the official website, phone number, directions, open season, rate range, available camping or parking sites, hookups, amps, big rigs access, tents or no tents, clubs, water, showers, toilets, tables, pool, playground, laundry, propane, pet-friendliness, RV dump stations, age restrictions, storage, firewood, boat launches, seasonal sites, and availability of Internet access. So yeah, lots of information. In fact, I purposely searched for some small campgrounds in the deep woods of Idaho ... and found them. I was pleasantly surprised.
To learn more, you can tap a button to find campground or RV site reviews. I was expecting a review service from Allstays, the app creator, but the reviews are essentially a search compilation of reviews available on the Web from multiple different sources. If you click on one, you'll go to a website, browsing from within the app. The downside is that results may vary, but the upside is that you cast your information gathering net far and wide.
Images represent a similar trade -- instead of app-provided images, you'll get the results of a Google Images search. You can find some excellent images with this method, but sometimes the context or exact position of the photo is hard to puzzle out. One handy feature, though, is the ability to tap a small thumbnail image, then swipe your way through many of the image results. Look, swipe. Look, swipe. Look, swipe. Using this feature can give you some quick impressions of the area.
Much of the core information in Camp & RV is provided in a database within the app, so even if you don't have Internet or cell access, you can retrieve some of the key information. Reviews and photos require a data connection.
All in all, I'm impressed with the scope and simple execution of Camp & RV - Tent Camping to RV Parks and Services. It won't fill all my research needs as I plan summer trips, but it can quickly narrow the field. In addition, it's comprehensive enough that it has earned a spot on my iPhone for those just-in-case moments when I'm far from home.

---